I have to share the delicious Easy Pork Adobo Recipe with our readers! It's a very popular Filipino dish, so as a courtesy I am sharing this dish with the Gourmet Getaways readers. I have also learned that Masterchef contestant John Carasig from the Philippines has made a Chicken Adobo on the show.
While in Australia, I had the pleasure of tasting Julie's melt-in-your-mouth slow cooked kangaroo dish. This visit was host to a handful of firsts in my life. This included seeing a kangaroo, photographing a kangaroo…and yes, eating a kangaroo (ouch!). It was a Kangaroo Pie and as it cooked, the aroma wafted around the house, it reminded me of Manila. It smelled of the popularly Filipino dish Adobo.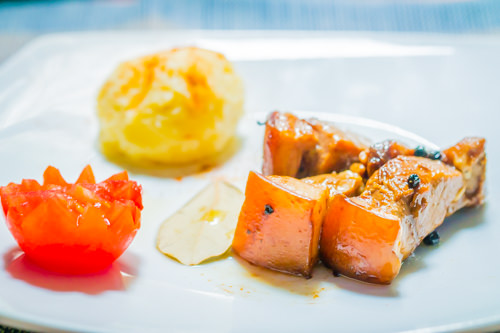 The Filipino Adobo has undergone variations as it goes from one household to another, as Kimchi has in Korea. Or the slow cooked kare-kare dish featured before. Most use pork, some chicken. Some use both. Some kitchens serve it with potato wedges or boiled eggs or pineapple chunks. Others omit the soy sauce and replace it with salt. Whatever modification it is, always remember it is not Adobo if it doesn't have oil, garlic, peppercorn and vinegar.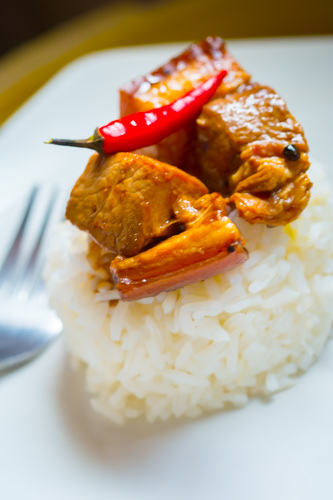 What I am making today is not a deviation from tradition. I still have the same components, but used pineapple juice. And instead of potato wedges included in the stew, I used a simple creamy mashed potato as a side dish. You may opt to retain as much of the sauce as you want. I have been dealing with Adobo since I opened my eyes in this world. To me, the perfect Adobo is one with most of the sauce absorbed by the tender meat.
Despite the nuances, I promise you the taste and look is UNMISTAKABLY ADOBO.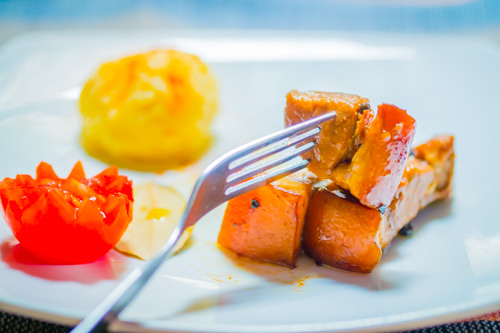 Easy Pork Adobo with Mashed Potato
An easy pork adobo recipe with mashed potato side.
Print
Pin
Rate
Ingredients
FOR THE ADOBO:

1/2

kg

pork shoulder or loin cut into cubes

1/2

cup

pineapple juice

1/2

cup

soy sauce

1/4

cup

cane vinegar

or apple cider

3

pieces

to 4 dried bay leaves

1

Tbsp

whole peppercorn

4

cloves

to 5 garlic

crushed

Olive oil for sautéing

*****************************************************************

FOR THE MASHED POTATO:

3

medium sized potatoes (peeled or unpeeled

as desired)

Salt

1

Tbsp

to 2 of unsalted butter

1/2

cup

to 1 of non-fat

skim or low-fat milk
Instructions
For the adobo:

Heat the oil in a pan. Sauté the garlic then add the pork. Brown the pork in all sides.

Add the peppercorn and pineapple juice. Simmer for 15 to 20 minutes or until pork is tender and until sauce is reduced.

Pour in the vinegar, soy sauce and bay leaves. Cover and simmer for another 15 to 20 minutes.

Turn the pork to the other side to get coated by the sauce. Wait until the sauce thickens and reduces before.

Turn off the heat and serve.

For the mashed potato (Julie's recipe)

Boil the potatoes with some salt.

Test for tenderness using a fork.

When tender for mashing, remove from heat and start mashing using a fork or masher.

Add some butter.

Keep mashing and gradually add milk until desired creaminess is achieved.
For pork lovers out there, this is right up your alley. Serve it with hot rice or with mashed potato.
If you like the idea of combining chicken and pork or just chicken, the procedure is just about the same. You can fry the chicken longer if you want to have one crispy chicken Adobo. I suggest wings and breast as the best parts, but that's just me!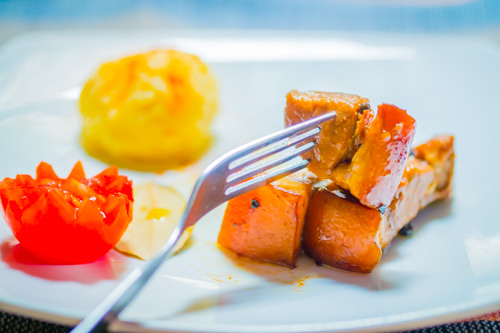 Adobo is the Philippines unofficial national dish. Our very own staple, tasty, comfort food found in every Filipino home. It is the perfect winter warming dish, I hope this easy pork Adobo finds its way in your kitchens, too.