Have you ever fallen in love with a property from the minute you set eyes on it? I was in love with the Gypsy Cottage the moment I glimpsed this picture perfect getaway. I will tell you more about this gorgeous country hideaway in a later story. Right now I want to share a recipe from our stay. Nicole is not just the owner of The Gypsy Cottage, she is also a fabulous cook and has generously shared her recipe for Carrot & Ginger Cake with us.
You see, when we arrived at the cottage we were treated to a wonderful afternoon tea. Waiting for us in the sweet cottage kitchen, was this delicious Carrot & Ginger Cake. The cake was served with an amazing Salted Caramel Glaze and in the fridge was freshly whipped cream. The combination was literally drool worthy.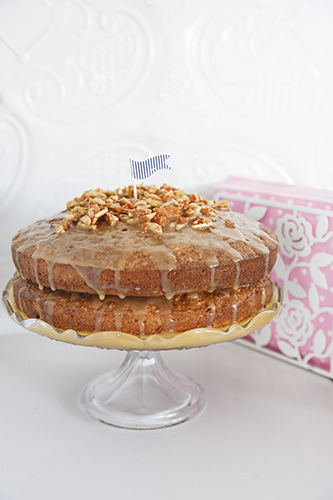 The quaint cottage kitchen was almost too perfect and pretty to disturb. The farmhouse table had been laid with a white linen, embroidered table cloth, there were pretty pink napkins, gorgeous china and all the makings for a beautiful afternoon tea. We took a moment to admire the setting, but the cake was calling me! I wanted a slice and I knew it would go perfectly with a pot of tea.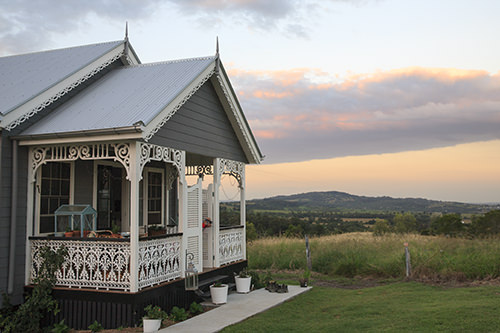 Autumn Carrot & Ginger Cake w Salted Caramel Glaze
Autumn Carrot & Ginger Cake with Salted Caramel Glaze (by Nicole Michelle Kanofski of The Gypsy Cottage)
Print
Pin
Rate
Total Time:
1
hour
30
minutes
Ingredients
For the Cake

2 1/2

large carrots grated coarsely.

1 1/3

cups

plain flour sifted.

1

cup

each of brown and caster sugar.

1/2

cup

of desiccated coconut.

1 1/4

cup

rolled oats

quick oats preferred as they are finer

2 1/2

teaspoons

of baking powder.

2

teaspoons

fresh grated ginger.

2

teaspoons

of ground cinnamon .

1

teaspoon

nutmeg

1

tablespoon

orange juice

zest of orange is optional

1 1/2

cups

of sour cream

1/4

cup

of vegetable oil.

3

large free range eggs.

1/2

teaspoon

sea salt.

1/4

cup

of Almond meal.

Chopped roasted almonds to serve
Glaze
1/3

cup

butter

1/3

cup

of brown sugar.

1

tablespoon

golden syrup

1/2

cup

cream.

3

cups

of icing sugar.
Instructions
Preheat oven to 180c (fan forced oven)

Butter and line 2. 22 cm pans with baking paper.

Stir the carrot and dry ingredients together including sea salt, oats and almond meal.

Make a well in the centre and add sour cream, oil and eggs. Divide evenly among tins.

Smooth over, swap tins around in oven halfway through cooking!

Cook for about 45 mins, test with a skewer to see if its ready.

Cool completely before icing!
Glaze
Melt butter in a small saucepan over low heat, stir in sugar and golden syrup until smooth,

gently bring to a simmer and stir continuously until thickened slightly, stir in cream, remove from heat,

Stir in icing sugar and sea salt flakes to taste, leave to cool to a spreading consistency.

Spread over each half of cake and then on top.

Garnish with roasted almonds and fresh whipped cream!
I honestly can't describe how deliciously moist this cake is, but if you take a look at the ingredients you get a few clues. The recipe includes coconut, sour cream and almond meal, three ingredients which always lift a cake above the average. The crumb is rich and textural.
The flavour is also quite special. The recipe uses fresh ginger, ground cinnamon and nutmeg to give a deeper spicy profile. The addition of orange zest and juice freshens the cake and brings it well out of the rhelm of your average carrot cake.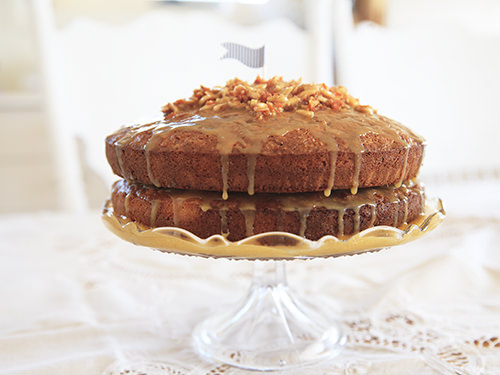 I decided to share this recipe now because with the cooler weather I have been craving more of this dessert cake with my tea and I figured readers might like a bite or two as well.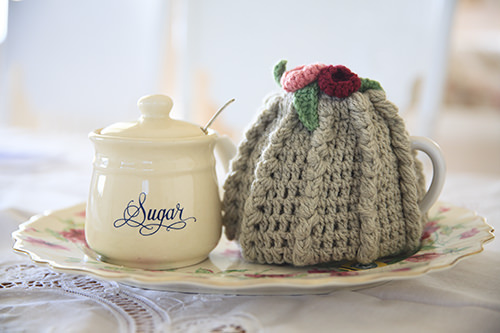 Gypsy Cottage is located at Rosewood, not far from the Gold Coast and Brisbane hinterland. It's the perfect location for a romantic getaway.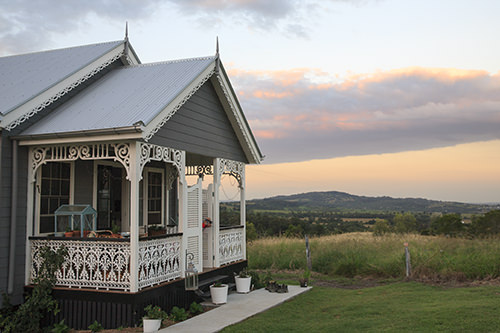 If you're short on time at the moment perhaps you can make Nicole's Carrot & Ginger Cake and imagine yourself watching the sunset over grassy mountains at the cottage.
Stay tuned for more on this secret hideaway cottage