I have been wanting to make biscotti for so long. At Christmas I was envisaging a Cranberry and Pistachio Biscotti with a touch of spice and a drizzle of white chocolate. But the lure of a chocolate biscotti was on my mind.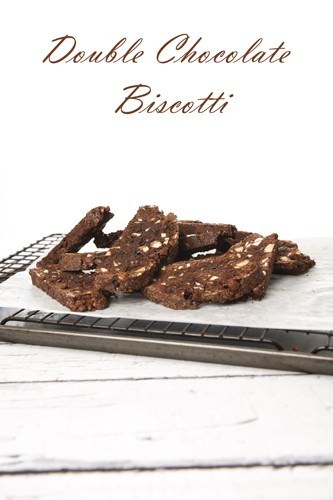 Through summer I wanted an Almond Biscotti with my evening tea as a sweet end to the day. Now it's winter, my sights have been set on a more decadent biscotti.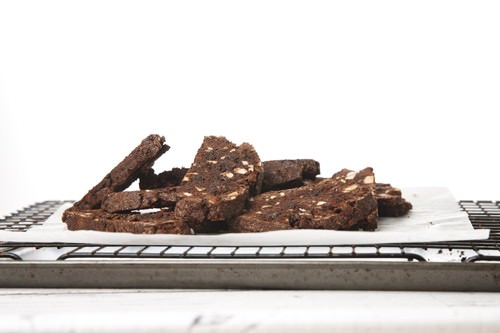 A Double Chocolate Biscotti with the familiar contrast of the crunchy white almond pieces flecked throughout.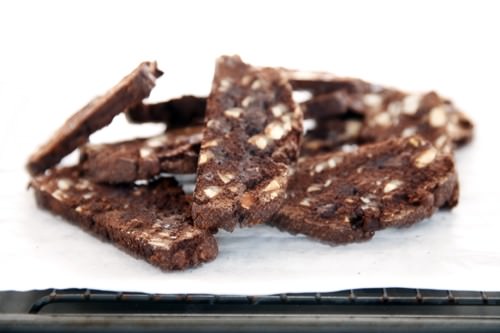 Ordinarily biscotti is a light, sweet treat which accompanies a tea or coffee. There is no need to fret about calories because the dough is made without any butter or milk which significantly reduces the calorie count.
Usually it's a guilt free sweet treat… not today. Today I give you my decadent Double Chocolate Biscotti. This crisp, delicate cookie is so rich and delicious.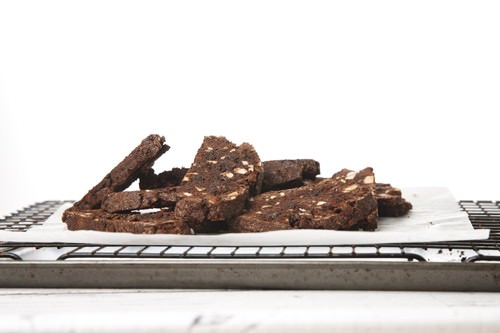 Ingredients
280

gm flour

75

g

Dutch process cocoa powder

1

tsp

baking soda

1/4

tsp

salt

3

large eggs

lightly beaten

200

gm sugar

1

tsp

vanilla extract

125

gm almonds

toasted and chopped coarsely

120

gm chocolate chips
Instructions
Preheat the oven to 350F (180C) degrees.

In a mixing bowl, sift together the flour, cocoa powder, baking soda, sugar and salt.

Roughly whisk 3 eggs and vanilla and stir it through the dry ingredients.

Add the nuts and the chocolate chips and combine until the dough holds together.

If necessary add a few teaspoons of water.

Line a tray with baking paper.

Divide the dough in half and roll into two logs.

Flatten the top a little.

Bake for 30 minutes or until a skewer comes out clean.

Remove the biscotti from the oven and allow to cool for 15 minutes.

Reduce the oven heat to 150 degrees.

Using a serrated knife carefully slice the log into 3/4 cm slices.

Arrange the biscotti on the baking tray.

Cook for a further 20.

Once baked, cool the cookies completely then store in an airtight container
The inclusion of chocolate bits sets this treat apart from other chocolate biscotti.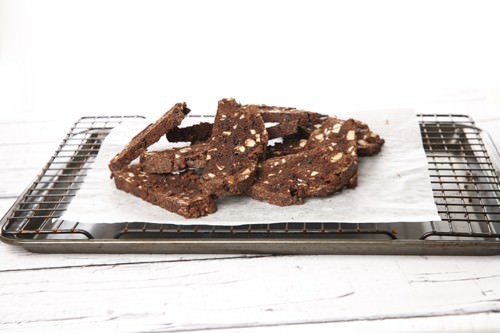 Be warned, this is not your angelic low cal biscotti, the Double Chocolate Biscotti will lure you to the dark side. I have finally shared my biscotti with readers. What flavor is your favourite?