Chocolate Peanut Butter Brownies! Please excuse my generalisation but Americans seem to be in love with the combination of chocolate and peanut butter.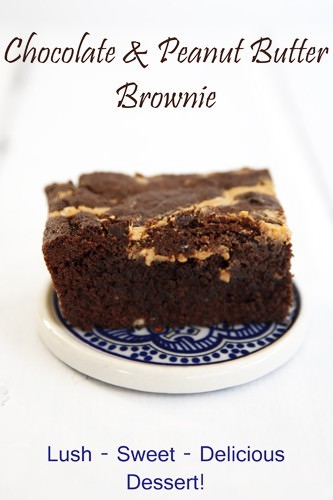 Now I like peanut butter, I will occasionally spread a piece of toast with a generous scoop of the crunchy variety, but it's not my "go to" product, and I don't usually bake with it. When this months theme was Chocolate and Peanut butter I really had to think hard about the type of baked good my children would enjoy, which utilised the combination.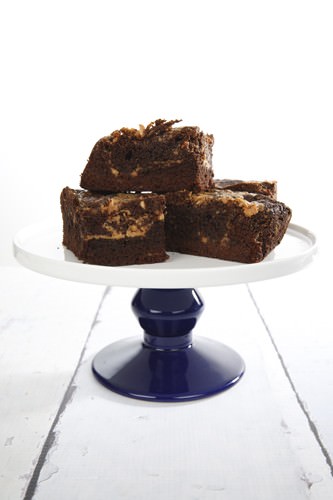 As it turned out I needn't have been concerned. The kids were all over this Chocolate Peanut Butter Brownie. I was lucky to get an opportunity to photograph it before it was completely demolished. I guess it goes to show 319 million Americans can't be wrong.
What was the brownie like? It was deliciously rich, sweet and chocolaty with a smooth, salty, crunchy creamy vein of warm peanut butter flowing through the middle. I didn't get the opportunity to try the Chocolate Peanut Butter Brownie cold as it didn't last that long!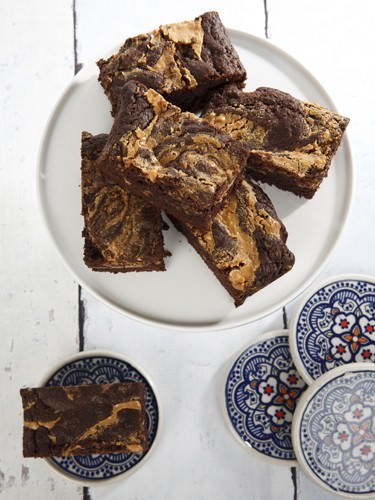 …but don't take my word for it, try the recipe out for yourself.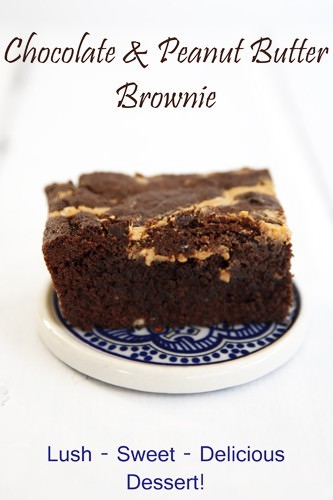 Chocolate Peanut Butter Brownies
This deliciously rich Chocolate Peanut Butter Brownie Recipe is quick to make and even quicker to eat!
Print
Pin
Rate
Ingredients
120

gm Butter

170

gm bittersweet chocolate

¼

cup

Dutch process cocoa powder

3

lg eggs

1

cup

sugar

1

tsp

vanilla

1

cup

flour

1

tsp

baking powder

1/2

cup

crunchy peanut butter
Instructions
Prepare a 20cm brownie tray by lining with baking paper.

Pre heat the oven to 170 degrees C.

Melt butter and chocolate in a saucepan over a low heat. Stir until smooth. Remove from the heat and add the sugar and cocoa, stir until combined.

Stir through the flour, vanilla, baking powder then the eggs.

Once the batter is combined pour 3/4 of the mixture into the prepared tray.

Microwave the 1/2 cup of peanut butter until it's soft and liquid.

Pour the peanut butter over the brownie base.

Add the remaining brownie batter to the pan and swirl through gently.

Bake for approximately 45mins depending on your oven. Remove the brownie from the oven when the batter appears firm in the middle.

Cool brownies in the tray and cut when cool.