Grissini, or breadsticks, are sold in supermarkets and specialist deli's but I've never thought to make them. Parmesan & Thyme Grissini, why not!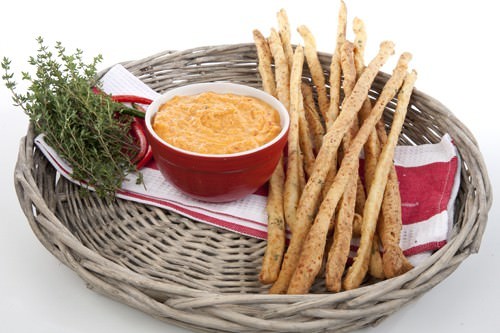 I wanted to try Grissini bread sticks. I have a lot of Thyme growing in my garden so Parmesan and Thyme Grissini seemed like the perfect combination.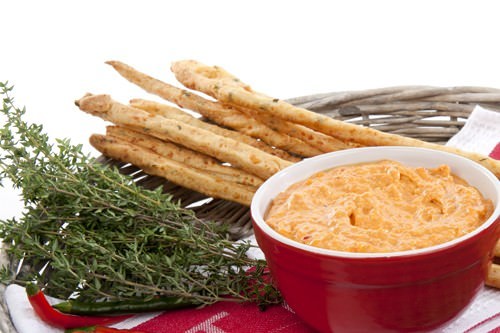 Naturally, if I make a delicious crisp Thyme Grissini I need something delicious to try with the cracker. I decided to also make a Spicy Chili Aioli, as I have an abundance of chilli in the garden at the moment and it seemed to be the perfect partner to the Parmesan and Thyme flavours.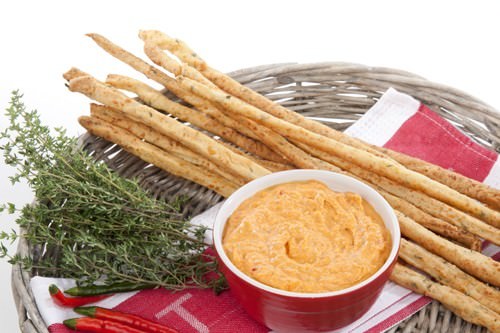 Parmesan & Thyme Grissini w Spicy Chilli Aioli
Grissini Ingredients:
300g plain flour
2 tsp salt
75g butter
2 tsp dry yeast
75g Parmesan cheese
150ml warm milk
3 tbsp finely chopped fresh Thyme
Method:
Put the flour, salt, butter and cheese into a food processor and blitz until it resembles breadcrumbs.
Place the crumbs in a bowl and add the chopped Thyme and the yeast. Pour the warm milk over the dry ingredients.
Mix until a dough forms. Cover and leave to stand for an hour in a warm place.
Lightly oil the bench top and knead the dough for 10-15 seconds. Return the dough to its bowl, cover and leave for another hour.
Heat the oven to 130C, roll the dough to a 1cm thickness, cut into strips and then, using your hands, roll each strip into a pencil-like stick.
Bake on a slow heat for about 40 mins or until golden. Rotate the trays as needed. Once cooked leave the grissini to cool in the oven.  The will be soft until they have completely cooled.
Spicy Chilli Aioli
Ingredients:
6 mild Chillies
100gm sundried tomatoes
100gm salted cashews
1 egg yolk
6 cloves garlic
1 1/2 cups light Olive Oil
juice 1 lemon
salt to taste
Method:
Place all the ingredients except the oil into a food processor. Combine until reasonably smooth.  Start to add the oil slowly whilst the food processor is running.
Continue this process until all the oil is incorporated and the aioli is thick and creamy.
Serve!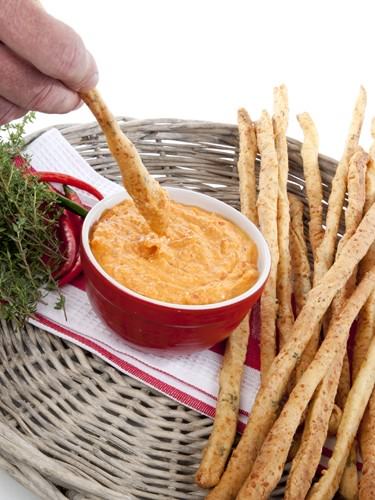 Do you think you would ever make your own cracker? I found this a very quick recipe so I would probably make it again. The only problem I had was that I ate way too many, and the aioli was addictive!