What would be a romantic meal to make? I asked the family. I need some romantic food idea's for a Valentines Day dinner, and thinking along the lines of a Creamy Smoked Salmon Fettuccine.
"There isn't any romantic food" explained my mere male, Mr GG "There are romantic meals, but it's not the food, it's the setting."
My daughter rolled her eyes. She's only 7 years old and she listed the following in a bored voice; Champagne, Chocolates, French bread sticks, French cheese… anything French really.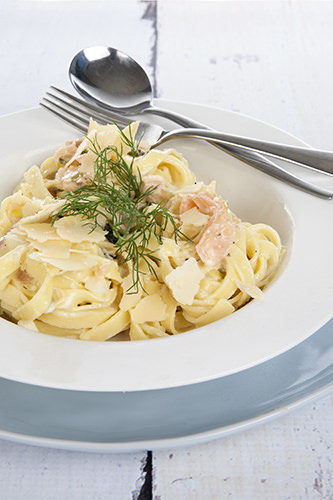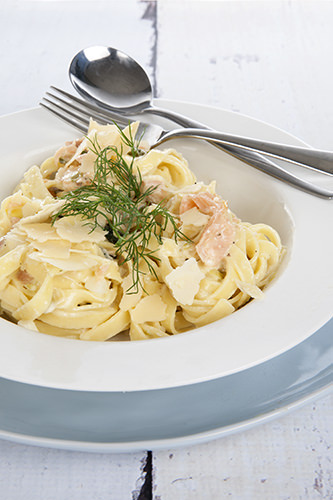 I turned away from my food challenged husband and son to concentrate on Anais.
"Is fettuccine romantic?" I asked her.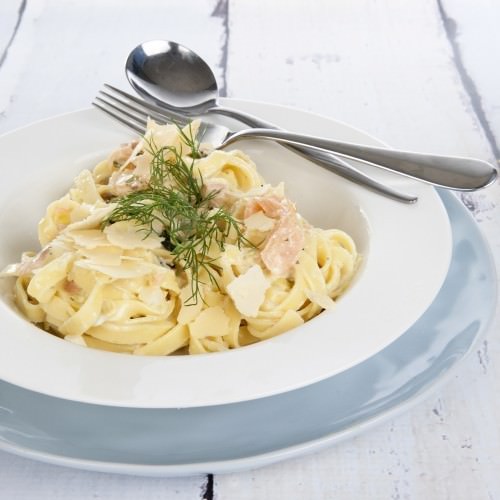 She thought for a moment, "Are you serving it with French bread?" she asked
I told her I was. She thought again and said, "Yes I think it is, especially if you do that slurpy thing where you suck the pasta up together and then kiss."

Hmm, I said, "I have never done that before. Do you think daddy would do that with me?"
I looked over at Brett and saw him pull a face which let me know it was out of the question. Lachlan told me I was being gross.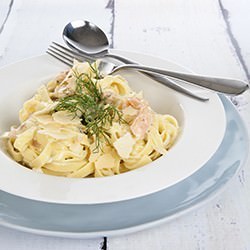 It didn't matter if the boys thought I was being gross. I knew exactly what I would make for our romantic evening meal on Valentines Day. We would have Smoked Salmon Fettuccine with a creamy Lemon and Dill sauce.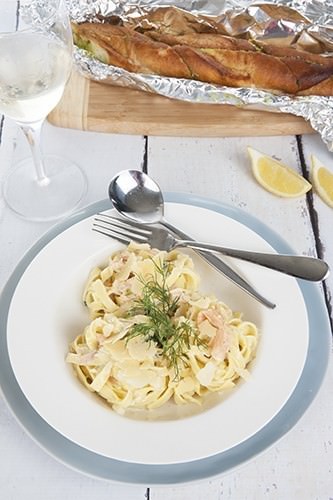 In fact, I think this was one of the dishes that won my husband's heart when we first met. Smoked Salmon is the perfect choice for an important meal because it's romantic and decadent, plus it goes perfectly with sparkling wine.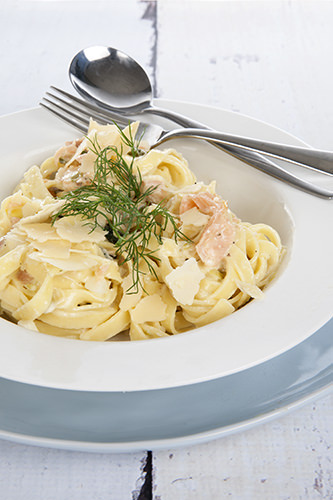 Creamy Smoked Salmon Fettuccine
A delicious creamy pasta dish with rich decadent flavours.
Print
Pin
Rate
Ingredients
500

gm Fresh Fettuccine

cold section supermarket

600

ml

pouring cream

250

gm Superior Gold Smoked Salmon

1

medium brown onion finely chopped

6

cloves

garlic diced

3

spring onions chopped

1

cup

baby spinach leaves

juice 1 lemon

1/4

cup

white wine

2

Tbs

chopped dill

salt and pepper to taste
Instructions
Add 150gm of roughly chopped smoked salmon to a heavy based saucepan with cream, garlic and onion.

Cook the salmon sauce keeping it at a slow boil and stirring constantly. The sauce will reduce by half and thicken slightly. This may take 15 minutes or so, depending on the size of the saucepan. Be careful not to let the cream boil over or burn to the bottom of the saucepan.

Add the spring onion dill and white wine to the sauce and continue to cook for another 2-3 minutes.

Remove from the heat and stir through the remaining salmon.

Add the spinach to the saucepan and mix it through the sauce.

Finally add the lemon juice and salt and pepper to taste.

Boil another saucepan of water ready to cook the pasta.

Cook pasta as per the manufacturers directions.

Drain the pasta once cooked and combine the sauce and pasta.

Garnish with shaved Parmesan cheese and extra dill.
I like to serve the Smoked Salmon Fettuccine with extra lemon and lots of dill and Parmesan cheese. I think it gives the dish a really fresh, healthy taste… yes, yes, I know… it uses a boatload of cream so it can't be considered healthy.
Hehe, but if you add the dill and lemon it tastes healthy so we can pretend it is!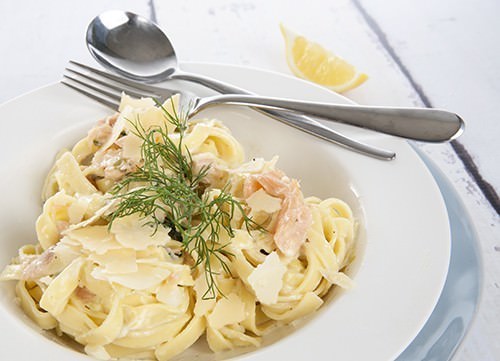 I hope all my lovely readers have a very Happy Valentines Day with someone special.