Coffs Coast and the surrounding towns have quite a number of growers markets for locals and tourist to enjoy. The Coffs Harbourside Markets are probably the most picturesque of these. They are set under the trees near the beach and marina on the jetty foreshore. The market has a unique, beachy, "Coffs Harbour feel."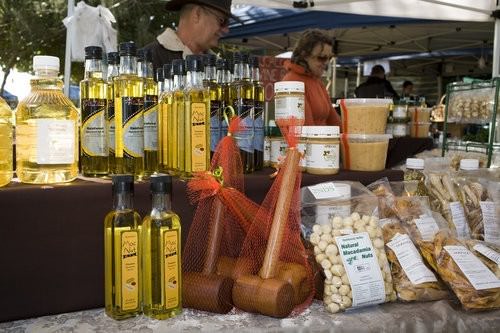 We have wandered down to the market to buy my current favourite coffee a blend by Ewingsdale Coffee. Ewingsdale Coffee is a boutique supplier of locally grown Arabica Coffee. The plantation uses traditional growing and processing techniques including handpicking the beans!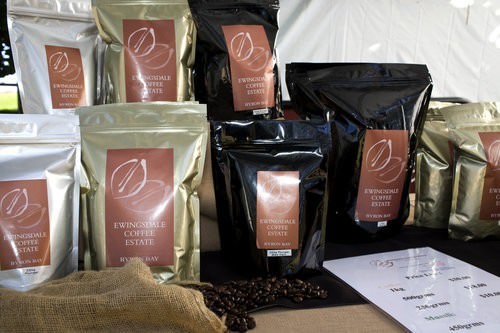 I am very serious about my morning coffee so I fully appreciate the freshness and flavour of these beans. Chris can tell me exactly when each bag was roasted, it has never been more than a matter of a few days prior to my purchase.
Before the beans are roasted they are allowed to mature in parchment for twelve months to achieve maximum flavour. Ewingsdale Coffee is a family owned business, with the plantation situated in Byron.
With my coffee sorted I wandered over to a very delicious looking stall, appropriately called "Berrydelicious". This luscious looking table had been set up with bottled local Blueberry and Raspberry Jams, Dessert Sauces, Vinaigrettes and the like.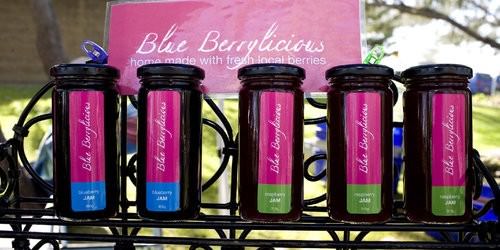 In the Coffs Harbour to Upper Corindi area, we have more than 260 hectares dedicated to producing berries so it is not surprising that some enterprising locals have been able to produce these beautifully bottled treats. I was lucky enough to sample the Blueberry Vinaigrette during my Cheesemaking Workshop. We used the dressing on a salad with homemade Feta and it was delicious. The Raspberry sauce is another of my favourites. I have used it to give warmed cake a bit of a lift, and the blueberry jam is a winner on pancakes!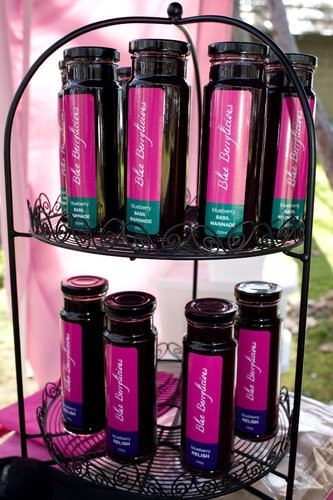 The markets are a great way to start a laid back Sunday, whether you are shopping for specific items like me, or just having a browse, the harbourside markets are a relaxing way to spend a few hours by the sea. The great thing about markets is that every so often you make a fabulous "find". I love finding these unique products which are not mass produced.
On this occasion, my unique find was Bakarindi, Australian Bush Foods.  I spoke to the producer who grows a huge range of Australian Native plants such as Aniseed, Myrtles (smells and tastes like liquorice) Lemon Myrtle, Fingers Limes, Rosella, Davidson plums, Lilly Pilly etc. She turns these ingredients into seasoning mixes, marinades, pickles, chutney and jam, each with the unique "taste of Australia"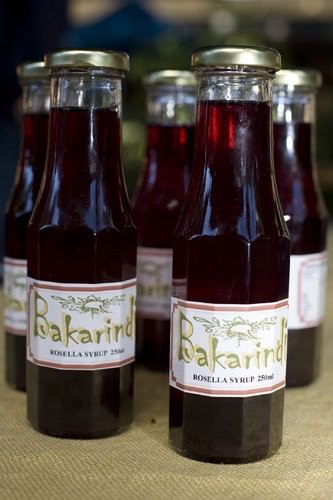 If you work up an appetite at Harbourside Markets there are a multitude of food stands where the tantalising aromas will tempt you with all manner, and style of tasty morsels.
Kids are catered for with face painting, fake tattoos, jumping castles, and pony rides on occasions!
While the kids have a play on the jumping castle I make my way to "The Tea Peoples" stand. Although I am an avid coffee drinking I switch to tea after 12.00 noon, yes I am a strange creature.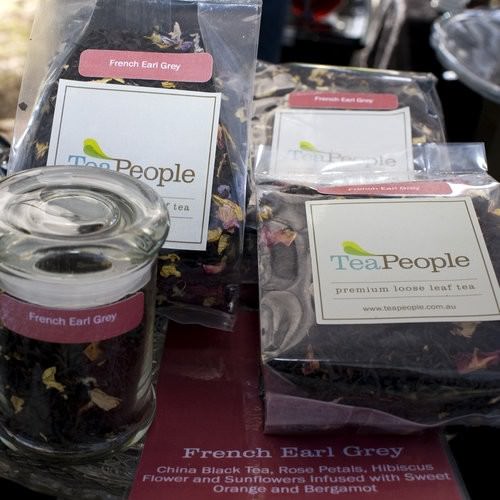 The Tea People have another beautiful stand with specialised blends of tea and gorgeous gift ideas.
I make my purchases and continue on my way. There are quite a few fruit and vegetable stands, with great specials on seasonal produce.
I notice the local jetty baker Kpane has a display stand. I made a beeline for the last Sour Dough Ciabatta. I managed to get there just in time to snatch it up. I could happily take one of everything on display. I noticed their Olive bread is studded with big juicy Kalamata Olives and I grabbed one of those too, just for good measure!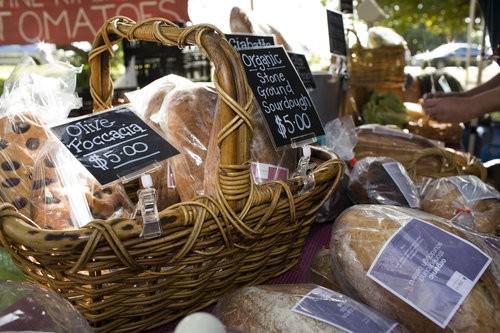 There is a musician playing in the centre of the market each week and I notice my little ones sitting on the grass listening. I drop off my purchases and drag my husband away from the Macadamia Nut stand.
Being a growers market all the produce is locally grown, made, sewn or otherwise produced. There are also various arts, photography, and craft displays. I noted a few different clothing ranges for children and adults, jewellery, organic soaps, plants and so much more on display. All made by talented locals.
The markets are held every Sunday from  8.00am until 2.00pm.