I have a confession to make, it is Christmas Eve and I haven't helped Santa with the wrapping of the children's presents. I also haven't made my usual Christmas Shortbread Tree; I haven't made fruit mince pies or Christmas pudding. Oh, and I've eaten all the ham!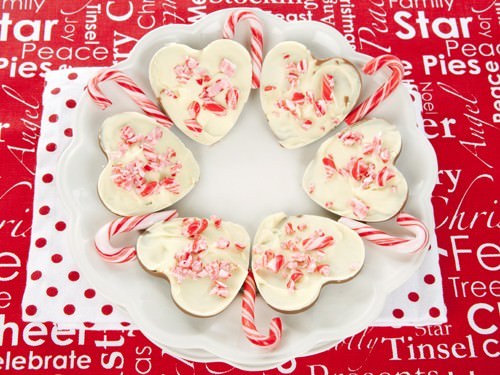 Hmm, I don't know how this happen but time has seriously escaped me this year!
In a bid to try to add some quick festive treats to the Christmas Day table I have shamelessly "stolen" a recipe just recently posted by Kari on Bite Sized Thoughts.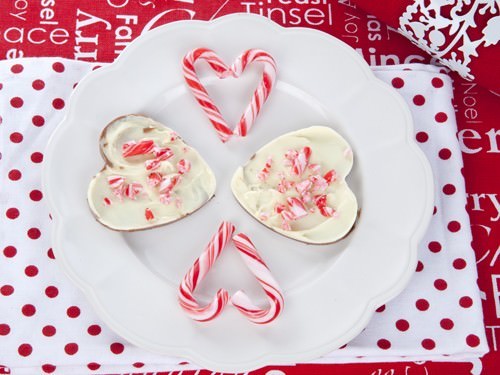 The minute I saw how festive the red and white candy canes looked on the white chocolate I knew I needed to make these. It took no time at all! Before I knew it I had even managed to package half up in cello bags and Christmas ribbon, ready to give as gifts to the girls at our pre-Christmas drinks. The other half I will try and save for the Christmas table.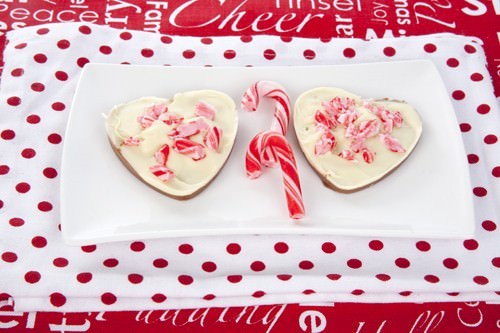 Ingredients:
200gm milk chocolate (quality is important so choose the brand you like to eat)
200gm white chocolate
12 mini red and white candy canes (or 3 -4 large ones)
A few drops of peppermint essence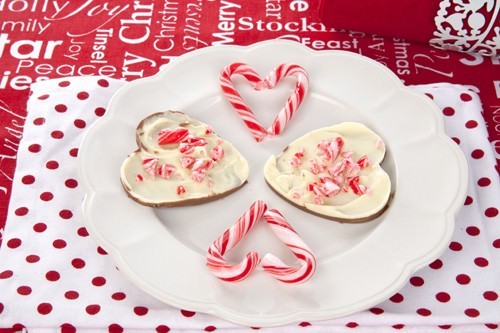 Method:
Choose a muffin pan silicone mould with 12 holes.
Melt the milk chocolate in the microwave until smooth, add the peppermint.
Place 1 dessert spoon of the melted chocolate in the bottom of each muffin cavity.  Smooth the chocolate to the corners of the pan ensuring there is a smooth even coverage. Lift the silicone mould and tap down on the bench to release any air bubbles.
Refrigerate for a few minutes until the chocolate is set. In the meantime melt the white chocolate in the microwave.
Take the candy canes and cover with cooking paper. Hit them with a rolling pin until you have achieved the desired crumble.
Once the milk chocolate layer has hardened spoon a dessertspoonful of the white chocolate over the first chocolate layer. Smooth the white layer over quickly so that no milk chocolate is visible. Add the candy cane crush immediately as the chocolate will set quickly with the cold milk chocolate below.
Refrigerate until required.
…and there you have it, my substitute dish for Christmas mince pies this year. I hope the kids don't mind the change to the menu 😉
How are your Christmas preparations going?