My childhood memories of Christmas centre around the kitchen. There was always the aroma of dried fruit and butter boiling away on the stove top for the Christmas cake, delicious fresh cherries and plums in the fruit bowl and shortbread baking in the oven.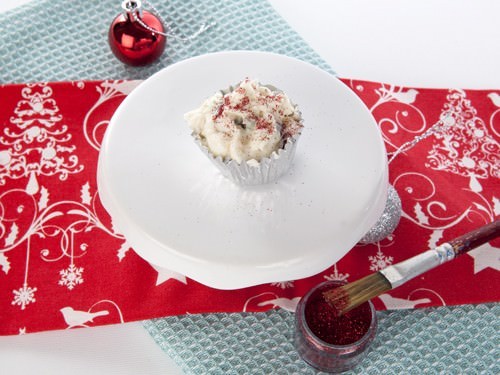 Even as little tots we were all allowed to participate in some of the Christmas cooking.  One of my earliest cooking memories is being allowed to make the White Christmas. To a child rarely allowed to eat sweets, being responsible for this treat was the epitome of "all my Christmas's coming at once!
You can bet that only half the mixture made it to the patty pans!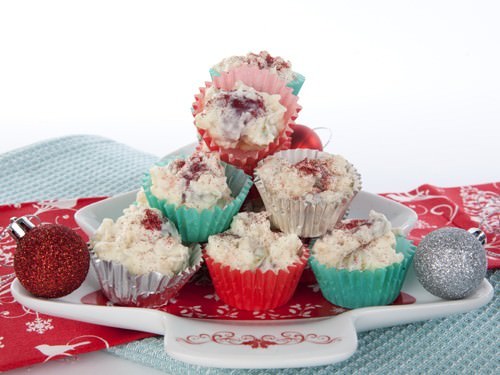 Now that I have my own children I like to encourage them to get into the Christmas spirit by baking treats. Little A made these almost single handed.
Ingredients:
550gm White Chocolate (melted)
1 ½ cups rice bubbles
1 Cups desiccated coconut
1 ¼ cups red & green glace cherries (buy from your local health food store for better colour & quality)
80gm pkt Lucky Nuts Pistachio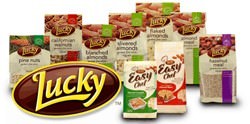 Thank you to Lucky Nuts for supplying such a wonderful Baking Package for my Christmas cooking. I have thoroughly enjoyed using all the products.
Method: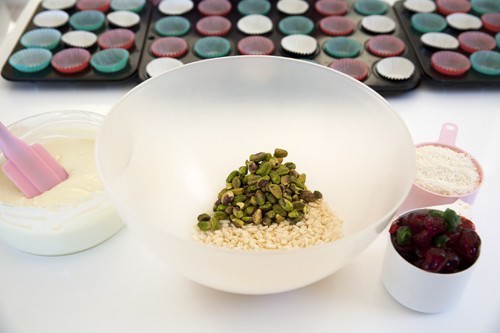 Place all the ingredients in a bowl and stir until combined.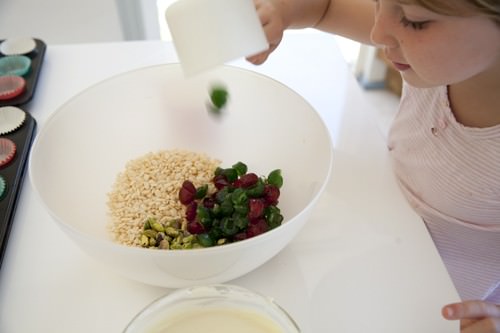 Spoon the mixture into mini patty papers.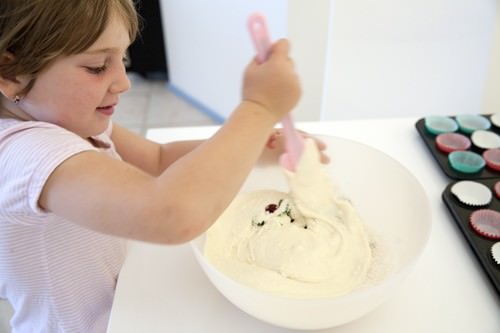 Decorate the White Christmas using glitter if desired.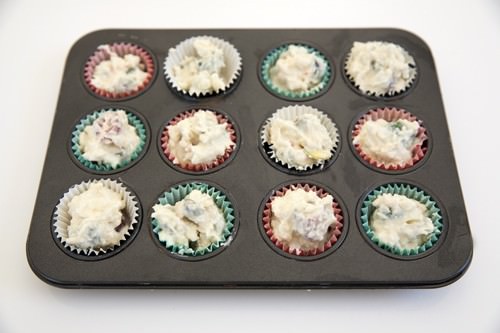 Refrigerate until the chocolate is set. May be stored in a cool place.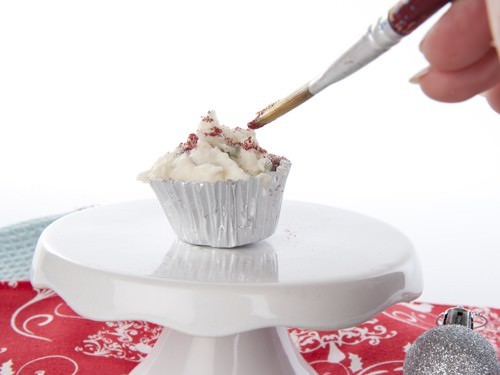 The recipe makes 48 mini White Christmas, enough to let the little ones eat a few in the preparation process.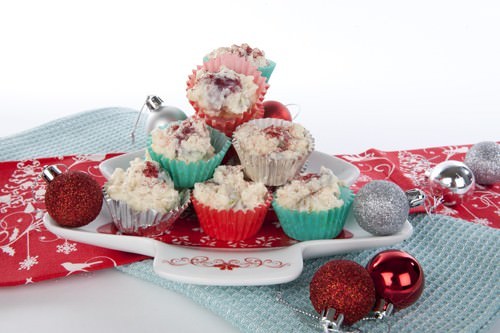 So tell me readers, were you a "hands on" child in the kitchen.  Did you enjoy "helping" or did you just magically appear when it was time to lick the bowl or eat the spoils?? Will you find a little one and teach them to make White Christmas?
The Lucky Nuts component of this story is a "Product Talk by Nuffnang"  Whilst this is not a paid sponsored post, Gourmet Getaways has received the product in exchange for featuring product in a recipe.  All opinions in this story are honest, and accurately reflect the writer's viewpoint.