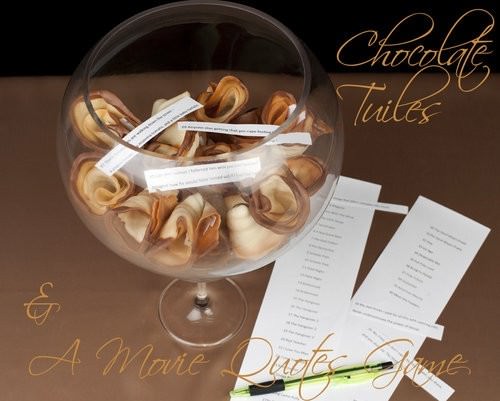 "FUCK! I keep forgetting about the tiger!"
Does anyone know what movie that line is from?
I have come up with a new dinner party game. Granted, there is a little "language" and some of the quotes should come with an R rating but I am really excited about playing it. We have a great group of friends and after a few glasses of red wine I think it will be an absolute laugh.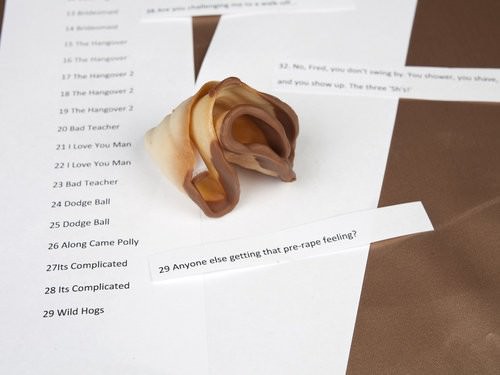 I have made wafer tuile biscuits and placed a movie line in the centre, fortune cookie style. I then folded the tuile in half and formed it into a cone to encase the quote.
I image we will take it in turns, eating the tuiles, and reading the quotes. I am not sure if we will write down the answers or just yell them out but either way should be fun. I have come up with forty quotes but since I didn't think the nine of us would manage to munch our way through 40 tuiles I doubled up the quotes and placed them in only 20 biscuits.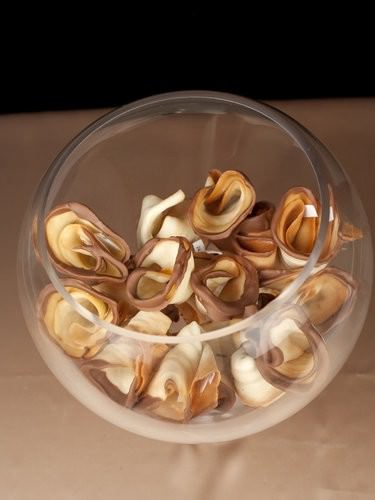 Ingredients:
2 egg whites
1 tsp vanilla extract
3 Tbs vegetable oil
4 Tbs water
8 Tbs caster sugar
8 Tbs flour
1 1/2 tsp corn flour
Method:
Preheat oven to 150 degrees, line a biscuit slide with paper.
In a bowl beat egg whites with vanilla, oil, water and sugar until combined and a little frothy.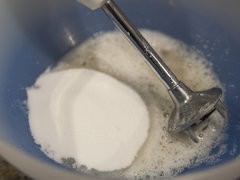 Add the flours to the egg mix and use a stick blender to bring the mixture to a smooth batter.
Place a tablespoon of batter on the tray and spread the mixture into a thin circle with the back of the spoon, ensure even coverage of the mixture.
Make only two tuiles at a time until you are confident in working quickly with the tuile.
Bake in the oven until golden, about 10-12mins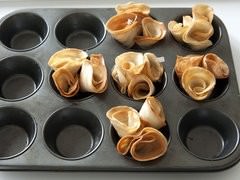 When the tuiles reach a light golden colour remove the baking tray from the oven. Working very quickly, place a message on the biscuit circle and fold the tuile in half. Twist each end in to form a cone shape. Place the completed tuile in a muffin tin so that it will keep the shape whilst you work on the next biscuit.
Repeat this procedure until you have encased all the messages.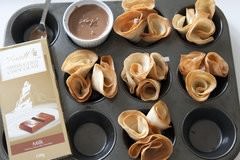 The biscuits can then be dipped in a little melted chocolate for a more elegant finish.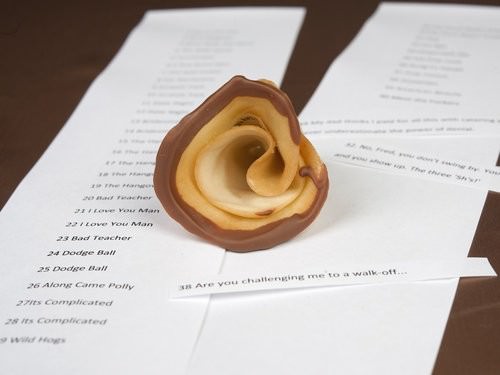 So what are your thoughts readers??
Do you like the idea of playing a game at a dinner party? What is your favourite quote from a movie? I'm on the look out for more quotes to add to my game so please share with me.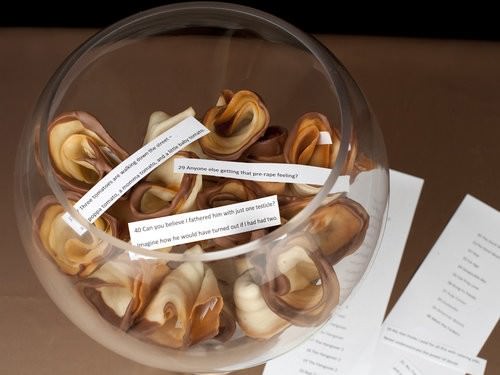 I do need to add a little note. I had an awesome night, dinner was delicious Rach. Next time I make these tuiles with a message I will use the traditional fortune cookie shape. Some of the movie quote got a little stuck in the cone shape.  Loads of fun though!