The Spanish theme was one I had been looking forward to tackling for this week's challenge. I imagined putting up lots of gorgeous Tapas dishes which I have been meaning to try and never quite got around to cooking – Catalan Chickpea Salad being one of those.
Spanish cuisine is full of beautiful flavours and colours, and I've never met a Spanish meal that I didn't enjoy. After taking a Spanish Tapas Cooking Class I was very keen to put together some great flavours for my beloved readers.
Unfortunately as the week approached things became quite hectic here and I have had to settle for this simple but delicious dish which I served with Aioli.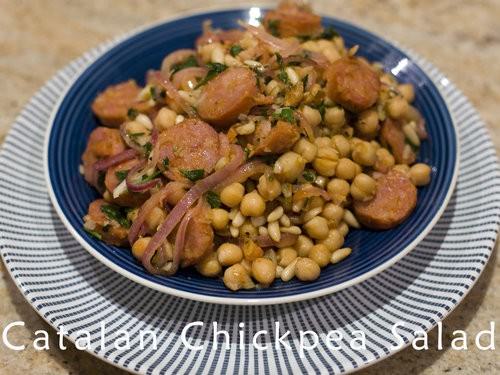 The photography for this week was also very rushed as I had a hungry family waiting for dinner and they were trying to eat the chorizo out of the Catalan Chickpea Salad while I was photographing the dish! It was lucky that no one lost a finger!
The other Spanish themed dish that I made was the traditional Spanish Omelette. The dishes were a great choice, they were tasty and quick, I will definitely make them again.
Simple Catalan Chickpea Salad with Chorizo
This recipe makes 4 generous side serves, or 2 main size serves.
Ingredients:
2 T/s Olive Oil
1 Red Onion, sliced
3 cloves Garlic, finely chopped
200gm Chorizo Sausage, sliced
3 Sprigs Thyme
3 T/s Pine Nuts
400gm canned Chickpeas
1 Sml Tomato, finely chopped
Black Pepper, to taste
Method:
Heat the oil in a [easyazon_link identifier="B000GWG0T2″ locale="US" tag="gourmetgetaways1-20″]non-stick frying pan[/easyazon_link] and sauté, onion, garlic, thyme and chorizo for 5 minutes gently.
Stir in the tomato and mash it as it is cooking.
Add the pine nuts, chickpeas and chopped parsley, heat through until the flavours have combined. Season with cracked pepper.
Serve and enjoy.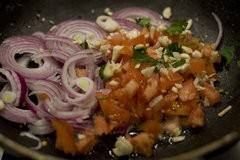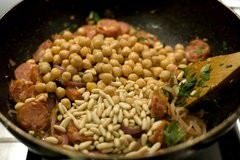 What do you think of Spanish Food? Do you enjoy an evening of Tapas, sharing dishes with family and friends?