Cassegrain Wines is the biggest vineyard we will be visiting on the North Coast Wine Trail. It is located on the Pacific Highway near Port Macquarie. The property has five hectares under vines at this location, with the four main varieties being Semillon, Verdelho, Chambourcin and Pinot Noir.
The vineyard was established by the Cassegrain family in 1984 and has continued to enjoy award-winning success under John Cassegrain.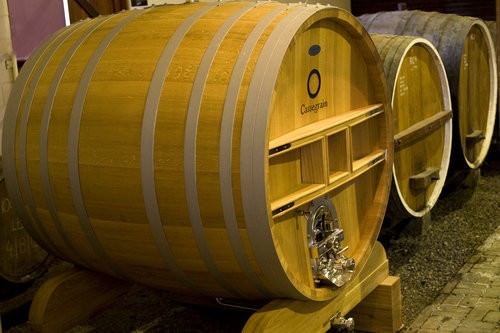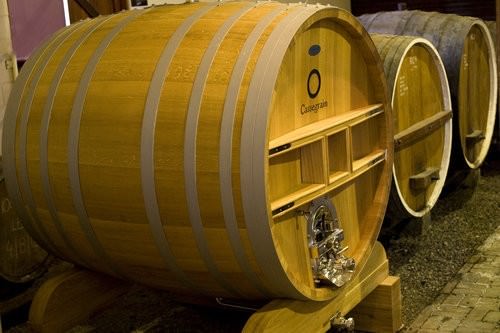 This picturesque property also includes beautifully manicured gardens with over 2500 roses, a relaxing picnic and BBQ area, an amphitheatre which is utilised for concerts in the vines and other food and wine events, and an award winning restaurant which has a magnificent view over the property.
The Cassegrain phrase "Australian wine, French tradition" refers to John Cassegrain's French family heritage of winemaking which goes back to 1645 in the Loire Valley. The family has used this heritage to produce a wide range of Premium, Reserve, and Limit Release wines which are available for tasting at the cellar door.
The French heritage is also reflected in the vineyard restaurant "Ca Marche," which serves a blend of Modern Australian cuisine with French influences. Lunch is served daily from 10.00 – 3.00pm and dinner Friday 6.00 – 9.00pm.
The head Chef of Ca Marche is Lisa Ryan whom I met at "Cooking with Company." She mentioned her Profiteroles with Grand Marnier had been a very popular inclusion on the restaurant menu. I am disappointed to say I didn't make it in for lunch on this occasion, but I will make a point of returning, as the restaurant has always been a favourite.
Mr. GG and I have had a Cassegrain membership periodically over the last ten years. We are very familiar with the wines and have enjoyed the restaurant regularly throughout this time. It has, however, been quite some years since we have visited the vineyard for a wine tasting.  We are both looking forward to seeing what is now on offer.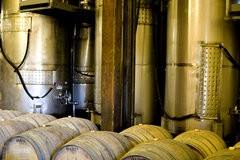 The wine tasting is literally in the cellar, past the large stainless steel vats and beautiful oak wine barrels. We wander through reading the handwritten names on the barrels. It is a mixture of modern versus tradition, and a nice reminder that we are in a working vineyard, and viewing the next vintage of wine, in the making.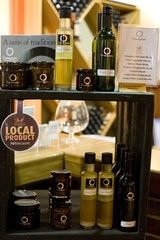 Once inside the cellar I am immediately drawn to all the local produce on offer. There is a huge range of tapenades, condiments and deli items all ready for a picnic in the vineyard. As we approach the bar, I notice they also put together their own picnic hampers for visitors. We have certainly come to the right place to relax and spend a few leisurely hours enjoy a few of the nicer things in life.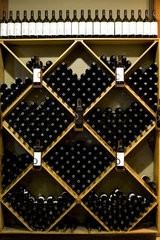 Our tasting begins with the range of white wines. I sampled the Cassegrain 2009 Semillon and found it a little too citrus, crisp and sharp for my taste. I was surprised as I had been enjoying the Cassegrain Semillon at home.
Then my dear husband pointed out that I have been drinking the 2001 Semillon which is now worth in excess of $40 per bottle. My Semillon had aged beautifully it was mellow and complex and full of flavour. I decided I would need to invest in a few of the 2009 vintage so that I can keep drinking my aged Semillon in years to come.
Our host suggested I try the 2002 Semillon which was available for tasting. It was magic, mellow and well-rounded, exactly like the wine I have at home.
We had tried a few more white wines when our lovely host suggested that I would probably enjoy the 2008 3 Tiers, Verdelho, Viognier, and Chardonnay. This was by far my favourite "find" of the day.  It had the perfect balance of flavour for me, and I was pleased to buy a few bottles to take home.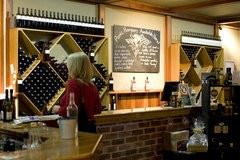 We moved onto the red wines, the list of wines I enjoyed is too long to include here. I have narrowed it down to the top three, being 2009 Pinot Noir, 2007 Reserve Ferlerne and the Shiraz (both vintages). I also found a nice light red which I thought would be a good casual drop to have with friends.
The 2008 Sangiovese is a lovely red wine which is very easy to drink. I can imagine sitting around with friends and going through a few bottles of this quite easily. It just feels like a great all rounder.
We renewed our membership and collected our purchases. I am now eagerly looking forward to seeing which of these beautiful wines will arrive on my doorstep each quarter.
The cellar is open for tasting from 9.00am to 5.00pm, the lovely people at Cassegrain wines will happily talk you through their complete range, and find wines to suit every palate.
You can find Accommodation Deals here on Booking.com