Who's up for a slice of Australia Day Pavlova? It may be a little cliche but I'm making an "Aussie Pav" for Australia Day this year.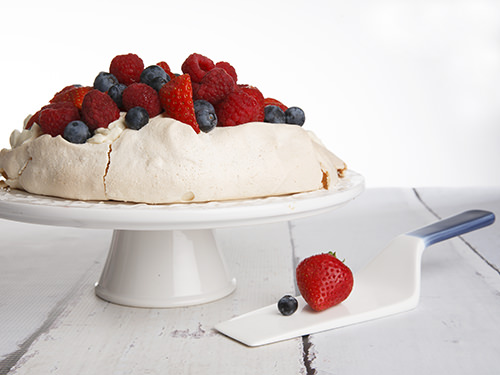 The truth is, I've never made a Pavlova for Australia Day before! I wonder if that make me un-Australian? I've made a lot of other delicious Australia Day Recipes which I shared recipes for a few days ago, but never a Pav.
With this thought in mind I realised it was time to getting cracking.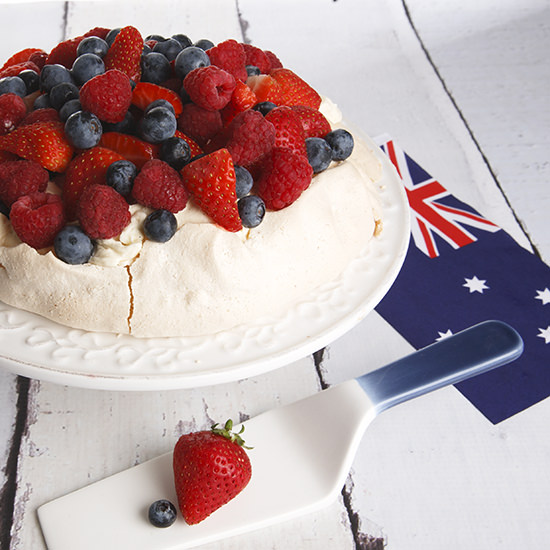 I made passion-fruit curd yesterday, so I had 4 eggs whites sitting around the kitchen looking lost. These little babies were destined for the Thermomix. In case you are wondering I have never made a Thermomix Pavlova before.
Queue the drumroll…"What could go wrong with that I wonder".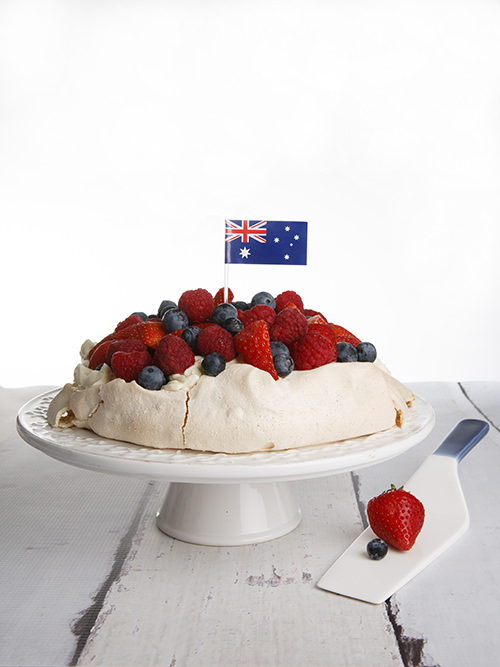 Thankfully it all worked out just fine. I used my normal recipe, but added the butterfly to the thermomix to whip the eggs whites. It worked perfectly. Maybe it's true, the Thermomix just might be able to do everything!
If you don't have a TM5, don't worry, this is my standard "old school" pavlova recipe, you make it exactly the same way but in a mixer.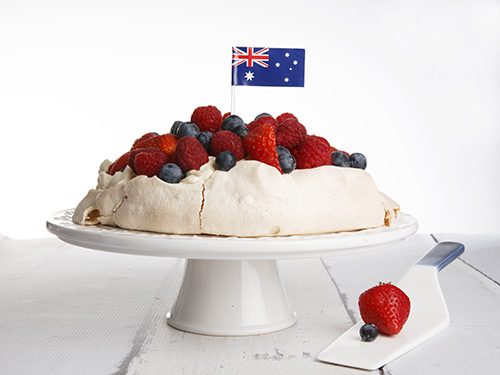 The Pavlova could have been topped with cream, mango and banana and sliced kiwi fruit, with passionfruit curd piped peaks around the dessert, if I was going for the Green and Gold theme. But I wanted a red and blue berry theme for my Australia Day Pavolva.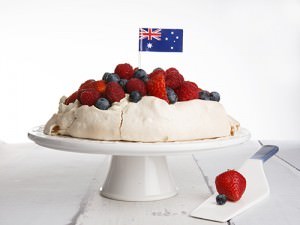 Australia Day Pavlova
Australia Day Pavlova perfect for an Australia Day BBQ. Thermomix recipe
Print
Pin
Rate
Total Time:
1
hour
15
minutes
Instructions
Pre-heat oven to 120 degree celsius.

Place baking paper on a cookie sheet.

Ensure the mixing bowl is clean and dry.

Insert butterfly and leave MC off.

Place egg whites in bowl and whisk for 1 minutes speed 3, until soft peaks form.

Set times for 3 minutes at 40 degrees speed 3, then add the caster sugar 1Tbs at a time over the three minute period.

Set timer for 2 minutes at 50 degrees speed 3, add the cornflour, vanilla and lemon juice with the whisk running and allow the machine to continue to which until the end of the 2 minutes.

Pile the meringue on the prepared cookie sheet.

Bake in the oven for about 1 hour or until cooked.

Once cooked, turn the heat off and allow the pavlova to cool in the oven.
Assembly
Just before serving whip the cream with icing sugar and vanilla.

Add the cream to the pavlova and top with mixed berries.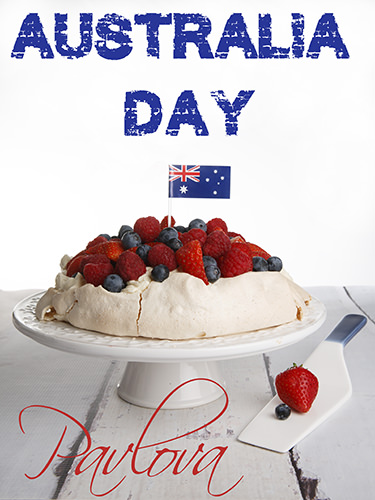 This is only half the size of a usual pavlova because I only used 4 eggs. Feel free to double the recipe if you are expecting a bigger crowd at your Australia Day party.