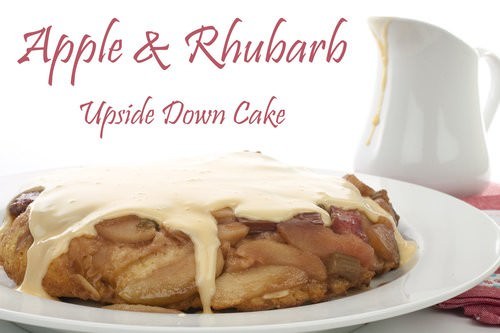 I have a confession to make… even though Rhuburb is now a retro trendy food I had not really been motivated to re acquainted myself with this vegetable. In reality I am not sure my parents or even my nana, ever managed to get me to eat a bowl of the stringy looking mush for dessert as a child. It always seemed a little too weird, that something which looked like spinach could be a dessert. Oh, and don't get me started on the poisonous leaves.  I was terrified that I would poison myself just doing the gardening with Nan.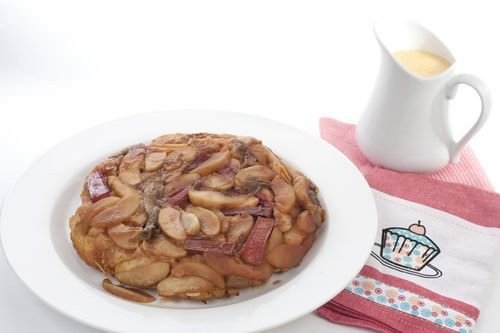 So I had left Rhubarb well alone until I got a message from my SIL.
We have had so much dreary weather recently that it seems the only thing on everyone's mind is oven warm baked goods.  The other day my brothers bride contacted me and asked if I had a good Apple and Rhubarb Cake recipe.  She was going to do some baking for my brother. I didn't have a recipe, but I immediately visualized a gooey, delicious, caramely upside down cake and decided that I should start experimenting immediately.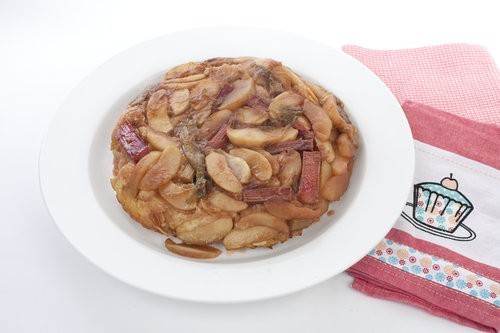 I am not sure if this is what the bride had in mind but the aroma alone is enough to make me want to bake this again. The recipe is based loosely on a traditional Tuscan apple cake, although this is more like a pudding than a cake. The apple and rhubarb is cooked on the stove until reduced and softened, then topped with a cake batter and baked.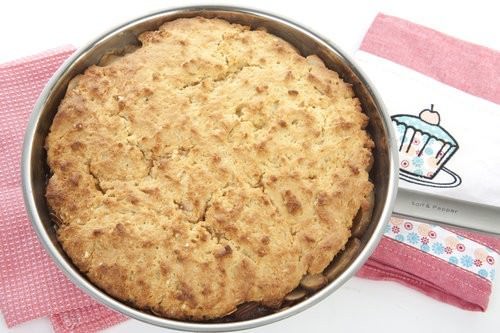 I am getting weak at the knees just thinking about it again.
Ingredients:
3 green apples, peeled, cored and sliced
½ bunch rhubarb cut into 2 inch sticks
1 ¼ cup golden syrup
½ cup apple juice
1  T/s butter
2 tsp cinnamon
2 cups flour
4 tsp baking powder
2 eggs
1 cup natural yoghurt (or milk)
½ cup almond flakes toasted
Preparation:
Dry fry almonds until golden and fragrant.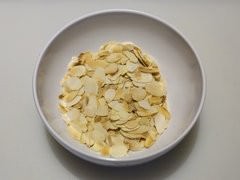 Combine ½ cup golden syrup, butter, apple juice and cinnamon in an oven safe frying pan. Add the apples and cook until apples start to soften. Add the rhuburb to the sauce and stir to coat.
Allow the mixture to simmer gently until the liquid has reduced by half and the apples are soft. Preheat oven to 160 degrees.
While the apples are still cooking, in a medium size bowl mix the flour, baking powder,  remaining golden syrup, egg and yoghurt until smooth.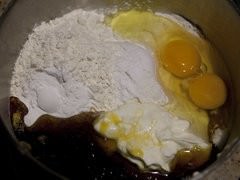 Once the apples and rhubarb have cooked, remove the pan from the heat. Sprinkle the toasted almonds over the fruit, then spoon the batter over the apples, spreading it evenly over the pan.
Place the pan in the oven and bake for approximately 40 minutes or until a wooden pick inserted into the center comes out clean.
Let the pan cool for 5 minutes, place a plate over the pan and invert. The apples and cake should come out together onto the plate. Spoon any remaining syrup in the pan over the cake.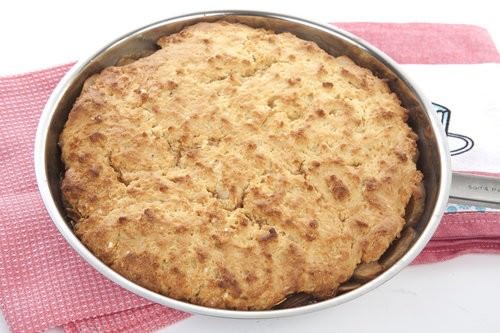 Let the cake set for 5 minutes, then cut into wedges and serve while still warm.
I am curious to know readers, is there any food which you have had an aversion to since childhood, that you have since discovered is delicious? I know I will be including Rhubarb in my cooking from now on!