I am sure you all know about my "Watermelon Punch" disaster! You will be pleased to know that I managed to salvage the watermelon and the party. The watermelon punch, became Watermelon Fizz.
It was absolutely delicious and tasted fresh and healthy, but had a nice kick to it. If you are wondering why I have departed from my usual staple of wine and moved onto the cocktails I am happy to share. Firstly, it is Christmas! It is extra special, and I love the idea of something more festive and less serious than wine for parties.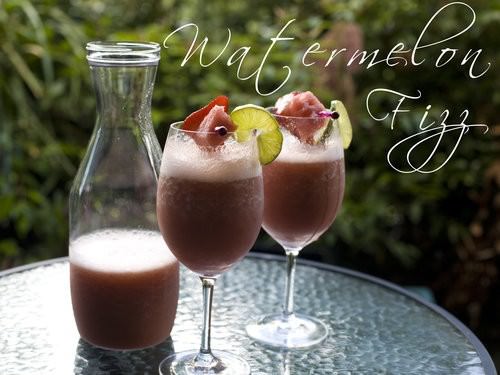 Also, the other day I participated in a Cancer Council questionnaire which looked at my general health, my lifestyle and my susceptibility to various cancers. On the whole, I fared pretty well. The two areas where I needed to make some improvements were sun sense and adding more fruit to my diet.
I have now decided to make a concerted effort to eat more fruit. It is not that I don't like fruit, I absolutely adore all types of fruit, it's just that in a busy day I don't tend to find the time to think about snacking, thus, the fruit is neglected.
To tempt myself I went shopping and brought back lots of delicious fruit, cherries, grapes, rockmelon, pineapple and a half wedge of watermelon. It has been so hot here recently that I started fantasising about turning the watermelon into a refreshing drink with crushed ice.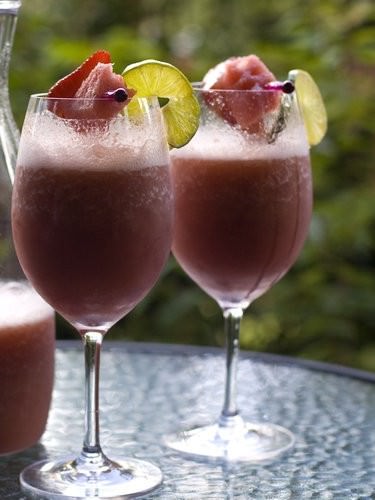 Initially, I intended to make a healthy "mocktail" hence the mint and ginger, but seriously, where is the fun in that? The end product was infinitely superior to any mocktail. The blitzed fruit was so sweet, especially with the coconut flavour of the Malibu, the lemonade gave the drink a fluffy fizzy froth on the top. The ginger, lime and mint finished the cocktail with a refreshing summer flavour.
Like all good cocktails, it was way too easy to drink. It didn't feel like I ate my way through ½ watermelon but I can attest that I did, with a little help of course.  Somehow I don't think this is quite what the cancer council had in mind when they suggested an increase in fruit consumption.
Nevermind, we are in the festive season, and I think this Watermelon Fizz would be an ideal drink over the Christmas period.
Watermelon Fizz Cocktail
Ingredients:
¼ medium sized Watermelon
1 punnet strawberries
2-3 cups ice
½ cup fresh mint leaves
2cm x 2cm piece ginger (peeled)
2/3 cup Malibu
½ lime juiced
300ml diet lemonade
Method:
1/4 fill a [easyazon_link identifier="B00NGV4506″ locale="US" tag="gourmetgetaways1-20″]blender[/easyazon_link] with ice, add enough watermelon to fill the blender to the ¾ full mark.
Add the punnet of strawberries, mint, ginger, lime juice and Malibu and blend until the mixture is smooth.
In a very large serving jug add 300mls lemonade and pour the contents of the blender over the lemonade.
Serve with more ice cubes if desired.