When I was a vegetarian I had a lot of signature dishes that I absolutely loved! This Stuffed Pumpkin recipe was one of my favourites. I have made a few alterations over the years but it still remains a dish that makes me feel healthy and nourished. Even though I am a bonafide meat eater I still enjoy my meatless meals.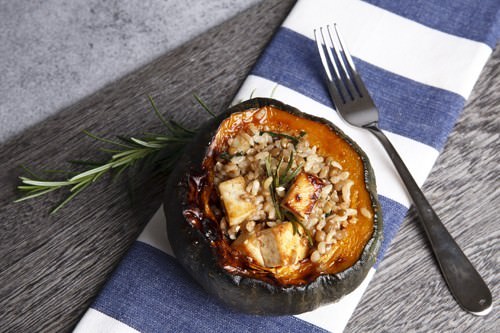 Recently I have been adding some vegan dishes to my repertoire, my motivation has been to give my stomach a break from dairy. It seems as I get older the more I LOVE cheese, the less my body LOVES me. Please don't think this will ever stop me demolishing a huge chunk of Gorgonzola, brie, goats cheese or any other dairy that crosses my path. I have just found that its better if dairy days are the exception and not the rule for me.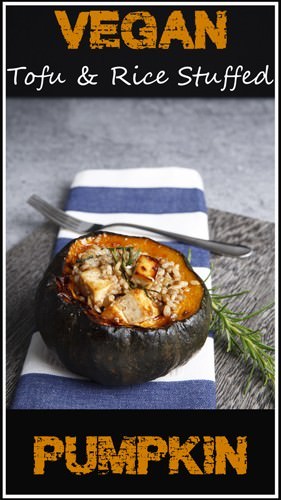 Anyway, enough of the boring "gut" chit chat. The latest change to this recipe came after a lunch with Mr GG at a local cafe called the Happy Frog. I ordered a plate full with two different salads and a homemade falafel ball with peanut sauce. It was amazing! I felt nutrient and fibre rich, I also found I remained satisfied for ages! This is one of the advantages of a high fibre diet.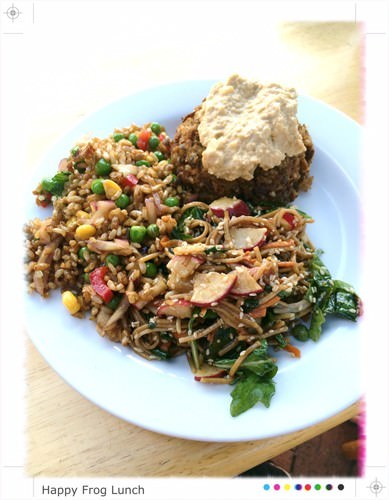 The whole time I was eating the brown rice salad I ordered at Happy Frog I was imagining it stuffed in a cute little pumpkin. Stuffed pumpkins was a vegetarian food fashion in the 70's & 80's. It may be a little kitch now, but I still love it! The best part is you can eat all the pumpkin, skin and all when its baked like this.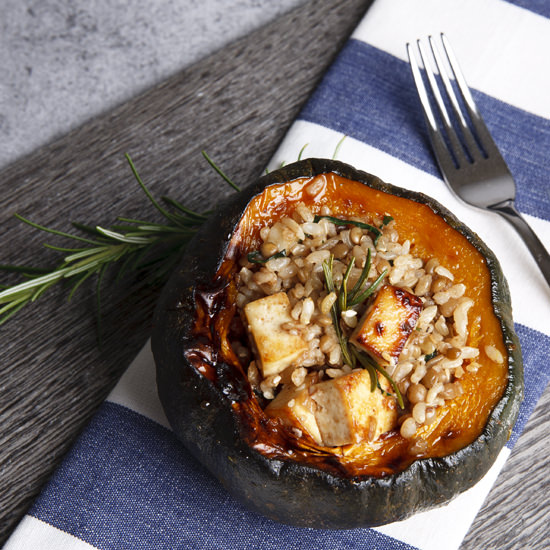 I realised I hadn't noticed little miniature pumpkins in Coffs Harbour, so I went on a mission to find some. We have a fantastic business in Coffs called Fresco Fresh Market, they do such an amazing range of fresh, local produce and gourmet deli items. Sure enough I found a crate of Potkins sourced from a local farmer in Bellingen.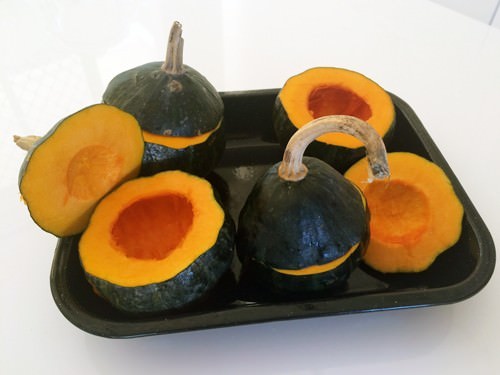 My next stop was the Happy Frog. The brown rice in the salad had been particular good so I wanted to see if there was a "secret". The girls showed me an organic, locally grown rice which is kept in the fridge. This rice was the secret to the delicious nutty flavour. With my ingredients sourced, and a grand total of $11 spent on the two main ingredients, I went home to put together this labour of love.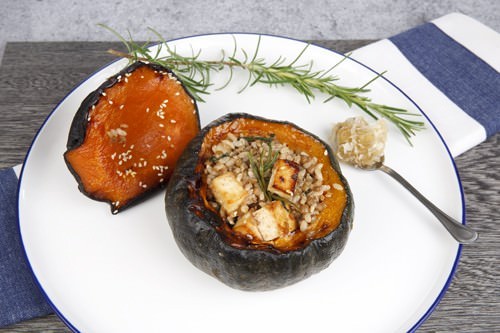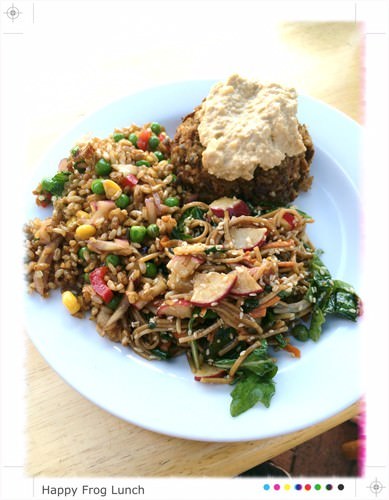 Vegan Tofu & Rice Stuffed Pumpkin
This is such a healthy dish, it can be served on it's own or part of a larger meal. If you are cooking the pumpkin for a vegetarian you can use honey or maple syrup, but if you are cooking for a vegan make sure you choose maple syrup.
Print
Pin
Rate
Ingredients
4

Miniature Pumpkins

1 1/2

cups

brown rice

400

gm brown lentils

canned

1

lg onion chopped finely

2

cloves

garlic

3

leaves

silverbeet chopped

or Kale

1

sprig of fresh rosemary

2

Tbs

olive oil

3

Tbs

soy sauce

2

Tbs

honey or maple syrup

1

teaspoon

Chinese 5 spice

250

gm cubed hard tofu

2

Tbs

honey or maple syrup

2

Tbs

olive oil

1

Tbs

sesame seeds

2

Tbs

pepita seeds
Instructions
Cut the tops of the pumpkins and remove the seeds and membranes.

Place the pumpkin on a baking tray and bake at 170 degrees until the pumpkin is cooked through. (test with a skewer, the skin should pierce easily.)

Place the rice in a rice cooker or cook as instructed on the packet.

In the meantime, fry the onion, garlic and rosemary in oil until softened.

Add the spinach, lentils, soy sauce, honey and chinese five spice. Stir until just combined and remove from the heat.

In a small saucepan add the remaining oil and honey with the cubed tofu, then sesame seeds. Fry until golden and remove from heat.

Once the rice is cooked gentle combine the rice, onion & lentil base and the tofu in a bowl.

Remove the pumpkin from the oven and stuff the pumpkin shells with the filling. Return the pumpkin to the oven if the rice has cooled or serve immediately if the dish is still hot.

You will find there is quite a lot of the rice filling leftover. I decided against reducing the quantities as I love having leftover rice salad in the fridge, It tastes great served chilled.
I was lucky enough to have one stuffed pumpkin leftover for lunch the next day. Here is a little iPhone happy snap of my delicious leftovers lunch.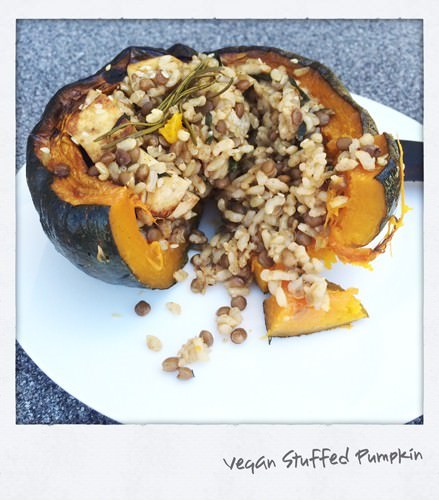 I am curious, do you choose to eat a meatless meal periodically?
The other day I watched an episode of Catalyst which looked at our changing diet and the possible illnesses related to having a poor fibre intake. The illnesses were a lot more varied than what you may suspects! The program studied an African tribe that has kept the same diet throughout history. In this particular tribe even a 1 year old is eating 200g fibre per day. In Australia adults struggle to get the recommended 20g!
Such a huge difference, the scientist compared the type of good and bad bacteria in the tribes gut and found that it was vastly different to the bacteria colonies we maintain.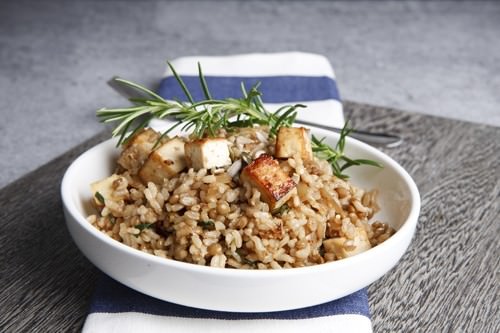 It certainly made me take another look at my fibre intake. The result was this tasty Vegan Tofu & Rice Stuffed Pumpkin dish. The recipe makes enough rice and lentil filling to give a nice cold Rice Salad in subsequent days.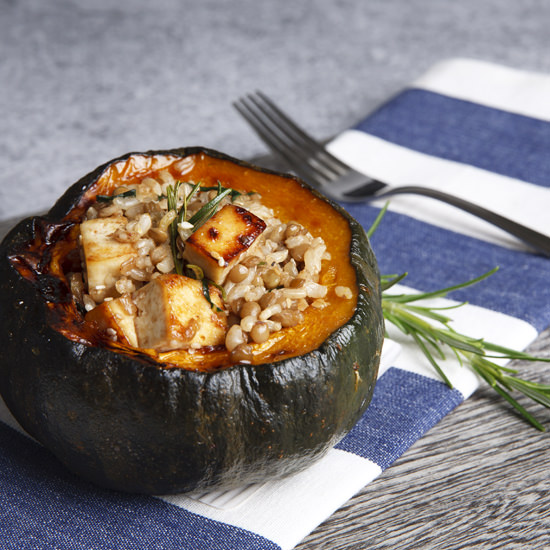 There you have my leap from a yummy Happy Frog salad, combined with a favourite stuffed pumpkin dish, to a vegan dish aimed at increasing fibre consumption due to a catalyst program. WOW! It may be a weird thought process but we got there in the end.
If you love eating Vegan style food – check out these Corn & Polenta Stacks, or for a treat Cacao Nib Cookies.