I have been flicking through a few cocktail books looking for a yummy drink that would convert well to a dessert. Visually I like the idea of a three layered cocktail like a "seduction" but I wanted the flavours to be true to the original drink and finally decided on a Toblerone Mousse because I love the flavours of that drink, and I thought the dessert would work well with a chocolate and hazelnut mousse base.
The resulting dessert was very sweet and rich but delicious. It had the perfect Toblerone flavour and everyone was quite surprised that there wasn't any Toblerone chocolate in the mousse.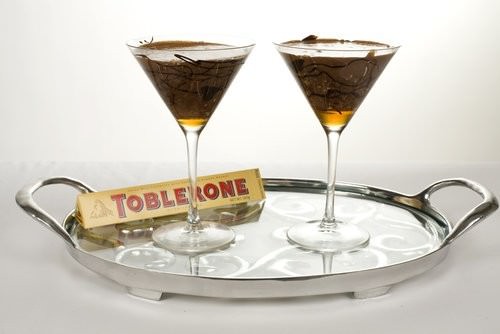 The dessert is best made the day before it is needed as it sets well overnight. I needed to photograph the dessert prior to it being completely set so I didn't get the chance to add a cream swirl and shaved chocolate and nuts to the top.
Toblerone Mousse
Ingredients:
Glass Garnishes:
Honey
40 gm Dark Chocolate
2 T/s chopped nuts
Mousse Ingredients:
300ml cream
100gm ground hazelnut
100gm caster sugar
60ml Frangelico
30ml Tia Maria
30ml Irish Cream
30ml Chocolate Liqueur
6 egg whites
6 egg yolks
150gm dark chocolate
Method:
Glass Garnish
Chill 6 cocktail glasses in the fridge.
Preheat oven to 160C/320F.
Line a baking tray with paper and place nuts on the tray. Roast the nuts until they are fragrant.
Remove tray from oven and cool nuts.
Once the glasses are cold swirl honey in a pattern inside the glasses.  Put the glasses back in the fridge.
Melt the 40gm chocolate garnish in the microwave and using a teaspoon swirl the chocolate inside the glasses. Turn the glasses on the side and sprinkle the nuts inside the glasses whilst turning.  The nuts should stick to the honey and chocolate. Place the glass back in the fridge to set the chocolate.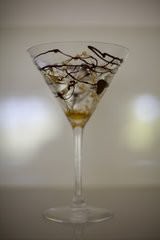 Toblerone Mousse
Whip the cream in a bowl with sugar until stiff. Add the ground hazelnut and stir through the cream. Stir the cocktail liqueurs through the cream and refrigerate.
Place the chocolate in the top of a double boiler and melt over a simmering pot of water. Remove the chocolate from the heat and beat the egg yolks through the chocolate mixture one at a time until completely incorporated. Set mixture aside to cool for at least 15 minutes.
In a separate bowl beat the egg whites with hand mixer until stiff peaks form.
Once the chocolate is cooled fold the cream mixture through the chocolate custard.
Gently fold the egg whites though the chocolate mixture, taking care to keep the mixture light and fluffy.
Using a ladle, spoon the mousse into the chilled martini glasses and refrigerate overnight.
The Toblerone Mousse will fill 6 – 8 cocktail glasses depending on much the glass is filled.  I would suggest not filling them as much as I have in these images and finishing with a large swirl of cream and a sprinkle of chopped nuts.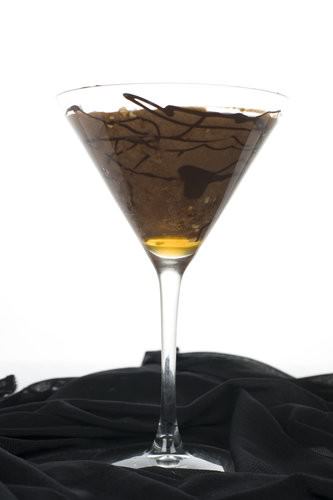 Bon Appetite!