Well yesterday was one of those really lack lustre days. Our whole family was in a bit of a funk, so when life gives you lemons what do you do?? I don't make lemonade, I bake.  I may have mixed my metaphors but I decided the way out of the doldrums was with some bright sunny bikini and bum bikkies, or cookies as they seems to be called these days.
I used a basic sugar cookie dough with a bit cocoa added to make the cookies a chocolate flavour. When I make sugar cookies I use a recipe which yields about three times the dough I need. I then divide the dough into three and place two glad bags of cookie dough in the freezer for a cookie emergency.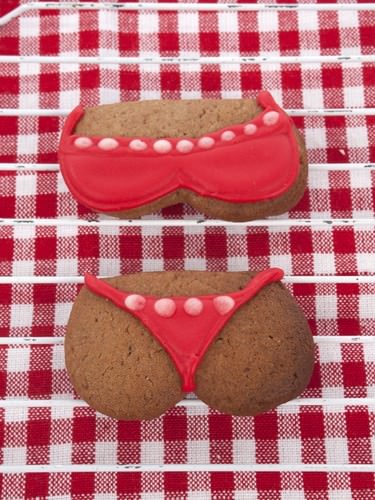 Given that it was a cookie emergency I was very pleased to find a spare bag of cookie dough in the freezer. The dough was then placed in the microwave for 40 seconds while I contemplated the colour of the bikini's.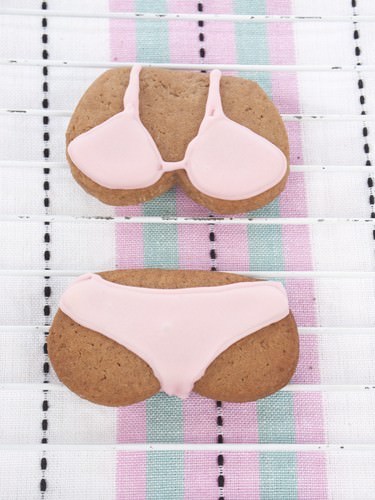 So I guess this story is more about shortcuts than cooking. I usually make my royal icing from scratch but today I wanted instant gratification. Whilst shopping last week I had noticed a "packet" royal icing in the supermarket, I put it in my shopping trolley "just in case".
So all I needed to do was add 50mls of water to the icing mix and then divided the mixture for flavouring and tinting.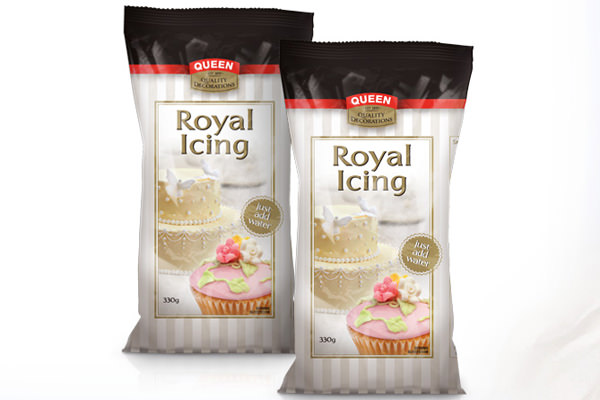 I decided on three colours, pink red and white, with musk flavouring in each. Once the three colours were mixed I placed a large tablespoon of each colour into a three separate piping bags.  These would be used for the outline of the swimwear.
I then further diluted the remaining icing by adding another 5mIs of water to each of the coloured bowl.  This icing mixture was to be used for flooding the designs so it was added to another 3 piping bags.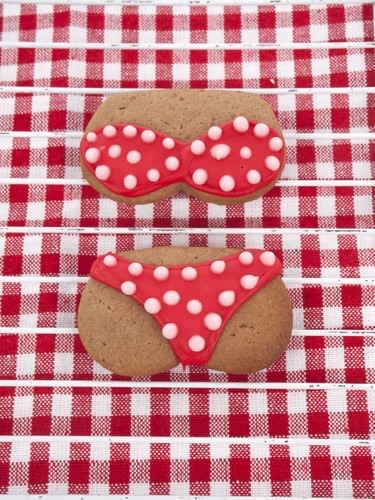 The boobs and bums were cut using a heart shaped cookie cutter.  Once I had rolled the cookie dough and cut the hearts out, I then used a knife to remove the point of the heart leaving some lovely, shapely boobs and bums ready to be baked.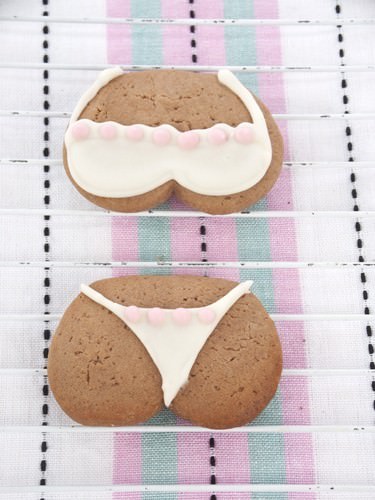 The dough was baked for 12 minutes in the oven at 170 degrees. You will notice a few bottoms were a little more tanned then others.  My oven is being temperamental at the moment and I didn't turn my baking trays as I should.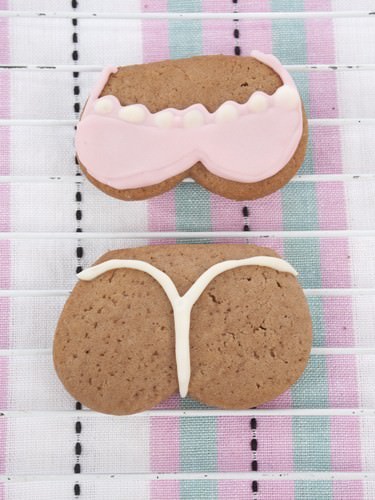 Once the bikkies were cool it was time for my decorating therapy. I am horrendously bad at using piping bags and anything with fine details but I was really pleased with the results decorating the swimwear cookies.  This proves that it's a very easy task!
The outline is drawn with the thicker icing as it needs to hold its shape and stay raised. Once the outlines have dried it is then possible to use the thinner icing to flood (colour in) the bikinis.  If you would like to add more detail to the bikini you will need to wait until the flooded icing has dried.  Use the thick icing to add stripes, hearts or dots to the swimwear.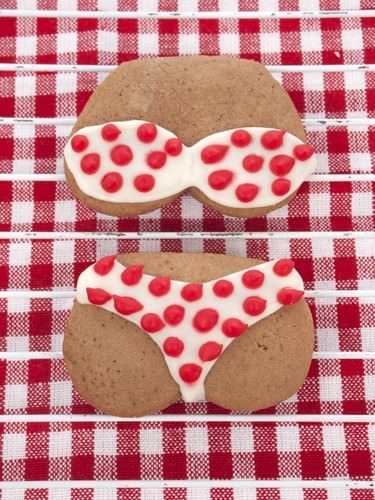 It is really very simple.
I am not sure what school is going to say as these little bathing beauties?? We ran out of recess food this morning whilst packing lunches for everyone, so the children needed to take a selection of swimwear cookie "models" for a lunch box treat!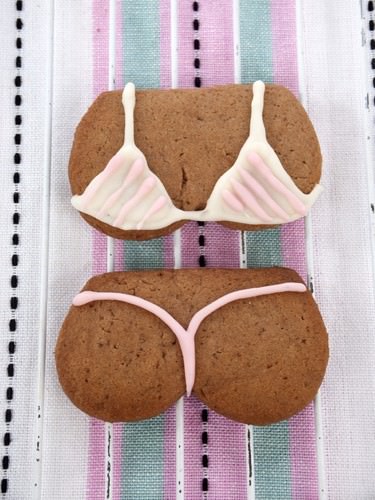 Swimwear Cookies
Ingredients:
1 1/2 cups softened butter
2 cups sugar
4 eggs
5 cups plain flour
1 tsp baking powder
1 tsp vanilla essence
Icing Ingredients:
Queens Royal Icing Mix
50mls water
Queens colours and flavours as desired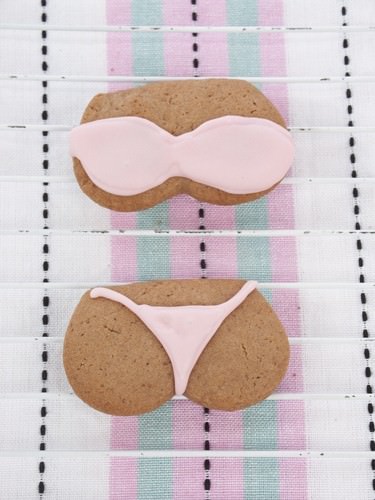 Method:
Preheat oven to 170 degrees.
Add the butter and sugar to a food processor and blitz until combined.
With the food processor running add the eggs one at a time and the vanilla.
Place the mixture into a bowl and stir through the flour and baking powder until combined. If you are using cocoa add it at this time also.
Divide the cookie dough into three. Roll each mound of dough into a 1 inch thick rectangle and wrap in cling film.
Place the three serves of cookie dough into the freezer for at least 30 mins.
Roll the dough into 5mm thickness and cut hearts out.
place the heart on a prepared cookie slide.
Cut the pointy end of the heart off with a knife.
Bake cookies for 12mins or until golden.
Repeat with remaining cookie dough.