Week 3
Topic Rice/Noodle
I have a sick hubby at the moment, Mr GG has tonsillitis. He is bedridden, tired and lethargic, worst of all though, is that he is struggling to swallow. When I'm unwell I just want fluids, tea, water, green tea and soup.  So I decided to make hubby a bowl of my "special" Miso soup.
My Miso Soup is special because I add a few more ingredients.  I use sashimi grade salmon and noodles to give the soup a little more body so it may becomes a meal in itself.
Neither the salmon nor the tofu is cooked prior to serving. The hot broth is merely poured over these ingredients.  This allows the silken tofu to keep its perfect diced shape and the salmon to softly poach in the liquid.  The salmon will have the same "melt in your mouth" consistency as the tofu.
It is a very satisfying soup, and is quick and easy to make.  The only consideration is to have all the ingredients prepped and ready to use prior to commencing.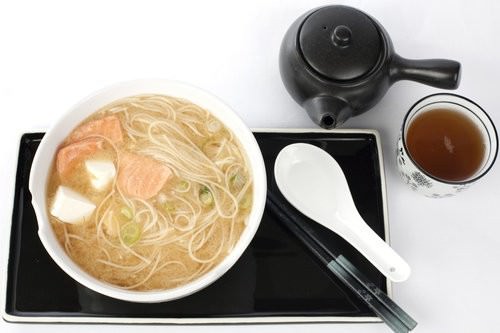 Ingredients:
220gm Sashimi Grade Salmon (sliced thinly)
300gm silken Tofu (cubed)
3 shallots (sliced finely)
100gm noodles
1 litre water (pre boiled in jug)
2 Tbs White Miso Paste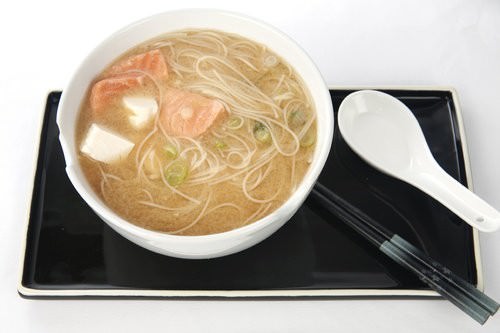 Method:
Place a saucepan on the stove over a medium heat.  Add the pre boiled water and shallots. Boil for 1 minute.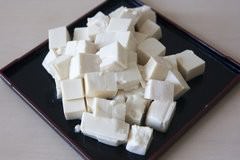 Divide the salmon and tofu amongst serving bowls.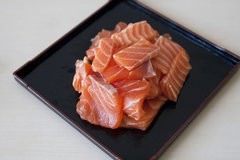 Remove ½ cup of water from the saucepan and add the Miso paste. Stir until the paste has dissolved, reserve for later.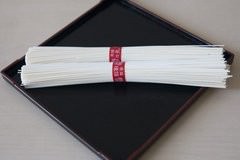 Add the noodles to the boiling water and cook until just soft. Turn off the heat and stir through the dissolved miso paste until combined.
Pour the broth into the serving bowl, over the salmon and tofu. Ensure the noodles are divided evenly amongst the bowls. Give the bowls a very light stir to allow some tofu and salmon to surface. Serve.
This recipe will serve two people as a main or four people as an entree.