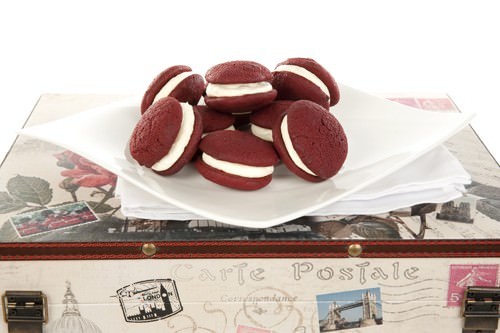 Do you like my pretty suitcase? I am always looking for props to use in my photos and I fell in love with this suitcase immediately. I thought it would make a great background for some sweet, dessert treats.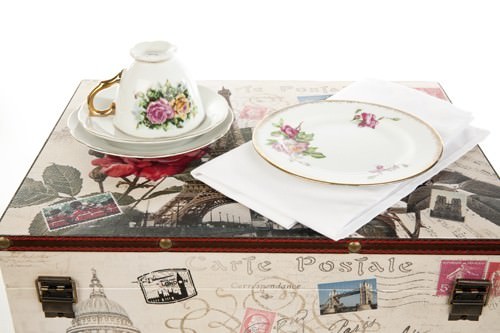 I found the trunk in one of the $2 chain stores, and whilst it wasn't $2.00 it certainly wasn't much more. I was very pleased with my find, and kind of felt a little "shabby chic" carrying it to my car.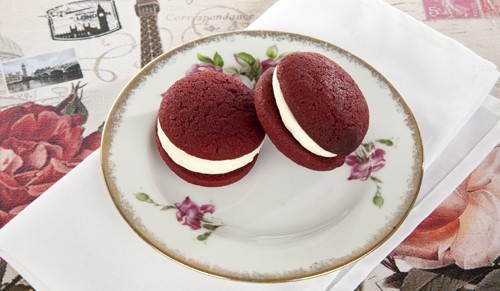 Usually, I scour second-hand stores, markets and charity stores for interesting cutlery, crockery, bowls and incidental items.  Lately, (read forever) it seems the owners behind these stores understand the demand for these products, and sadly for me, they come with a huge price tag.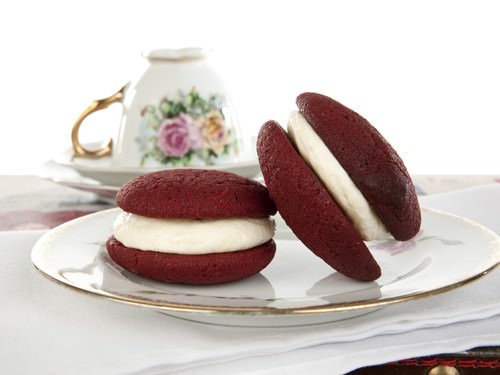 On the weekend I was at Lismore markets. I fell in love with a cute pink fluted tea cup, alas it was $25. I wanted it! I had Mr GG shopping with me and I knew there was no way I could explain the importance of a $25 teacup so I had to let it go. I understand why he doesn't get it, my local kitchen shop sells something very similar, in the same style, with a saucer and side plate for $9.95.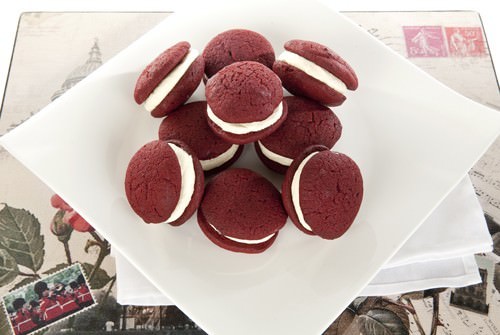 The teacup on the trunk is one that I found in a second hand store in Coffs Harbour. It was a better deal, and came as a set.
This recipe is one that I have been sitting on for a while. I am so pleased I made it, because it is the yummiest sweet treat I have made in a while.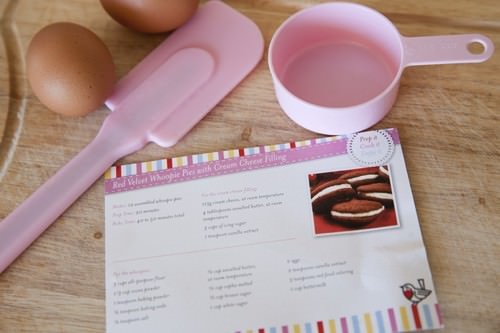 The whoopie pie has the perfect flavour and consistency, and the cream cheese filling is a winner. The recipe made about 30 completed whoopie pies and after just one day, I am down to less than half. They really are that good.
Without further ado, I give you "Red Velvet Whoopie Pies"
Red Velvet Whoopie Pies
Author:
Prep time: 10 mins
Cook time: 40 mins
Total time: 50 mins
A delicious light whoopie pie with luscious cream cheese filling. I can't stop at one!
Ingredients
3 cups plain flour
1/3 cup Dutch process cocoa powder
1 tsp baking powder
1/2 tsp baking soda
1/2 tsp salt
125gm butter
125gm copha melted
1/2 cup brown sugar
1 cup white sugar
2 eggs
2 tsp vanilla extract
3 tsp powdered red food colouring
1 cup natural yoghurt
Filling
250gm cream cheese
8 Tbs butter at room temp
6 cups of icing sugar
1 tsp vanilla extract
Instructions
Pre-heat the oven to 180 degrees.
Line cookie trays with baking paper.
In a bowl combine flour, food colouring, cocoa, baking powder and soda. set aside.
In an electric mixer with a large bowl, cream butter sugar and add the melted copha. Mix until light and fluffy.
Add the eggs one at a time mixing well in between each addition.
Add the vanilla.
With the mixer on low add half the flour mixture and half the yoghurt. Scrap down the sides of the bowl and once the ingredients are combined add the remaining flour and yoghurt.
Beat until completely combined.
Drop teaspoons of the mixture onto the prepared tins leaving some room for spreading.
Bake 2 sheets at a time for approximately 10 mins or until the cakes are light and springy to touch.
Cool for 5 minutes on the tray and then place on a wire rack.
Repeat until all the mixture has been used.
While the cakes are cooling prepare the cream cheese filling by beating all the ingredients together on high until light and fluffy.
Place the frosting in a piping bag and filling half the whoopie pies with frosting. Match the frosted bottoms with tops of a similar size.
Store the filled whoopie pies in an airtight container in the fridge. Place baking paper between the layers.
Tell me readers, do you notice the detail in food images, the table clothes and napkins etc, or are you busy visually consuming the food item in the picture?