You may remember that during my last trip to Thailand I took part in a Thai cooking class. Today I am sharing a recipe from that class with you, Thai Chicken Larb, or Kra Prao Gai. It is a simple, quick dish, which can be prepared, and ready for devouring in ten minutes. Best of all it tastes of all those delicious Thai flavours I fell in love with during our last getaway.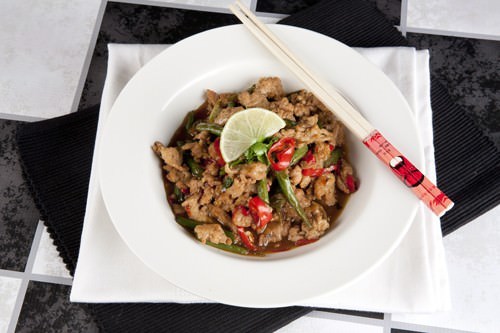 But with the gift of this recipe comes a confession. Whilst you are salivating over this recipe I am back in Thailand! I missed the food and the atmosphere so much that I just had to make a return trip!
Yep, I just couldn't stay away.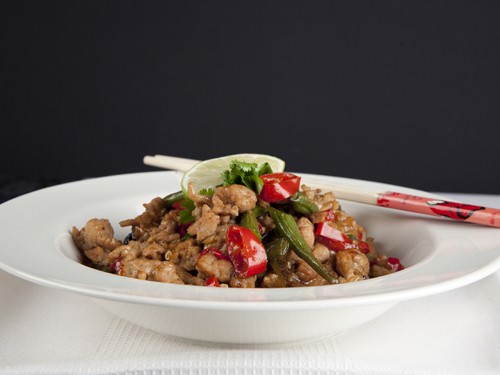 This time, instead of the hustle and bustle of Phuket and Patong Beach we have made our way from Phuket to the island of Koh Samui, six hours and a ferry ride away. How did we make this overland trek across Thailand with a 6 & 8-year-old? I will be updating you every couple of days with stories from our trip so stay tuned to hear more.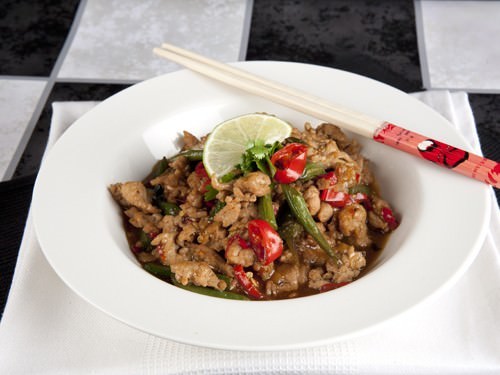 In the meantime please share a bowl of Thai Chicken Larb, Kra Prao Gai, with me.
Kra Prao Gai
Author:
Prep time:
Cook time:
Total time:
This is an authentic Thai dish which is quick and easy to prepare.
Ingredients
1 Tbs Oil
500gm minced chicken
4 cloves garlic chopped
4 small chilli sliced
2 shallots chopped in 1inch pieces
10Thai basil leaves
2 lg mild chilli sliced
1 Tbs oyster sauce
1 Tbs fish sauce
1/2 Tbs black soy sauce (sweet)
1 Tbs sugar
1/4 chicken stock
1/2 green beans chopped
3 kaiffir lime leaves shredded
1 lime wedge
Instructions
Heat oil in a pan and fry garlic and chilli until fragrant.
Add the mince to the pan and fry until cooked.
Place all the sauces, stock ad sugar into the chicken mixture and simmer with the green beans until the beans are cooked to your liking.
Add half the shredded kaffir lime leaves to the mixture and the chopped Thai basil.
Place the Kra Prao Gai in a serving bowl and garnish with remaining lime leaves.
Add a squeeze of lime if desired.
As with all Thai dishes, everything is to taste. If you like salty, add a little more fish sauce, if you like sour, the squeeze of lime will add that flavour. I enjoy a little heat in my Thai dishes so I usually kick up the chilli count.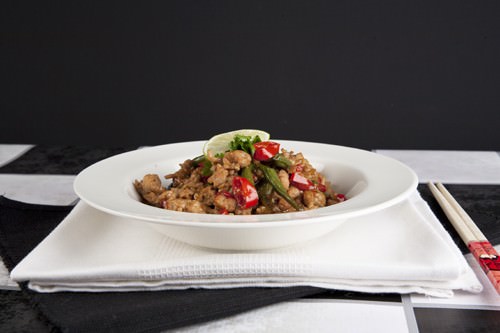 Please take a journey through Thailand with me readers. If you have any "must do" suggestions feel free to let me know in the comment section below.