Today I want to share something which is mouth-wateringly delicious and requires absolutely no effort!
I realise we are in spring and this is a winter warming recipe but we have had a few chilli days and this dish just tastes so good. Besides that, our friends in the Northern hemisphere are just about to face the cold of winter so this one is to warm them on their way.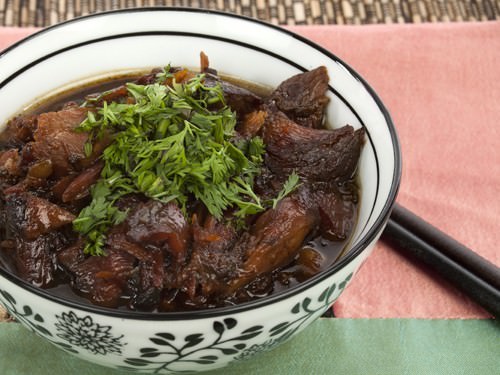 Ingredients:
4 Lamb shanks
1 cup of soy sauce
1 cup water
½ cup honey
1 onion diced
4 cloves garlic chopped roughly
2 Tbs Mirim
1 1/2 Tbs sugar
1 knob of garlic grated
2 green shallots diced
½ bunch fresh coriander
Method:
Place the lamb shanks, soy sauce, water, honey and onion in a slow cooker. Set to automatic and leave for 4-5 hours.
Grate the ginger into the slow cooker and add the shallots and half the coriander.  Turn the lamb shanks. Replace the lid and cook for another 2 to 3 hours depending on when the dish is required and whether you want the meat on the bone or fallen away from the bone as I have.
When you are ready to serve, place the meat on a dish in the oven to keep warm whilst you thicken the remaining sauce.
To thicken the sauce place the slow cooker juices in a large heavy based saucepan.  Allow the sauce to reduce over the heat.  Once the sauce is a syrupy consistency remove it from the heat and add the mirim, sugar and coriander.  The meat can be returned to the sauce and served with noodles.
I hope you enjoy this dish.   It is one of my favourite comfort food and it is so easy to make.
Let me know what your favourite comfort food is.  Do you ever feel like an out of season dish, ie: salad in winter or a thick hearty stew in summer?