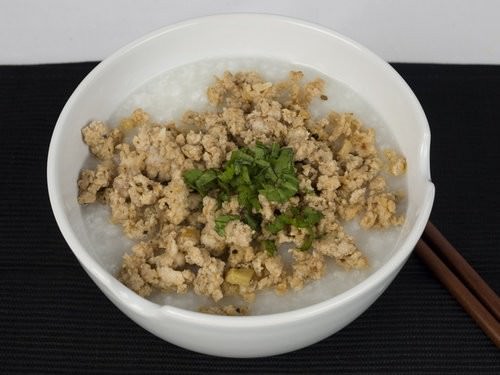 Today I will be handing the front page over to Kristy, so she can tell you about a comfort food she made for Mr GG the other day.  Kristy is in Australia for six months to study English language at university.  She has been living with us since January this year and her English has been improving dramatically over her stay. Writing this article will be a great accomplishment!  Please make her feel welcome with lots of feedback!
Hello, everyone. I am Kristy from Hong Kong. I am very pleased to be invited by Julie to share my story with all of you. As mentioned before, I have been staying with Julie's family since January of this year. During this period of time, I have found that I have totally changed into a new person. I did lots of things that I have never done in Hong Kong, one of them is cooking!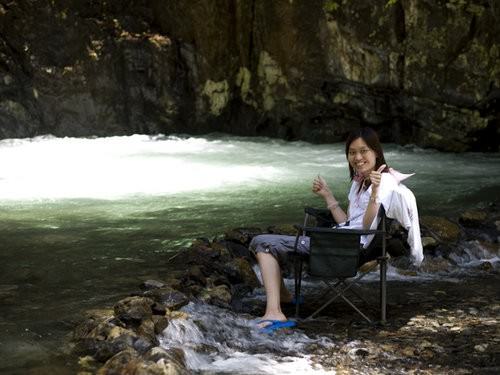 Before I came to Australia, my university had reminded me many times to bring some traditional Chinese recipes to cook with Julie, because she is very interested in cooking. However, I did not cook anything apart from instant noodles, so my friend gave me a bilingual cookbook to solve my problem. Marvelously, I can cook based on my memory without looking the cookbook, I am really surprised!
Recently, I made a Chinese Congee for my host father because he had an ear operation, he could not chew any hard food, and he could just eat mashed potatoes, yoghurt and ice-cream everyday. When I realized his poor situation, I remembered that my mother had made the Congee for me if I was sick and could not eat anything. It is creamy, tasty and healthy, so I can just swallow it without chewing. Thus, I decided to try cooking it for my host father. To tell you the truth, it was my first time to cook Congee. I was really worried I would fail, fortunately I succeeded. Here below is the cooking method. I hope you will like it, thank you very much!!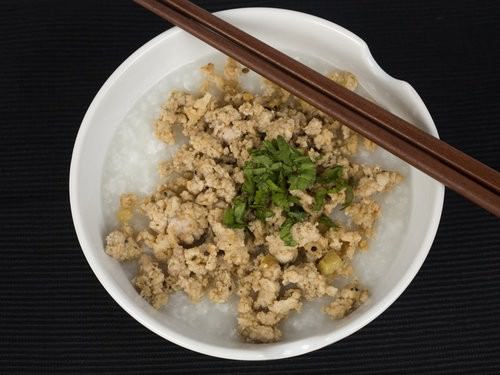 Ingredients:
160 gm Rice
3cm piece Ginger (sliced finely)
100gm Chopped or minced meat
1 -1/2 tsp salt
Method:
Rinse the rice and put it into a pot. Add 5 cups of water and the sliced ginger. Bring to the boil over high heat, and then keep on cooking over high heat for 2 more minutes. Then turn to medium heat and cook for 1-1/4 hour.
After the congee has been boiling for 30 minutes, stir it constantly to prevent burning and sticking to the pot. If it is too dry, you can add more water during cooking.
Season with salt and stir well. Turn off the heat and serve with other ingredients according to your own taste, such as chopped meat, sliced meat, diced spring onion or white pepper.
P.S.: In Chinese culture, we believe ginger can remove coldness and warm the stomach, so we usually add ginger to food in order to achieve the same therapeutic purpose.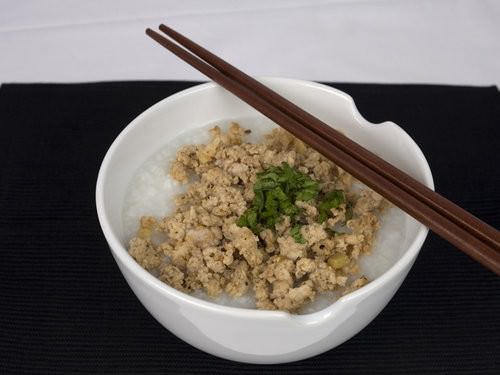 Kristy used a seasoned chicken mince to add to Mr GG's Congee and the tasty was pure homely comfort.  Thank  you Kristy for looking after hubby, and thanks for sharing a bit of your culture with our family and visitors to Gourmet Getaways. I will have to get ill before you go so I can get you to make a bowl of Congee for me 🙂