Apples are a difficult ingredient for me. What do you do with apples? I didn't want to make an Apple Pie or Apple Crumble because I really don't have anything special to add to those classic apple desserts. The only other thing I do with apples is cut them into quarters for the little ones, hardly inspiring cooking.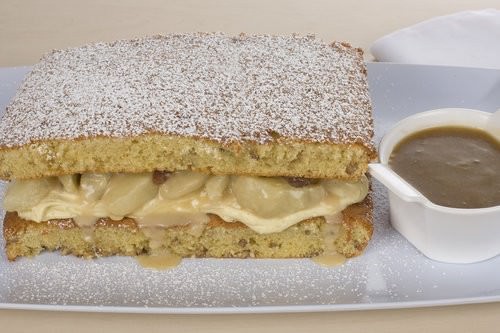 After agonising all week, I was getting something out of the car when I noticed a recipe card for Pistachio & Raspberry Jelly Cakes. Now even though there is no apple in this recipe, I finally had an idea for an invention of my own.
Here it is Apple, Vanilla Mascarpone Cake with Caramel. Oh and I do realise I have failed at a beautiful presentation, but it was so good to eat!
This Cake is made from 4 parts that are combined and assembled to make the beautiful cake you see in the photos. It will comfortably serve 10 adults.
Apple, Vanilla Mascarpone Cake with Caramel Sauce
Part 1: Walnut Butter Cake
Ingredients:
250gm butter softened
250gm caster sugar
1 lemon, finely grated rind only
4 large eggs
125gm plain flour
65gm walnut crumbs
65gm ground almond or hazelnut meal
2 t/s baking powder
Method:
Pre-heat oven to 160C/320F.
Line a 20 x 30cm baking tray with baking paper.
Cream butter and sugar with your hand mixer until light and fluffy.
Add the eggs one at a time beating well after each addition.
Mix in the lemon rind, flour, baking powder, walnut and almond until combined.
Spread the mixture in baking tin and cook for 30 mins or until cooked through.
Remove from oven and allow to cool for 10 minutes before turning out onto a cake rack.
Part 2: Vanilla Mascarpone
Ingredients:
250gm mascarpone
3 T/s icing sugar
2 t/s vanilla bean paste
Method:
In a bowl mix all three ingredients together and refrigerate until needed.
Part 3: Caramel Sauce
Ingredients:
80gm butter
600ml cream
2 cups brown sugar (lightly packed)
Method:
In a saucepan melt all the ingredients together.
Stir until the sugar has dissolved. Do not allow the sauce to boil.
Continue to simmer on the stove until slightly thickened or about 5 – 10 minutes.
Part 4: Apple Filling
Ingredients:
400gm tinned pie apples
½ cup sultanas
¼ cup walnuts, finely chopped
¼ cup caramel sauce
Method:
In a bowl mix all ingredients together and refrigerate until needed.
Assembling the Apple, Vanilla Mascarpone Cake:
To assemble the individual cakes I cut the cake with a sushi mould, but you could use a cookie cutter.
Cut the cake with a round cookie cutter.
Next split the rounds of cake in half horizontally so you have a base and a lid.
Spread the base cake with a generous amount of mascarpone.
Add a spoonful of the apple mixture ensure the apple is fairly flat.
Top with the remaining slice of cake and dust with icing sugar. Serve with the caramel sauce.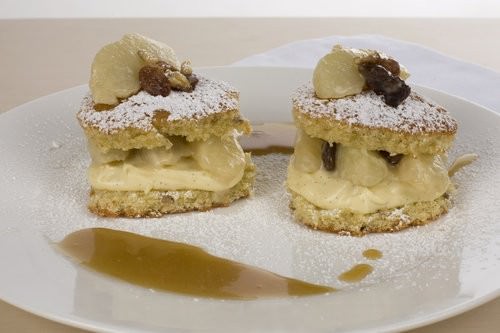 If I made this cake again I would make it in two smaller sandwich tins, and have one big dessert cake. The taste of the finished product is unbelievably "vanilla-y" and fruity. I thoroughly enjoyed eating it, but I wouldn't make the individual serves again.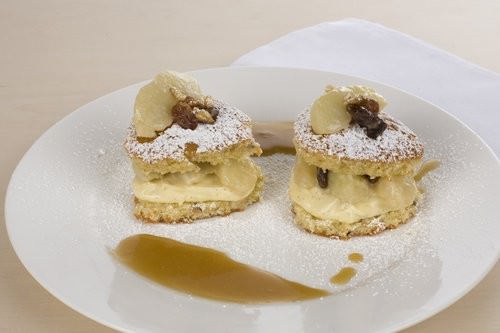 (I only made two individual cakes for the photo), the remainder I made one large cake. It was probably nicer to eat as everything stacks in well together.  It was great as a cold dessert straight out of the fridge.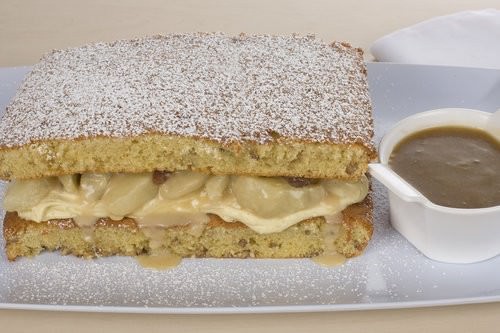 I know this list of ingredients looks huge but it is all simple and quick. The caramel sauce makes about double what you will need, but trust me. Make double, it is so good! You will want it on everything for the rest of your life.
The other clear winner in this recipe is the Mascarpone. When you taste it with the vanilla and icing sugar you will die and go straight to heaven. It is amazing, I put it on everything; pancakes, strawberries, fruit crumble anything really!
In the Cheesemaking Work Shop we learnt how to make about 500gms of Mascarpone for around $1.50. It was a great course because I had never really liked Mascarpone until I did the course and tasted it in a number of different dishes. Now I know how to cook with it, and I love it.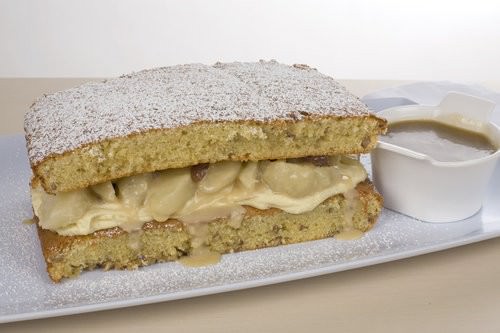 What do you think readers? Are you like me, and can't stick to a recipe ever (even my own)? Or are you happy to give a recipe a go first time and make adjustments next time? I am curious, I hardly ever make a dish the same twice.