With Summer approaching and the weather warming up these tasty little Vietnamese Rice Paper Rolls are ideal for a picnic or snack.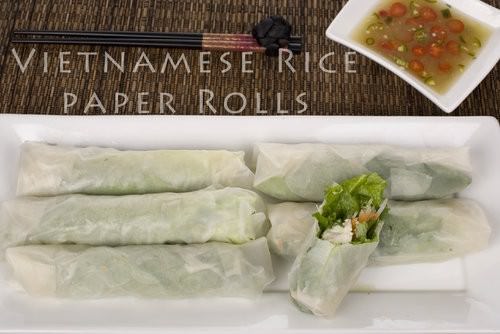 I also wanted to make a dish that my new sister in law could make for my brother. She always looks at the recipes but can't make them because they are either too hard or very indulgent! My brother is the healthy one in the family, so I wanted to make my "raw" dish, a recipe which would be suitable for him.
Vietnamese Rice Paper Rolls
Ingredients:
1 medium carrot, cut into matchsticks
50 gm bean sprouts
50 gm snow pea sprouts
½ cup loosely packed fresh coriander leaves
1 cos lettuce, leaves separated
½ T/s finely grated fresh ginger
100gm tofu, cut into 6 slices
6 x 21 cm rice paper wrappers
 Dipping sauce
Ingredients:
2 tablespoons lime juice
1 tablespoon fish sauce
1 tablespoon grated palm sugar
1 fresh small red Thai chilli, chopped finely
Method:
Combine all the dipping sauce ingredients in a small mixing bowl and set aside.
Prepare vegetables and tofu as shown in the photo below, slicing the vegetables very thinly.
Trim lettuce so that it is smaller than the rice paper wrappers.
Dip one rice paper round into a bowl of warm water until soft, place it on a damp clean cloth, with the rough side facing down.
Top the rice paper with one lettuce leaf, add a slice of tofu and pieces of the remaining salad items.
Roll the ingredients tightly in the lettuce and then enclose in the rice paper wrapper.
Serve with dipping sauce.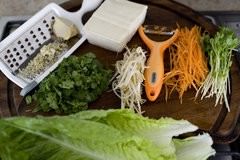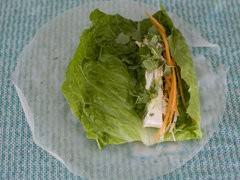 These are a great afternoon snack for kids and adults alike. You can fill them with your favourite mix of vegetables and add cooked prawns, chicken, or even some of that delicious Char Siu Pork.
If you find it hard to get your kids to eat vegetables, get them to help make their own. Getting hands-on in the kitchen with kids can change their minds about healthy foods.