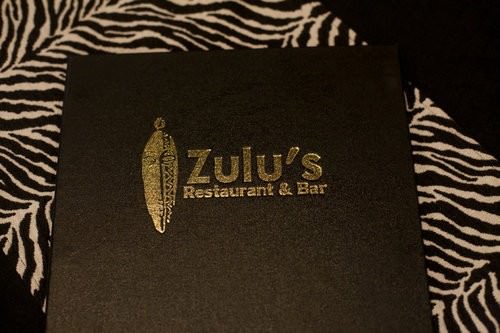 27 Grafton Street
Coffs Harbour
It's not often that I am lost for words. But as I sit here with a blank screening trying to imagine how to describe my evening at Zulu's Bar & Restaurant I am speechless. The word unique instantly comes to mind, but the restaurant, the food and the chef are so much more than that.
Perhaps I should start at the beginning; I met the head chef Joel McCulla at the Signature Dish Awards where he was a finalist. The dish he created was a Cricket & Coconut Crumbed Prawn Platter. It may sound like a fairly benign dish but all was not as it seemed.
The dish arrived, served as a mystery box experiment, to be assembled prior to eating… if you dared.
There were test tubes and beakers, capsules of powder, curious tubes of sauces and chilli pastes that the judges were to use with the cricket coated prawns. Yes… I did say crickets, they were ground roasted crickets which stimulate the Umami receptors on your palate.
Now readers, I think we are on the same page.
After seeing this mad scientist/chef at the Signature dish awards I knew I had to pay Zulu's a visit and sample more of this unique menu.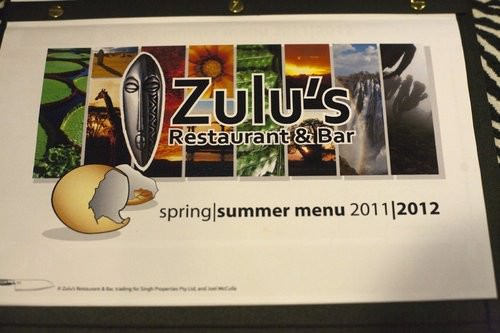 The menu is actually three separate menus;
The First is the African Menu
It comprises of entree, main and dessert meals which all contain the unique African flavour palate of the owners home country recreated by this talented chef. There are seven berbere chilli pastes in varying shades of heat, and the most amazing aromatic nitter kebbeh, or spice infused clarified butter. Guest can also chose from a selection of African styled side dishes.
The Second is the Gerole Grill Menu
It feature the fantastic flavours created when using a volcanic rock grille. As with the above menu guest can tailor the sauces and sides dishes for a custom meal.
Veneficus is the third Menu, this is where Joel has let the mad scientist free.
He may have gone a little crazy because nothing is as it seems. There are hidden surprises, experiments and quirky named dishes, your senses will be spinning. Coffs Harbour has its very own Heston Blumenthal.
What do you order with all these choices? Readers, do you ever get truly stuck and have no idea which way to go? We must have looked confused because Joel suggested that he should send out some entrees while we took our time over the selection of a main. Whew! Good idea! When in doubt, ask the chef.
Perhaps I should have been a little nervous, after all I had already seen some pretty crazy food from him, but I was excited.  I was ready for a theatrical experience, and I had no doubt that was what we were in for.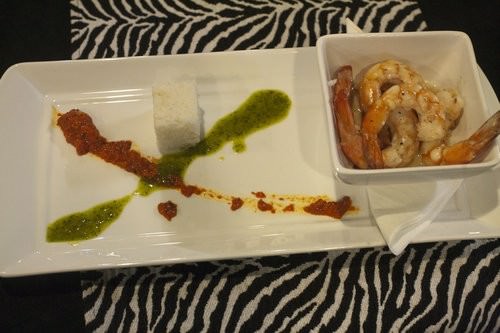 Our entrees arrived and were placed before us. The first was from the Gerole Grill Menu and was a poached prawn in coconut milk with jasmine rice, roast capsicum puree and a lemon infused herb paste. I have never had such succulent sweet prawns, the coconut milk broth was deliciously creamy and fragrant. We were off to a fantastic start and I was pleased we had left the decision making to the chef.
The second entree was a bit of a mystery. This dish was from the Veneficus Menu and was called "Duckwork Orange." The two fat spring rolls looked harmless enough, but they were served with two white capsules and a beaker containing orange fluid. I had no idea what to expect but we were informed the chef would be conducting the experiment on our behalf.
A picture is worth a thousand words.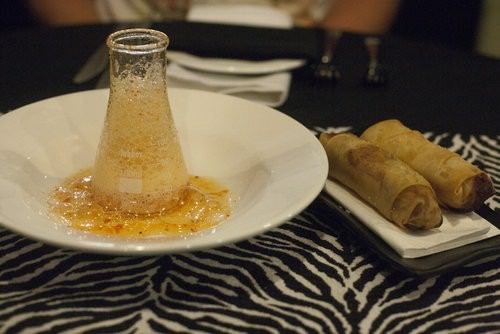 What the images cannot tell you is just how good this dish tasted. The duck spring rolls were so moist and spicy; they had the African flavour base that I know I will continue to crave.  Whilst the sauce was foaming it was like a sweet sherbet frothy marmalade. It was tangy and delicious and matched the spicy duck perfectly.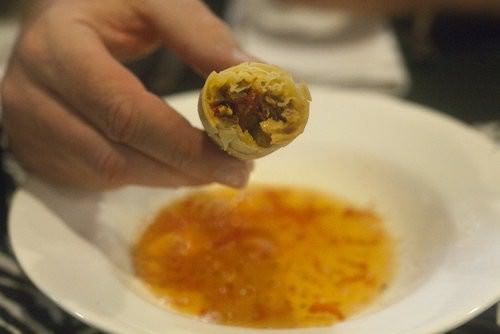 As the menu states, it is something that needs to be seen and tasted to be believed.
When it came time to order the mains we left the task of feeding us completely up to the chef. Our senses and curiosity had been ignited and we were ready for anything.
After some discussion about how much we like chilli, chef agreed to serve us the level 4 jalapeño with slow roasted beef from the African Menu.  Mr GG, being a chilli man had been trying to convince chef that he could go a level 5 (of 7 levels) but he soon backed down when he found that level 5 contained the much feared Habanero Chilli.  We have this growing and the heat cuts you!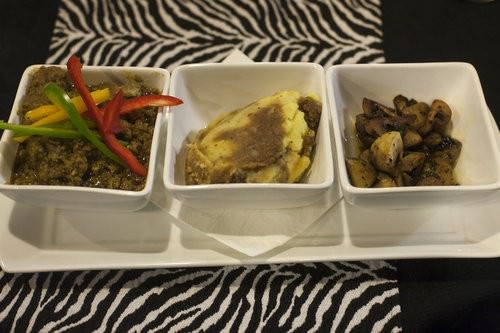 Our melt in the mouth slow roasted beef curry dish was served with a mercifully cooling polenta & potato side. Whilst we adored the beef curry it was nice to have the homely potato dish to balance the heat. The third dish on the platter was described as butter mushrooms with sage but it was so much more.  The butter had been clarified over 8 hours with a selection of seventeen different African spices and the result is the most fragrant deeply intoxicating butter you can image. Joel bought me out a container of this butter and when I was too full to eat anymore food I just opened the lid and breathed in the heavenly aroma.
So while I was lavishing in this spicy heaven what was Mr GG eating? Presented to my lovely husband was the infamous "Not DOG.".What is a not dog, I hear you ask? It is described on the menu as when a Spanish Seafood Paella with spicy chorizo and all the regular trimmings, meets the American food icon, the hotdog. We had no idea what to expect as this dish is also from the Veneficus Menu.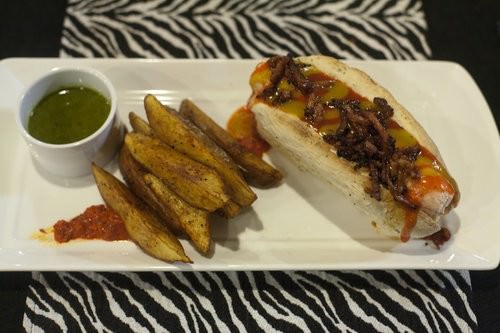 At first glance it look exactly like a Hotdog, but when you look a little closer there are some tell tales signs that all is not as it first appears.
I won't spoil the surprise on this one; you will have to try it for yourself. Suffice to say the after trying the Not Dog I asked husband if the side was really wedges. You know you are in a scene from a Heston show when you are suspicious of every food item.  When I took a bite of the wedges I was actually incredibly surprised by the flavour. It was another head spinning experience, but I won't spoil that either.
There is a gorgeous selection of equally interesting desserts but alas I just couldn't manage even a bite of one. I will however be back for more so I will share the experience once again.
Don't forget the menu is changed quarterly so make sure you try the spring/ summer menu before it is replaced.
For reservations Ph: 0266 521 588, check out the Zulu website and the blog by Joel McCulla "never trust a skinny chef"