Sitting watching the waves roll in, or surfers vying for the perfect ride is a great way to spend a few lazy hours over lunch. Add a great menu, cool beer or a glass of wine and you have YKnot Bistro. The Coffs Harbour Yacht Club has recently given their restaurant a revamp. It is looking fresh and modern with an equally fresh menu.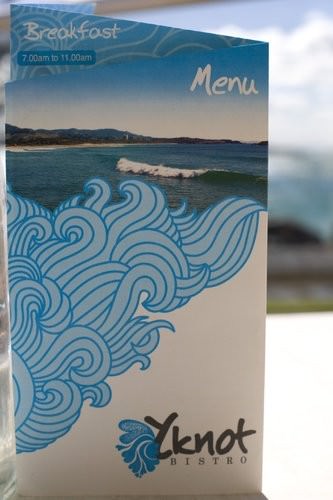 The restaurant has a large deck overlooking the beach, and this is where we were headed. It is a beautiful sunny, winters day in Coffs and we intended to soak up a few relaxing rays of warm sunlight while enjoying lunch.
We chose a table with the best view of the beach and settled down to review the specials. I have to admit we have recently become a bit of a regular here as we are now a bit addicted to the ambience and two particular items on the menu.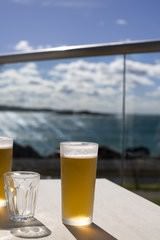 I would like to say that we try various dishes but in reality, we haven't been able to tear ourselves away from our favourites. This time we have come with a friend. The plan is to try a third dish.
My meal of choice has always been the Steak Sandwich. This may seem like a humble choice, but it is made so well.  The sandwich is served on toasted Sour Dough has vast quantities of Chorizo Sausage, sun-dried tomato and has two or three pieces of melt in the mouth steak.
It is served oozing with a spicy homemade relish which tastes include fennel seed and star anise and a little chilli. It is amazing!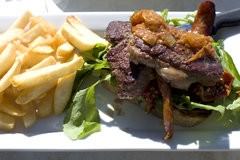 My dear hubby has the Char Grilled Polenta Salad with Chicken. This dish features Roasted Pumpkin and Caramelized Onion with Feta and Macadamia Nut, it is absolutely delicious. I have never been a fan of Polenta but I love this dish, it is full of flavour, crispy grilled on the outside, and light and creamy on the inside.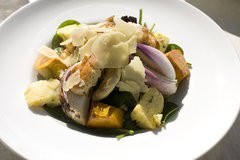 My plan goes horribly wrong when our dining companion chooses my dish, for his own… I am faced with the choice of having two of the same dishes on the table or going crazy and ordering something different. It was a huge dilemma, as I could almost taste the smoky chorizo and chilli jam, but I went cold turkey.
I ordered from the specials menu and chose the Eggplant and Goats Cheese stack served with Ratatouille. I pre-warned my friend that he may have to swap meals with me and he happily agreed, apparently what I had ordered would have been his second choice anyway.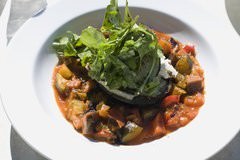 When our meals arrived there was no way I was swapping. I had found another amazing dish. The goat's cheese was lush, tart and creamy, perfect between the layers of Eggplant. The Ratatouille was better than the version I make at home, it had a lovely sweetness that tied the dish together beautifully.
We enjoyed our meals and watch the surf, the ambience is perfect and I would recommend stopping in for a meal. Lunch at YKnot Bistro is served from 12.00 – 2.30pm and the prices start from $14 – $24. There are plenty of vegetarian options and all the usual seafood dishes that you would expect from a Yacht Club.