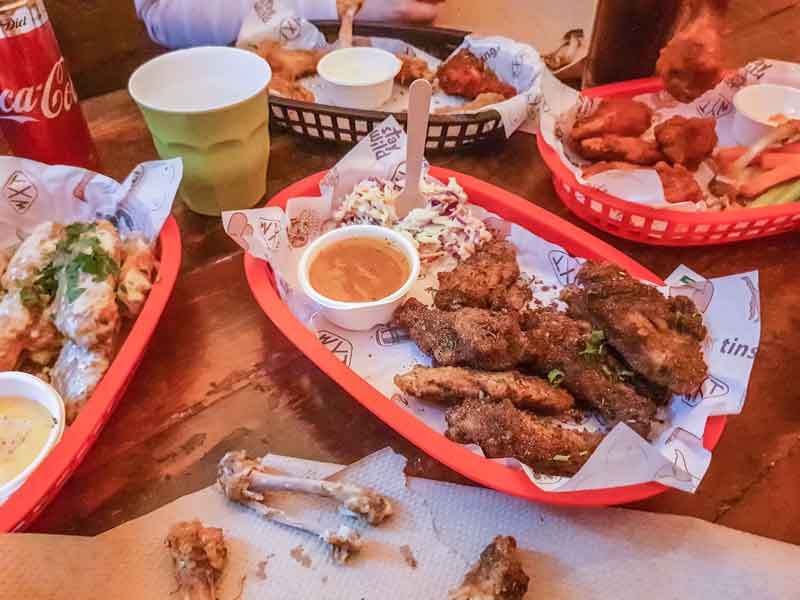 Not feeling particularly steak-y this Saturday night we decided to review something new, go on a little adventure, and try out a weird little joint called Wings and Tins in Darlinghurst (that's in Sydney kids).
The first thing to mention about old Wingo Tinno is that you won't find it unless you know what you're looking for.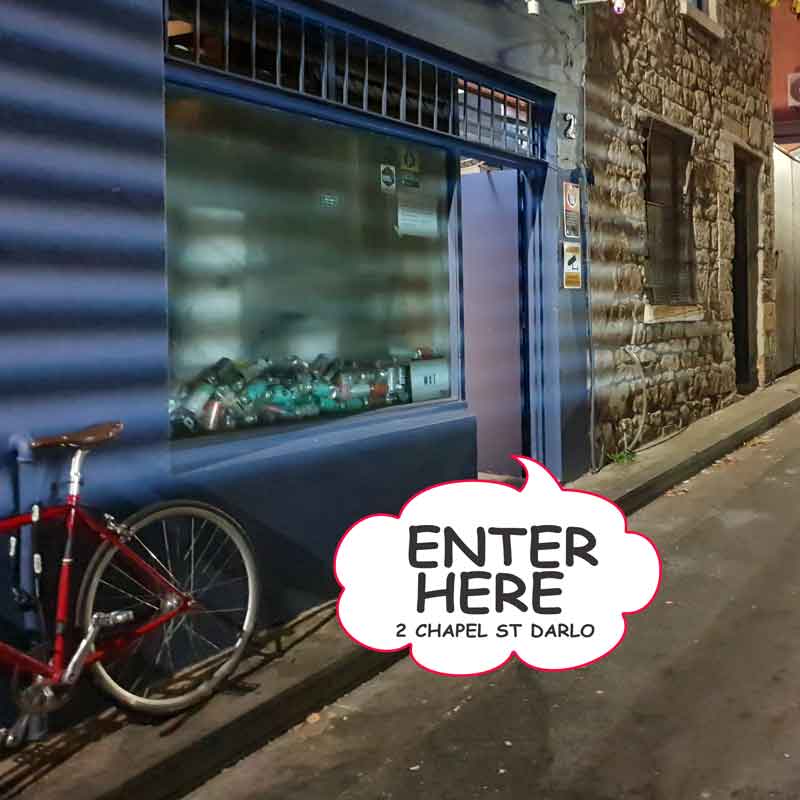 Wings and Tins is hidden down a small little side street in Darlinghurst (Chapel St to be precise the number is 2 but who's counting?), there are no signs or shop front just a window with some tinnies in it, a blue door, and a few stairs to climb. That's it.
Wings & Tins is a Weird Little Joint with Bloody Good Chicken Wings a selection of Brew and a little something for the Tough Guy in your gang!
After climbing the stairs (you might have to sling Granny over your shoulder if she's coming) you come to what looks like a small loft decorated and put together by a bunch of pissed mates who had a brain explosion one drunken Sunday afternoon.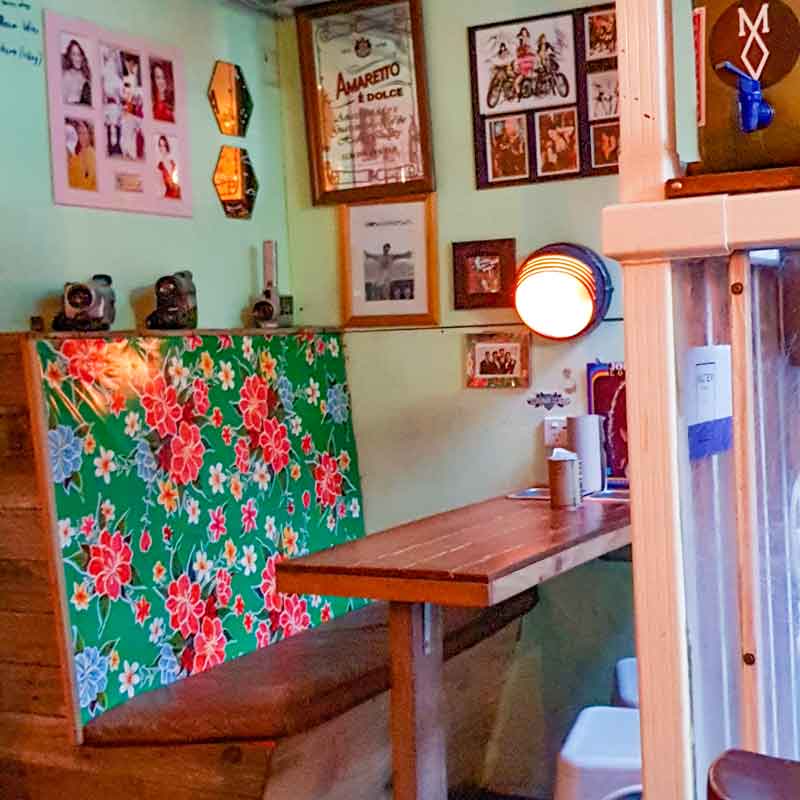 They've cleverly coated it with what appears to be donated paint (of many flavours) and adorned it with trinkets, such as, 80's camcorders and Yoda waving a rainbow flag (probably attained from scouring council clean ups). We LOVED it!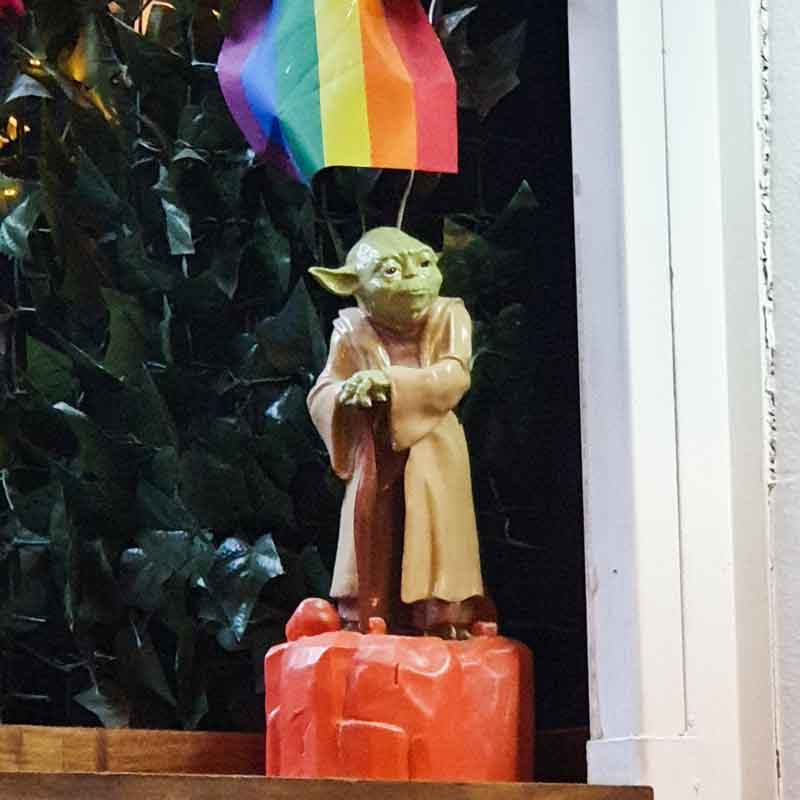 To gain a true appreciation of Wings and Tins decor, you'll probably want to be on mushrooms or hallucinating from one of their "Doom Juice" chicken wings. There's lots to look at (I'll get back to the Doom Juice soon).
Wings and Tins Menu
By now, you know that we love the setup, but it's the food on the menu that brings us to Wings and Tins.
The beauty of the bounty is in its simplicity, about 15 odd flavors of chicken wings, 50 types of beer. (There is other side stuff you might want to order, I don't know what they were, check the menu, we were there for the wings).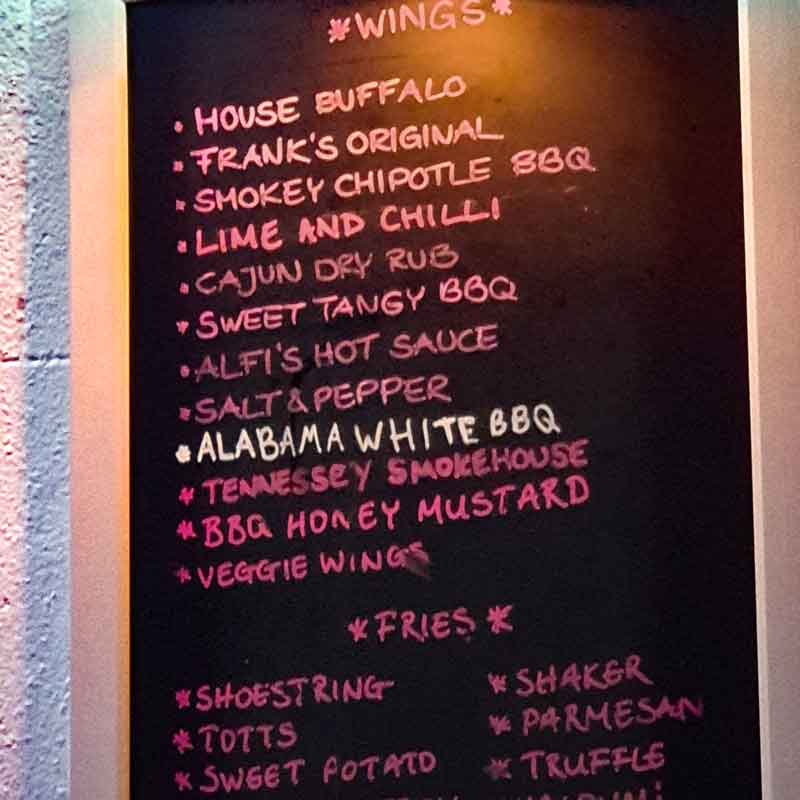 We ordered 4 types of wIngs which was plenty to see us through, though I'm a pig and could have stuffed more in. They were:
Franks Original
Salt and Pepper
A Jamaican Jerk (Think this was a special on the night recipe)
A Cheesy Parmesan Type Wing "I think" (Think this was another special as it's not on the menu)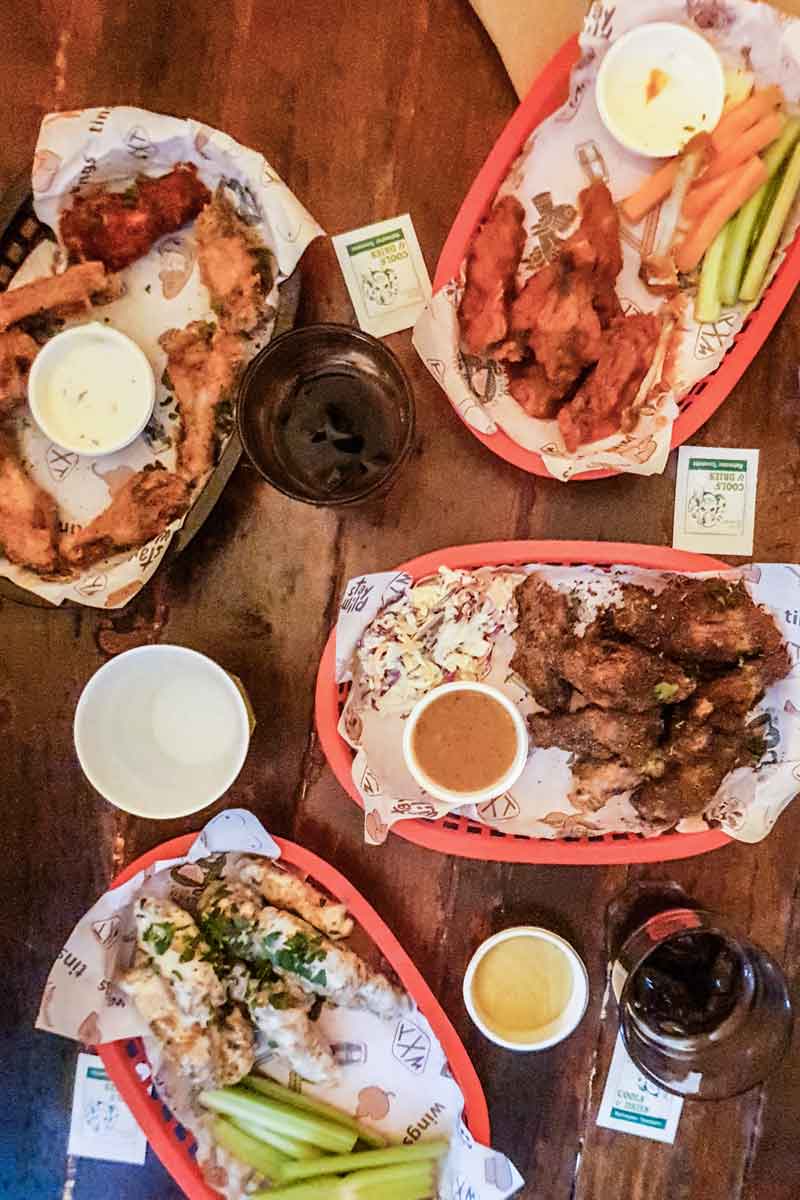 We loved them all (as you know if we don't like the food we don't review it), we don't review crappy places because we might get sued and we don't want to embarrass places like the Rosewood at Katoomba.
I particularly liked the Franks Original, which is nice and bitey without burning your face off, and Gerri loved the Salt and Pepper wings.
BUT, there was one little surprise I didn't pay too much attention to when walking in and ordering.
Wings & Tins Doom Juice
Ok, so I was either misunderstood, or we got the wrong order by accident and were delivered what they call their Russian Roulette.
Russian Roulette is where they add a "doom juice" coated wing amongst your normal wings and the lucky sucker who picks it gets a lovely surprise.
Note: They did tell us which wing was the hot one.
I like hot stuff, but just bitey hot, like an English Mustard or Kebab Chilli type hot, so after eating my share of normal wings I thought I'd give it a try for fun (I did not know what I was in for).
The initial bite was ok. I didn't feel anything, so I continued to eat the rest. It went something like this:
This is ok nothing to report
Oh I feel a little tingle
Ummm Errr Ummm Errrrrr Hmmm Ah something is……
OH, F@#$
F@#$, F@#$, F@#$, Oh No!
Oh God leave me alone, no just shut up, leave me alone, God, Oh Goddddd. Shhhhhhhhhhhiiii……….
This intensified and went on for a period of time that I can't recollect, I think some Mayan God and Robot Elves visited me throughout the experience. Reports are the extreme heat of it all lasted between 10-20 minutes.
How did this happen? Well, this doom juice concoction is made with the worlds hottest chilli "The Carolina Reaper." I did not know this, and I'm just not that much of a hero. If I'd have thought it was half as hot, I wouldn't have looked at it let alone ate it.
Do I recommend the Doom Juice Chicken Wing? No! But there's always one twit who'll try it, and it will be fun watching your hero mate break.
How Much Did it Cost Us?
For 4 types of Wings, 2 Cokes and one Mouth incineration we paid $60 bucks between the two of us and were full.
Do We Recommend Wings and Tins?
Yes, we do, we love it, it's our kind of place, relaxed, a very simple menu made well with so many varying flavors over the main ingredients "Chicken Wings".
Where Is Wings & Tins
Address: 2 Chapel St Darlinghurst, NSW, Australia
Phone: They don't have one because that kind of crap is time-consuming (Just turn up or email for functions)
Website: wingsandtins.com
Email: [email protected]
A Note About Our Reviews: This review was not paid for, we did not approach Wings & Tins for a free feed in exchange or are we journos looking for an article topic. We are food eaters who like to let other food eaters know where there is good food to eat! Please kindly stick your grammar and spelling correction up your arse (I get that a lot). If the spelling and grammar is flawless you know that Gerri has come in and meddled with my writing.
Another Note About This Review: Some elements of this tale may be embellished to make a great story even greater except when it comes down to our food recommendations and experience. ie, I did not hallucinate eating the Doom Juice wing but it sounds good and I wish I had (It is however very very hot and don't recommend it, but everything else is good to go! Go, just go).