During of wine tasting at Coolangatta Vineyard in Berry it was recommended that we should visit Wharf Rd Restaurant & Bar.  The restaurant was only ten minutes from where we were staying and located in a picturesque location on the water.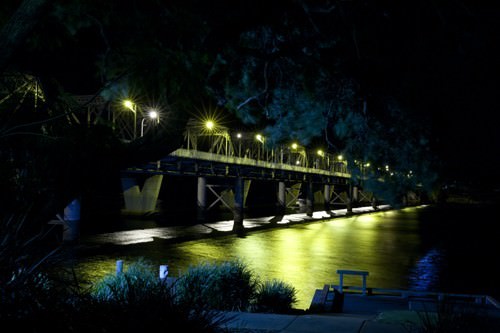 I let hubby order the wines as Wharf Rd had an impressive selection and I was struggling to choose. Hubby chose the 2010 Robert Stein Merlot from Mudgee for me.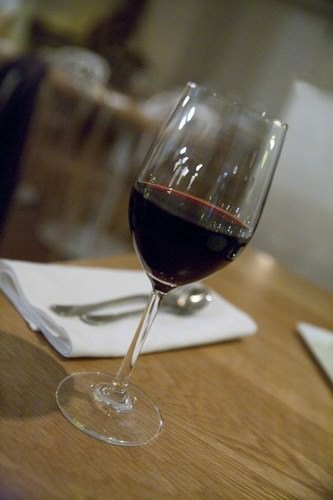 For himself he decided on a more robust 2009 Arthur & Rossi Shiraz Cabernet from the Adelaide Hills.  Hubby had chosen well, both wines were magnificent.
The menu included  an option for a five or seven course degustation which took a sampling of dishes from the entrees and mains.
Since we were both quite taken by various items on the menu we thought this would be a good choice. We commenced on the five course degustation with the Crevice Salad.  Black fish had been sliced into thin slivers and marinated in lime juice and served with a sweet chili sauce,  The fish was so delicate and was served with crunchy skillet fried quinoa bits and finely diced fresh tomatoes completed the vibrant clean flavour profile.  There really is nothing nicer than fresh raw fish. Served on Himalayan rock salt.
…and what a great use for quinoa! Who thought it could be crispy and fried! Yum!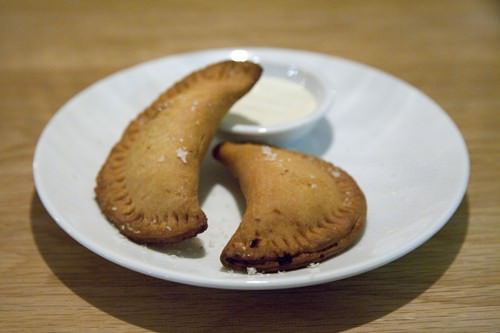 The second course was an Eggplant Empanades served with an aioli.
These crispy deep fried pasties were the perfect comfort course. Delicious short and buttery pastry enclosing a  creamy cumin spiced eggplant centre and served with a light aioli.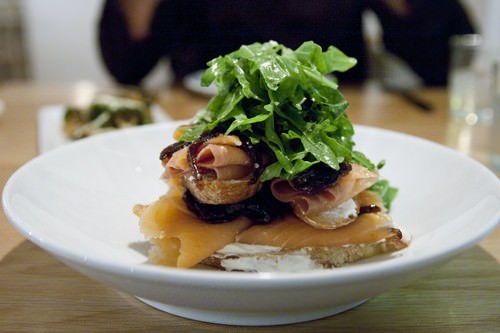 The Bruschetta was simply divine! The sourdough crust was impossibly crisp with and awesome "gnaw ability."  The sourdough was smeared with a generous serve of a pungent, creamy, lush goats cheese . The smoked salmon sealed the deal, salty, smokey slippery and melt in the mouth delicious. If all that didn't add up to the perfect bruschetta there was also a sweet, rich caramelised onion with fig jam topped with rocket, and a squeeze of lemon.  The dish had such an incredible depth of flavour.
Served with the degustation was a crispy fried broccoli dish.  This was probably my least favourite dish of the night. Mr GG loved it, but for me the mix of flavours didn't quite work. The broccoli had been fried and then baked giving a strange texture and flavour.  The dish was then topped with a white anchovy, slivered almonds then dressed with a tart verjuice.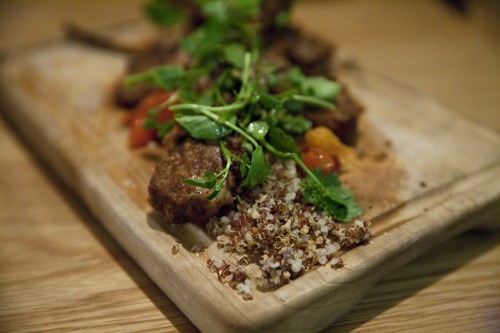 The "piece de resistance" was the 5 hour slow cooked lamb cutlets. The tender moist meat had been rubbed in a delicious array of spices and served with imported pickled Peruvian  kiss chilli.  The balance of heat and flavour was sublime.  The dish was served with the crispy fried quinoa and a salad of seasoned micro herbs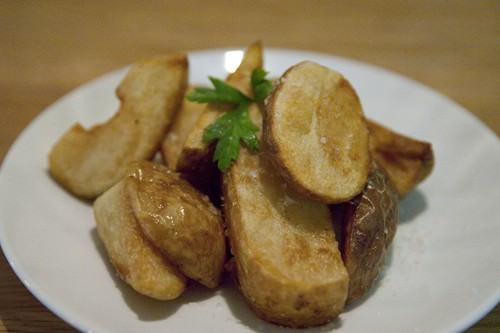 Served with the lamb was a dish of kiffler potatoes roasted in duck fat to what should have been crispy, heavenly perfection.  Unfortunately there was no crispness in the potato, they were dry and lukewarm. I will take some responsibility for this as we were dining rater late and the kitchen was closing when we arrived.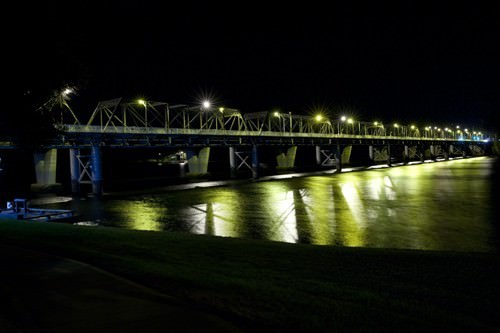 Hubby and I just enjoyed watching the ripples in the water and the cars lights whizzing across the bridge. The restaurant had a gorgeous atmosphere, beautiful view and attentive staff.  The fire was going, blankets and comfy chairs ready for cooler evenings.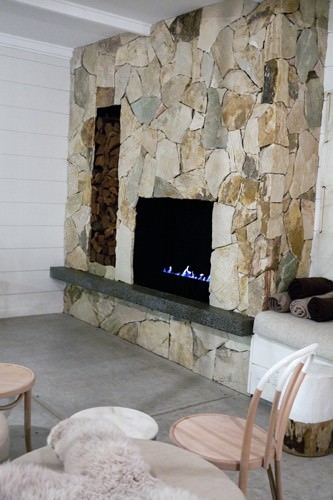 It was time for dessert, even though I was quite full the deliciousness of the moist orange and almond cake awakened my taste buds.   The dessert style dense cake was served with a then sliver of crispy crystalised orange which was both sweet and tart, the flavour was offset with a thick clotted cream.  Such a lovely way to end the meal.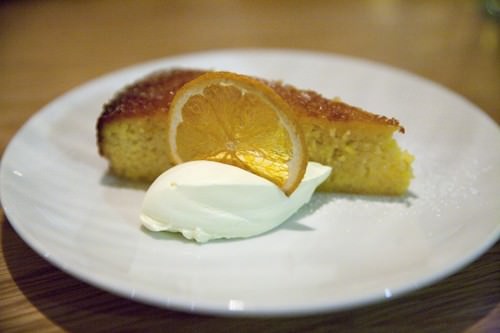 After five delicious courses we had come to the end of our Degustation experience at Wharf Rd Restaurant Nowra. Walking to the car I couldn't resist taking one more slow speed image of the water. I find the these late night images so relaxing and sublime to look at.
Photographing Milky Water Night Images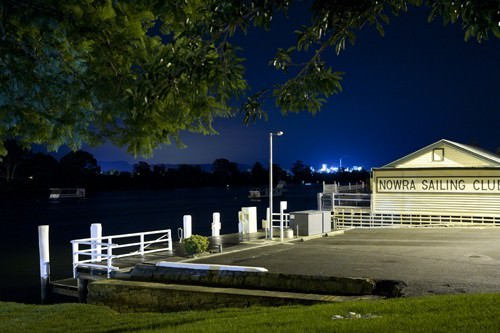 In case you are interested in the photographic information used to create the milky night images at Wharf Rd Restaurant and the image I thought I would add some information.  I have included a  quick overview of the camera settings and equipment I used to create the milky water images and the blue sky image above. By slowing the shutter speed you allow the camera to collect data and light over a longer period.  This collection of light renders the sky a gorgeous shade of blue. The collection of data over a longer period renders anything which is moving as a blur, hence the milky water effect.
Equipment
Canon 5D – AV mode
Manfrotto Tripod
Canon 24 -70mm lens 2.8f
Camera Data
F9
Tv 5 sec
exposure -33
ISO 500
So readers I am interested, do you choose your restaurants based on the recommendations of others? I love using local knowledge to find somewhere to eat but when I can't find someone to ask I fall back n the ever reliable Urbanspoon. How do you choose your restaurants?
Wharf Rd Restaurant
10 Wharf Rd, Nowra NSW