Tonight we are dining at the Verandah Restaurant. The Verandah is another of chef  Matt Dillow successfully Hunter Valley restaurants. Mr GG & I have previously dined at Twine, the newest of  Matt's restaurants and enjoyed an amazing lunch, so we were looking forward sampling the Tapas style menu offered at the Verandah.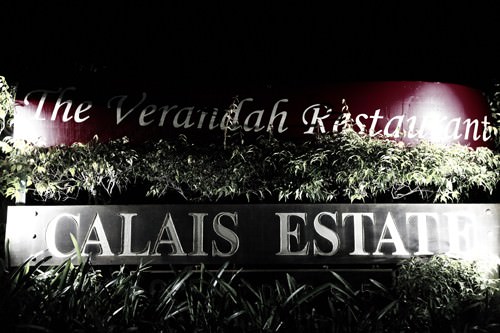 The Verandah Restaurant is located on the Calais Estate, an award winning Hunter Valley vineyard.  It's surrounded by one hundred and twenty five acres of beautiful Hunter Valley countryside.
The restaurant itself is located in a historic two storey building which features original sandstone brickwork, gorgeous wooden verandahs and a huge open fireplace.  The large verandah adorns two sides of the building and provides sweeping views over the estate.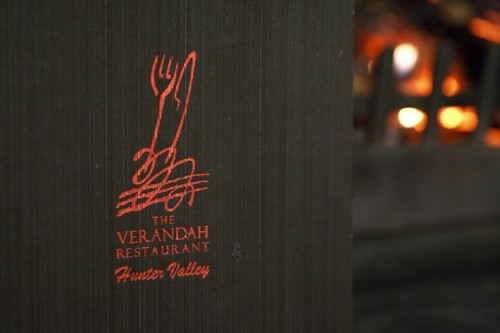 We were shown to a cosy table which was positioned by the fireplace. We quickly settled into the relaxed atmosphere as we perused the wine list. Given we were at the Calais Estate we decided to order a bottle of 2010 Calais Estate Shiraz to have with dinner.  It was the perfect choice, a full bodied Shiraz with lovely berry and chocolate flavours, with a soft, mellow, creamy finish.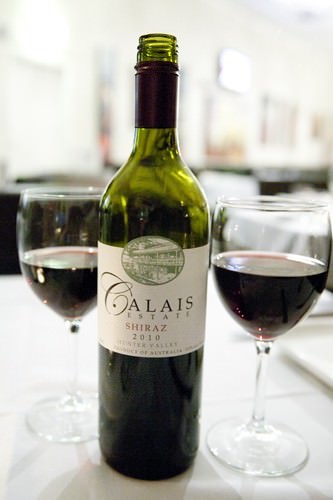 As we sipped the Shiraz and went through the menu I started to realise we were going to have a difficult time choosing dishes. Each item on the menu sounded so good! I wonder if its just me that has these moments of panic whilst ordering. When everything sounds delicious on the menu I don't want to make a decision, I really can't decide!
In the end we narrowed down the choices and then left the helpful waitress and chef to decide.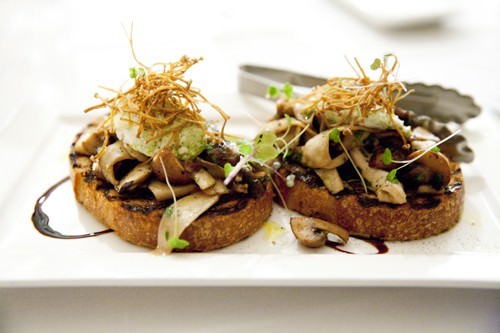 The first tapas to arrive was a Mushroom Bruschetta.  It was placed on the table and immediately the delicious smokey aroma of the char grilled bruschetta mixed with the earthy mushroom and truffle oil hit me. It was intoxicating!
I said to Mr GG, "You can't imagine how much I have been craving truffle lately." I inhaled as deeply as I could. I wanted to get the full truffle/mushroom aroma.
Once I finished hyperventilating over the dish I tried the first mouthful. It was everything I had hoped. Earthy mushrooms with a balsamic vinegar glaze served with creamy, lemony, tart goats curd and doused in truffle oil.
A very delicious way to start our romantic dining experience.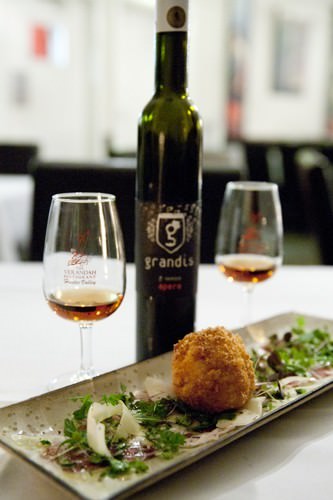 Our next dish arrived with a glass of Grandis Apera. Apera is a Ginseng infused fortified wine which is similar to a sherry. It has nutty, dried fruit flavours and is quite syrupy and slightly reminiscent of marmalade.
The Apera had been chosen to match the Iberico Jamon with panko crusted duck egg.  The egg was served with slivers of super finely shaved pecorino cheese and Jamon, then decorated with delicate micro herbs and dressed with truffle oil.
I asked hubby if it would it be wrong to describe the duck egg as being served on a salad, given the salad consisted mostly of truffle oil, ham and cheese. He laughed and said I think the term salad would be okay.
After taking a bite I agreed we would refer to it as a Pecorino salad. I also decided I could live off salad alone for the rest of my life if this was on offer.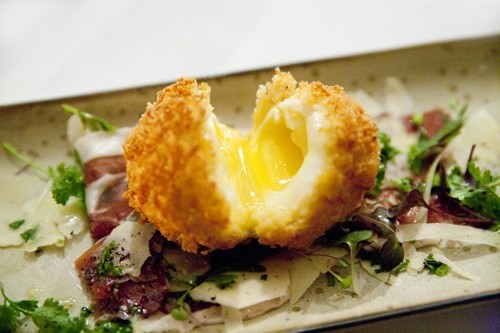 I made this declaration before I had even tried the crispy crusted duck egg. When Mr GG put the knife into the egg it was a thing of beauty. The egg was perfectly soft and oozed its delicious yellow yolk over the salad. The flavour combination was fabulous!!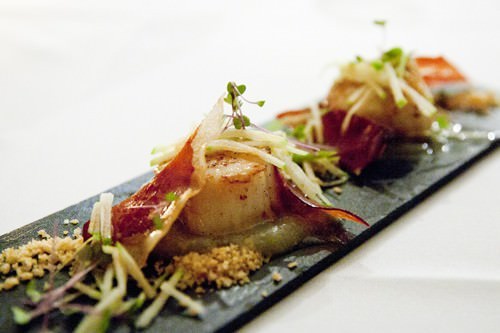 Seared Scallops with pork dust! Doesn't that sound amazing!
This dish had all the flavours I love, sweet, fat, tender juicy Californian scallops on an apple purée, with crispy fried pancetta and crunchy pork crackle! Wow, so good!
On the side were thin straws of green apple which gave the dish a fresh and a lovely contrast in flavour and texture.
All the dishes were so attractive visually. I am sure the saying that "we eat first with our eyes" holds true with me.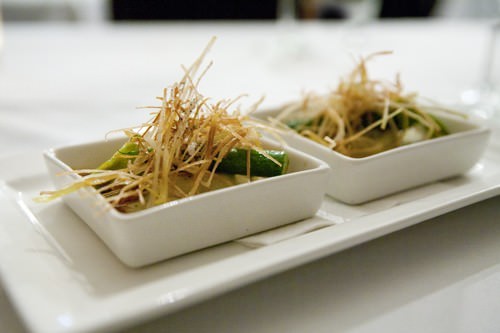 I had been looking forward to our next dish. Homemade ravioli filled with blue swimmer crab and served in a seafood bisque with stuffed zucchini flower. There was just so many tasty elements to this tapas. The ravioli was so soft and silky with the sweet seafood filling. The seafood bisque was an absolute explosion of rich, seafood flavours.  I would have been happy to devour the bisque on its own. The zucchini gave the dish a crunchy, green, fresh component and the thin strands of deep fried leek finished the dish beautifully.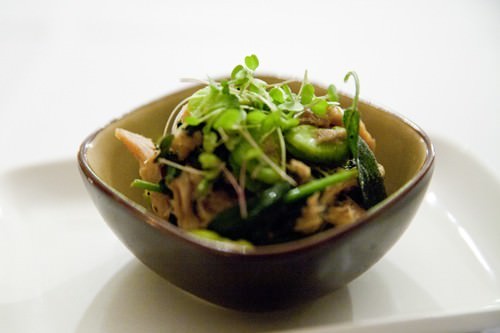 When we had been ordering the meal our waitress suggested that 5 or 6 sharing plates between a couple was usually a good ordering guide. As our 5th tapas arrived at the table I was starting to feel a little full and I cursed my lack of eating stamina to Mr GG.
The dish was Braised Rabbit with Gnocchi, broad beans and sage beurre noisette. Each of the share plates had been completely different to the preceeding dish and this was no exception.  Sweet, gamey succulent rabbit with fresh braised greens and broad beans served with the lightest, fluffy, soft and yet still springy potato gnocchi. The whole dish was infused with a highly aromatic sage butter.
"I'm going to have dreams about that gnocchi I said to hubby as we waited on the final dish."He laughed at me, he knew I wasn't joking.
"I wonder if I am the only person in the world who dreams of food, right down to the intricate flavour profile of each mouthful." He gave me a look I get often. One that tells me he thinks that I may be crazy.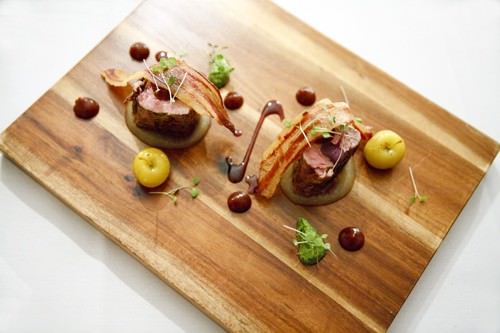 Our final dish was a Quince glazed pork tenderloin. The meat was cooked perfectly and just melted in my mouth, there was the flavour of star anise which I love with pork. The pork was served on an apple puree which was infused with thyme. Sweet maple glazed streaky bacon was draped over the dish and the presentation was finished with the cutest roasted baby apples.  They were almost too cute to eat! I loved their tiny little stem.  Although they were adorable I had to taste one, it seemed odd biting into such a small apple but the tasty exactly as expected.
The meal was absolutely exquisite, right down to the last detail.
As we were leaving I noticed the Verandah also offers a monthly Paella cooking class in the restaurant.  I would have loved a little more time in the Hunter Valley to try my hand at making Paella under Matts watchful eye. The class also teaches students how to make churros and sangria.
The Verandah Restaurant
Calais Estate, Palmers Lane, Pokolbin, 2320. Ph: 4998 7231
Website
  Gourmet Getaways would like to thank The Verandah Restaurant Hunter Valley for their generosity in hosting this experience. As always the opinions contained in this review are written without bias and in accordance with my disclosure policy.