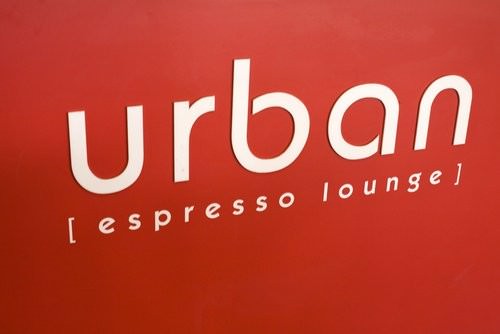 At the risk of sounding like a mum, I love it when restaurants and cafes put milkshakes in sensible plastic cups with lids.  It saves so many spills and tears. We have finally made it to Urban, one of the restaurants on the popular Jetty strip at Coffs Harbour.
I decided to take advantage of the beautiful weather, and enjoy a lazy lunch watching the afternoon go by with a bottle of wine.  Actually I was the only one that really wanted a bottle of wine but I managed to convince the rest of our party that the afternoon was for enjoying, and not for worrying too much about work commitments.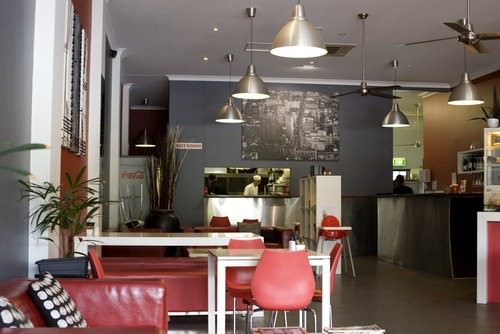 We ordered a bottle of the Stonefish Verdelho which was a lovely crisp white that everyone enjoyed. ($22.00 per bottle) Ordering lunch was a little harder as there were a few items on the menu I would have liked to try.
I eventually decided on the mezze plate ($24.90) for two>  My littlest daughter had joined us for lunch so I thought it would be good to order something which she and I could share. Since she is a little young for wine I also order her a strawberry milkshake, after that I don't think I heard boo from her, she was most content.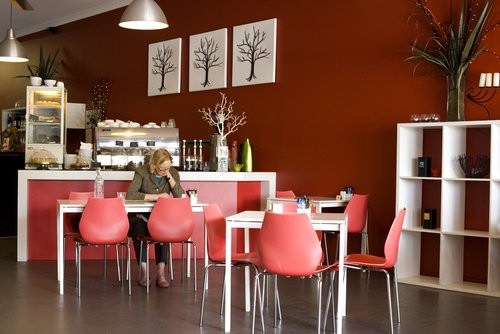 Mr GG ordered from the special board and chose a grilled Mahi Mahi fillet served with with a creamy herb polenta and topped with salsa verde and a roasted capsicum caponata ($16.90).  The third member of our party decided on a simple Urban Caesar salad with oven dried proscuitto. ($13.00)
When my mezze plate for two arrived I realized it might have been a little ambitious of me to expect that I could tackle this with a three year old.  It was huge!  It would have been the perfect dish to share with a couple of friends, but I was going to a no chance with a three year old.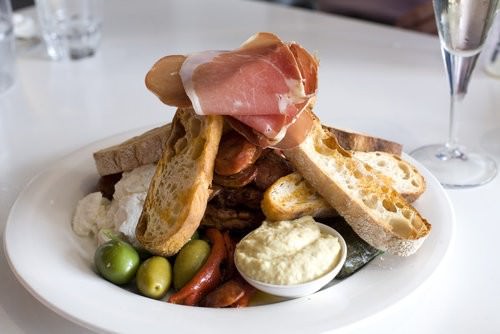 The plate had a great range of flavours, some of these were corn fritters, rocket, roasted capsicum, dips, cheeses, chorizo sausage, dolmades and three types of olives. Little Anais and I did the best we could but we looked to hubby to finish it for us. Even he pulled up short of the finishing line.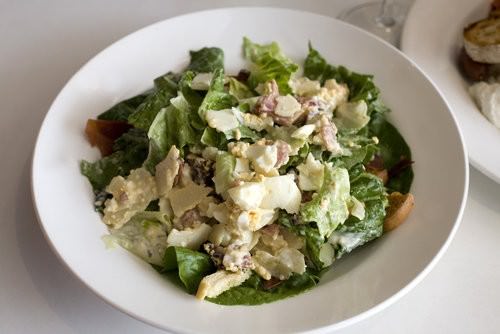 I was really impressed with the Caesar salad.  This is something I never order as although it is standard café fare, there is a huge variation in the good and the bad.  I have been served everything from all lettuce with a sprinkling of mashed egg to a sodden limp salad soaked in dressing. The Urban Caesar was delicious, there was a good amount of proscuitto and egg and it was certainly a very filling and tasty salad.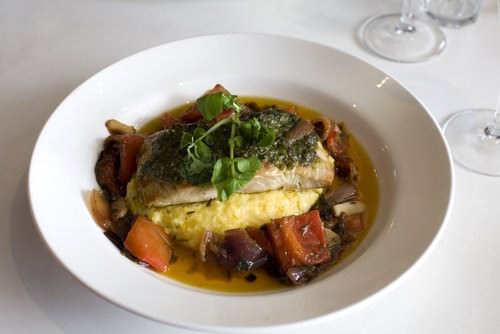 The grilled Mahi Mahi was beautifully moist and sweet.  The roasted capsicum was a perfect flavour match to the creamy herbed polenta. Mr GG was very happy with his lunch choice.
We took our time over lunch enjoying the bottle of wine and attempting to do justice to my mezze plate but eventually it was time to return to the real world again. So tell me readers, what are your thoughts on having a glass of wine through the day.  When I go out for lunch it doesn't feel complete without a glass or two.
Urban is locate on the Jetty Strip in Coffs Harbour at 384a Harbour Drive, Coffs Harbour NSW 2450. For booking call 0266 511 989. It is open 7 days per week for breakfast and lunch, have a peek at the Urban menu.