Coffs Harbour residents, have you tried Supply Specialty Coffee & Bar yet? I think perhaps everyone has already found this fabulous coffee spot;  every time I drive past, the tables are full! If you haven't stopped by yet you really should.
Supply Specialty Coffee open just after Christmas.  The fact that it always looked super busy had me curious. What was I missing out on? To draw consistent crowds in Coffs Harbour you have to be giving the people what they want.
The cafe is located on Orlando Street just off the Jetty restaurant strip. It occupies a large space which has a hip, industrial feel. The floors are polished concrete and seating is a mix of inside and outside options. Sparse decor, white walls and lots of glass gives a light, airy feel to the cafe. Taking pride of place behind a glass wall is the newly installed coffee roasting machine.
I have to say I was impressed! It's so good that more cafes in Coffs Harbour are taking coffee seriously. As someone who would literally die without a morning cappuccino I am very appreciative.  With such a serious piece of machinery in the background I had to order my standard cappuccino on skim milk. The coffee was a single origin Nicaragua El Orosi bean. I am the first to admit that the bean type means very little to me, it was however coffee heaven.  The flavour was intense and smooth with a lovely long finish.  Just what I needed as a pick me up.
We looked through the list of smoothies on offer and found it difficult to choose. The combination of flavours looked really good. I finally settled on the Minty Melon.  The Minty Melon smoothie included coconut water, watermelon, strawberries and mint. Thankfully it was deliciously icy. I had been wanting something refreshing and that's exactly what I got. It had been a really hot, humid Coffs Harbour day and I found my smoothie completely revitalizing. Definitely the most delicious way to rehydrate.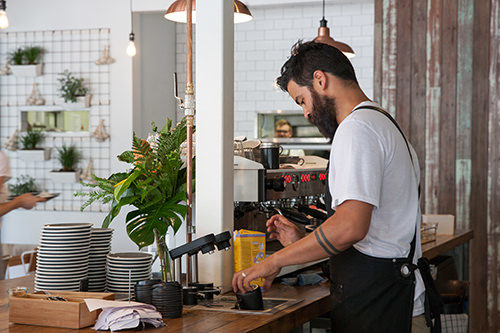 Brett's chose the Nutella Smoothie. Despite the name, the smoothie doesn't include Nutella, and is another healthy smoothie which features, coconut milk, banana, hazelnuts and cocao. I noticed the menu states there are no alterations to the smoothies.  When I was walking past the smoothie bar I could see why. The smoothie ingredients were all pre chopped and prepared in serving size ziplock bags. When an order was received the contents of the bag were simply added to a blender with the required liquid i.e.; almond milk, coconut water etc.  Such a neat idea, I might have to start doing this at home for the kids and keeping them in the freezer for a quick smoothie.
For lunch I had ordered the Seed & Grain Salad.  This is one of the vegan menu options.  I have to admit, I have eaten at Supply twice now and both times I couldn't go past this salad. It was just so good I HAD to order it AGAIN!  Sadly, when I go back next time… I will probably order if for the third time. I'm kind of in love with it! The salad just tastes so wholesome and nourishing.
Mixed lettuces leaves are tossed in a sweet lemon vinaigrette and served with roasted slices of pumpkin. Throughout the salad there is a variety of mixed grains, seeds and legumes.  These add a nutty flavour and give substance to the dish. I particularly like the inclusion of pearl barely. In my opinion pearl barley is an under utilised grain that really should have super food status. You will also notice the generous dollop of smushed avocado on top of my salad. On the menu there is a list of extra's you can add to any of the dishes. I decided to add the avocado and it was a great decision! The creaminess was so good with all the other flavours.
Brett had ordered the Goats Cheese and Fig Bruschetta on sourdough. The waitress warned that all the bruschetta's were small, and told him if he was hungry he may need to get a double order. Brett wasn't overly hungry, so he chose to have a single serve but add some grilled speck to the dish.
I was really pleased the waitress had taken the time to advise us of the serving sizes. When Brett's bruschetta arrived I could smell the thyme and goats cheese. It looked and smelled amazing. I took a bite and the grilled fig was so sweet! The combination of sweet caramelised fig, salty goats cheese and fresh thyme was perfect. Looking at the image above you can even see the sweet syrup from the grilled fig onto the sourdough.
Even though I loved the bruschetta, I think I would still have to order my salad again.  It was so good! I think the only way I'm going to have the opportunity to try more dishes from the menu is to bring more friends and steal a bite.
I wonder if I am the only person that gets hooked on a dish? Do you order something different every time you visit a favourite restaurant or cafe? Or perhaps you're like me, and visit specifically for a special dish?
Supply Specialty Coffee & Bar
15 Orlando Street, NSW, Coffs Harbour
Ph: 02 6658 0165