Top travel tips to SAVE YOU Time, Money, Space & Sanity!
This article forms part of the Gourmet Getaways entry to the Virgin Australia competition for Problogger.
Whether your travel is domestic or international, for a week or a month I have prepared some Top Travel Tips that will help you pack and prepare for your next getaway.
Nobody wants to drag around more luggage than they have to, or be caught on holidays without essential items, travel documents or medications. This list is a handy guide to help you cover all the basics with style and flair.
Know the Regular and Seasonal Pricing for Your Preferred Destinations.

Travel Tips – Know Your Fare Costs

My most important travel tip, will have you holidaying more often for less $$$. It's simple, subscribe to your favourite airlines newsletter and "Like" them on FB. You will always receive pricing updates and last minute deals. It's so important to know the average pricing of your favourite holiday destinations. So many times I have been able to snap up a great bargain because I know when a destination is REALLY on sale.

Check in ONLINE

Avoid Queues – Check in Online

If you're able to check in online, absolutely take advantage of the opportunity. It makes the process at the airport so much quicker and easier. Usually web check in is available 48 hours before a domestic flight. Print the boarding passes and baggage labels at home and then just stroll up to the drop of counter. Job done!

Seat Allocation – Pimp Your Ride

Consider Upgrading Your Airline Seat

When you check in online you have the opportunity to choose your own seats. Checking in online early, ensures you are able to choose a seating configuration, which suits your travel requirements. Always take a look at the cost to upgrade to premium seating or business class. Although it may cost a little more, comfort is so important, especially on longer trips. Remember your flight is a part of your holiday and sometimes its good to pimp your ride.

Travel Document Safety

Photograph Essential Travel Documents (not credit cards)

Photograph all your confirmations and travel documents such as passports, visa's, hotel reservations, health insurance card, flight confirmations, car hire, international licenses, itinerary and pre booked tickets. Open a new folder in your smart phone's pictures and call it "Travel Confirmations". Even if some of your confirmations are in the email section on your phone it's easier to have everything in one folder. You will find some items will stay as permanent documents in that folder, whilst others you can delete after the trip. You will still need hard copies of some of the documents but at least if a piece of paper is lost its more easily replaced.

Comfort is King! 
Get comfy! Have a super comfortable, non-creasing outfit chosen for the flight. I like to wear soft black yoga leggings, a loose fitting top, with a lightweight cardigan and a cotton or cashmere scarf depending on my holiday destination. The scarf will help keep me warm on the plane and is chosen to match the outfits I've packed for the holiday. I also like to pack a pair of socks to keep my feet toasty warm. My flight attire centres on basic classy, comfortable styles and colours that will mix well with my holiday outfits and perhaps also allow a flight upgrade if the space is available.
…but comfort is king!
Lotions & Potions

Mini Travel Make Up Kit – Shampoo, Conditioner, Foundation, Moisturiser & Eye Cream Above

Ladies we have a lot of bottles of potions that are essential on a day-to-day basis. Security screening guidelines allows us to carry liquids, and/or gels in containers with a maximum capacity of 100ml each. These containers must fit inside a single 1 litre transparent, re-sealable plastic bag.So when packing liquid foundation, shampoo, deodorant, conditioner, cleanser, toner, toothpaste or moisturiser think mini. These essential toiletries can be transferred into travel size containers of 20 – 50ml in volume. You will save so much space and weight in your luggage and still have everything you need for your holiday. If you're travelling internationally this will be essential to ensure you do not have the items confiscated. The smaller items may not last the duration of an extended holiday, but it will give you a good enough supply to last a week or more.

Sunscreen or Sizzle 
Buy a travel size sunblock if you are travelling internationally. Sunblock can be hideously expensive in resort shops and if you are going somewhere tropical you are likely to be burned to a crisp well before you find a chemist. A travel size won't last long but it will give your family protection until you can get your bearings and find a chemist.
Electrical Currency Adapter

Organise Your International Electrical Currency Adapters

Purchase any necessary power adapters before you leave home. This will ensure electrical safety standards are appropriate. It will also save you valuable time whilst on holidays. In some countries power points are few and far between so try to find a double power converter, or one with an outlet for an iphone and a regular socket for appliances. Label your adapter so you remember which power converter to pack each holiday.

Power Up!

Charge All Electrical Devices to 100% & Download Entertainment.

Charge up all your devices!  Download movies or seasons of your favorite shows. Purchase all the ebooks and magazines you have been wanting to catch up on. Even though most planes now have awesome inseat inflight entertainment, sometimes you just want to catch up on your own favourites. Invest in a quality pair of headphones and a splitter.

What's a splitter, I hear you asking? It's a device that means you can plug two headphones into the one outlet on an iPad or Laptop. You will both get audio from one single device. This is an awesome idea because two people can watch the same movie using only one iPad or laptop. On a long haul flight it means only one electrical device is being drained of charge at a time. Anything that helps the devices last the trip is a godsend.

…And Pack More Power!
Pack an external battery charger or two, they are light and portable and can be used to charge iphones, ipads and some camera's if they run down during the trip. There is nothing worse than staring at a black screen on a plane or missing a great photo opportunity as you start your holiday.
Lost & Found
Pack your earphones, splitter, external battery pack and charger into an old sunglasses case. They will be easy to find and the cords don't get knotted or damaged.
Pack Some Protection

Packing Dirty Joggers

I finally found a use for all those hotel room shower caps. On one particular trip I needed to pack my dirty joggers that were a little bit wet, thankfully shower caps are supplied in every hotel room and fit nicely over my dirty shoes. I decided to double cap my joggers for extra protection! My dirty shoes didn't ruin my clothes.

Just sign here sir!
Pack a couple of black or blue pens in your carry on, especially when you take an international flight. You will be asked to fill out a customs form, and it can be difficult to borrow a pen on the plane. No pen… you will be completing documents in the airport upon arrival and joining the very end of the queue.
First Aid & Medications

First Aid Travel Kit

Pack any medication you need in your carry on bag, even if you're not due for a dose whilst travelling. You don't want to risk being separated from prescribed medication should your bag go missing. It's also a good policy to carry a copy of your prescription in case you are questioned by customs.
A tiny first aid pack can also be a lifesaver. Not literally, but if you've got a killer headache you will be very pleased you packed some pain relief. I keep a few essential in a ziplock bag in my carry on.

First Aid Kit 

1 sheet Panadol, 1 sheet Nurofen, A chap stick with SP Protection (Flying is very drying on lips) Assortment of bandaids, Detol Cream, Make up removal pads (for cleaning a graze)

I could tell you a story about how my husband nearly needed a leg amputation in Germany after a tiny grass graze got infected. A little detol cream that night would have saved us a week in hospital with blood poisoning.

Looking Human After an Overnight Flight
If I have an overnight flight I NEED my makeup bag in my carry on! It's an essential item otherwise I might scare other travellers. I'm not aiming to win a beauty pageant, so the bare minimum is sufficient.

In flight Toiletries

Toothbrush and toothpaste, Make up removal wipes, Deodorant, Moisturiser, Liquid foundation, Lipstick, Eye Liner, Comb and hair ties or clip (Nothing sharp)

The Bag Lady

Essential Lightweight Nylon Travel Bag

I always pack a lightweight, strong nylon bag in my luggage. These bags roll up and take up no space in the luggage. Whilst on holidays they make the perfect bag to take sight seeing! Great for visiting the market, shopping trips, picnics and packing beach towels and swimmers in when we are out and about. Plus if things don't quite fit on the return journey I have a lightweight bag to use for the over flow items, and as a bonus it fits in the overhead compartment with the handles tied closed.

…and more bags
Ladies your most important piece of luggage is your hand bag. When travelling carefully consider what would be the optimum bag. This may even be a good excuse to purchase a new handbag. You want something that will fit all your carry on essentials that I have already mentioned, and be small enough to place at your feet for easy access. Look for a handbag with a separate pocket big enough for an ipad or magazine. Then other pockets for all your in flight travel essentials such as your new makeup mini's.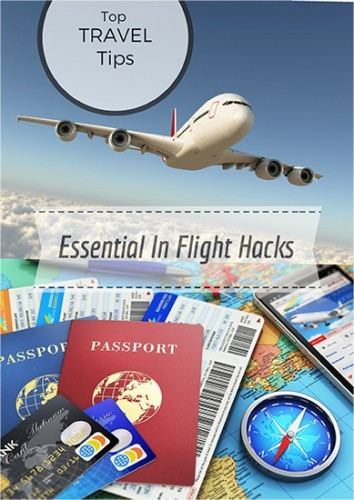 Happy Holidaying!