As I have said previously, traveling is all about tasting new foods. Singapore is a foodies paradise, it's a melting pot of so many cultures and food styles. I like to have already prepared a list of dishes that I want to sample before I come away on holidays. Sometimes this list is based on foods I have been craving, other times it's because a food is so synonymous with my destination that I feel visiting the country and not sampling it would be like going to Paris and not seeing the Eiffel Tower.
So today I am sharing my list of top ten foods to try when in Singapore.  There are so many more lush treats available… but here is my list, feel free to add any other recommendations in the comments section below.
Top 10 Foods to Sample in Singapore
Breakfast
Kaya toast with Kopi
This sweet green spread is made from the leaves o the pandanus and has a taste that I associate strongly with Singapore.
Kaya is a coconut jam made from coconut milk, eggs which are flavoured by pandan leaf and sweetened with sugar. It is easily one of the best jam spread ever created.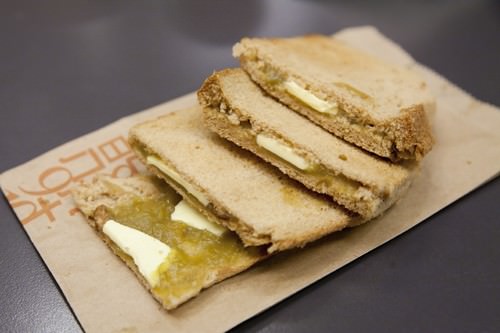 Each time we have been served kaya on the toast a generous slab of butter accompanies the spread. You can see in he images above the butter looks like a slice of cheese! It is a delicious breakfast food and a kaya toast set usually comes with a soft-boiled egg and a cup of traditional kopi.
Kopi
Kopi is a Singaporean coffee tradition. The coffee is brewed in a metal pot with a cotton "sock" filter. It's amazingly sweet, as the coffee is mixed with condensed and evaporated milk and sugar.
Knowing that I need my morning coffee before anything else each day little Anais and my gorgeous husband went on an early morning search.  If you have ever been to Singapore you would know that NOTHING opens before 10.00am at the earliest on any given day of the week.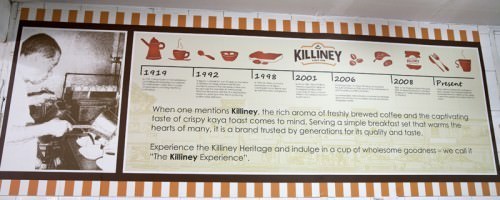 After a 7.00am futile search for coffee the pair stumbled across the Killiney Kopitiam on Killiney Rd. Mr GG asked for a skinny cappuccino, the old lady behind the counter just laughed. She informed my honey that, "We don't do skinny cappuccino, traditional only!" Hubby was fairly confident I would want to try the traditional kopi so he bought home this murky mess of a coffee, with the cute plastic carry handles to hear the verdict.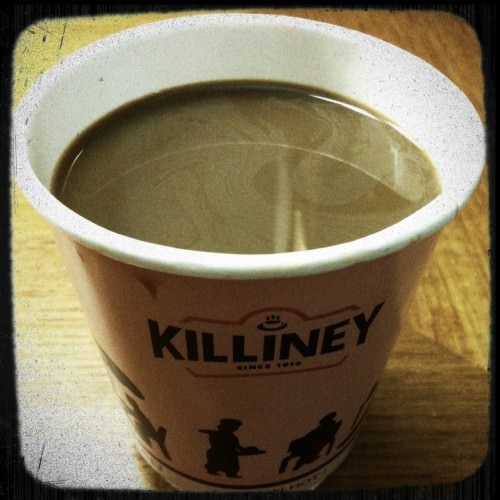 I opened the lid to find a liquid which appeared to be more like muddy water than coffee. The aroma was strong and delicious! I later found out the shop's signature coffee is prepared by blending Colombian Arabica coffee beans with Robusta coffee beans from Indonesia and then roasted to an old Hainanese style.
I took my first tentative mouthful. It was super sweet– and super strong!
Mmm, I don't usually have any sugar in my coffee so it was an adjustment… but I liked it.  The coffee had absolutely no bitterness but it was a million times stronger than anything I had previously tried. The sugar was needed to balance the robust flavour.
The Kopi would never replace my morning cappuccino but I liked it.  More importantly, with all that caffeine and sugar we would be having a supercharged day!
Congee
This dish is popular in many Asian countries. When eaten as a plain rice congee it's most often served with side dishes such as kimchi, roasted peanuts, meat, dried fish, and other preserved items as flavorings. Preparing congee is simply a matter of boiling rice with additional water or stock and allowing the rice to become a liquid.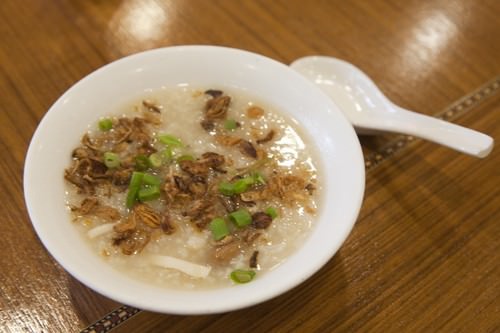 Congee  is usually served as a breakfast meal but is also used when a family member is old or ill.  There are many variations of the original rice only Congee. Fish and fish stock can be added to make a fish congee, or chicken for chicken chicken. Despite its many variations, the porridge remains  by definition thick and smooth, and largely made of almost a puree of rice due to the prolonged cooking times.
Mr GG is a congee lover, every breakfast meant a different flavour of congee and more smelly toppings at our table and I am sure this is something he is missing  now.
Mee Goreng
I couldn't leave the breakfast foods without adding a noodle dish. I love Mee Goreng or "fried noodles." As with all Singaporean food, the dish is not uniquely from Singapore. It can be found on menus all over Asia but it's a flavour I crave when I am in Singapore. Mee Goreng is made with thin yellow noodles fried in oil, garlic, onion and shallots. At breakfast the noodles are quite simple and may include a little Chinese cabbage only.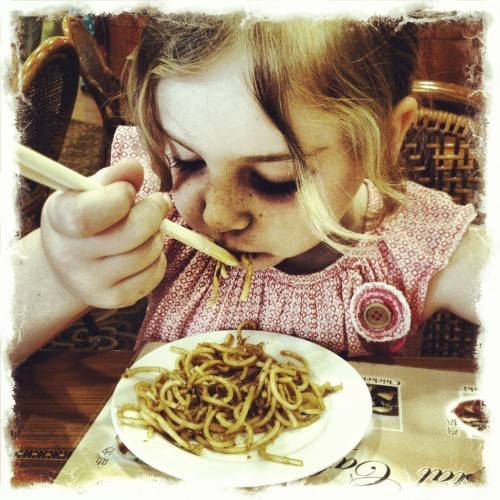 The dish can be found everywhere in Singapore from Hawker centres to restaurants. When it is served at lunch or dinner the Mee Goreng usually features the addition of prawns, chicken, beef or fried meatballs.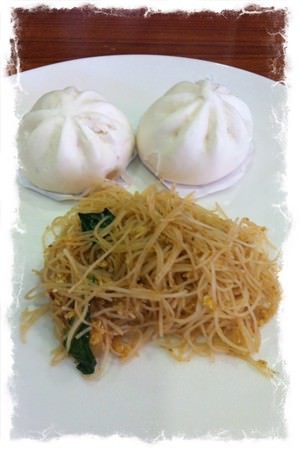 I miss having this for breakfast each morning.
Snacks
Char Sui Bao
These little breakfast buns are served everywhere! I love them!!!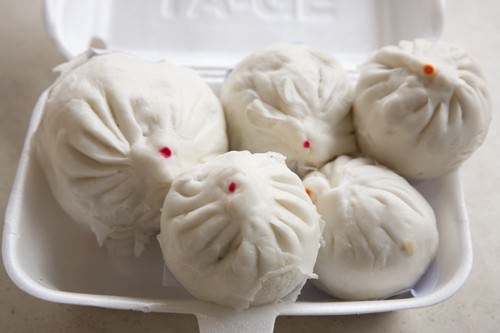 Whilst not only served at breakfast they are more prevalent at this time or as a mid morning snack. These light spongy buns are incredibly fluffy and are steamed to keep a moist even warmth. Inside the buns you will find a variety of sweet and savoury choices. My favourite filling is still the Char Sui Bao, but I do love to try as many flavours as possible.
Two types are found in Singapore, the first measuring about 10 cm across, served individually, and usually bought as take-away. The other type, xiaobao ("small bun"), which is about 5 cm wide, and are most commonly eaten in restaurants, but we also found them available as a takeaway.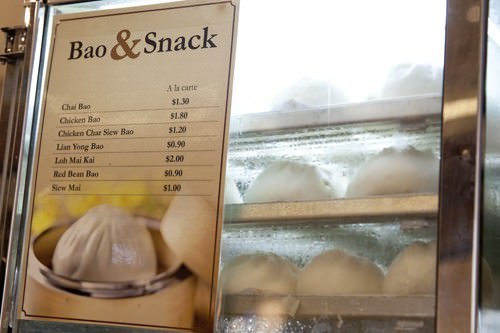 Dim Sum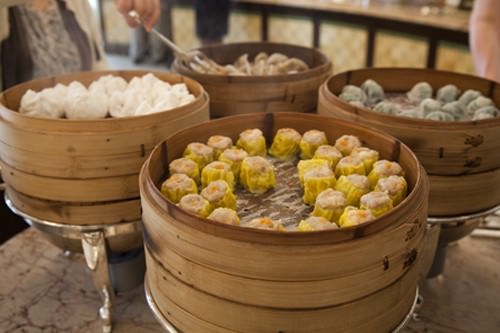 Dim sum refers to a style of Cantonese food prepared as small bite-sized or individual portions of food traditionally served in small steamer baskets or on small plates. These tasty morsels are filled with various combinations. I love being able to snack on these when we are traveling through Singapore and Asia.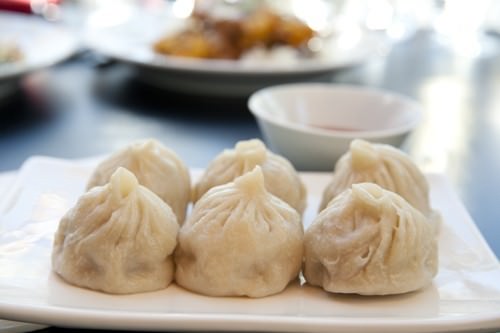 Lunch or Dinner
Hainanese Chicken
Hainanese chicken rice is one of the ultimate Singaporean comfort foods. It is a dish which was adapted from early Chinese immigrants. The dish is simple, honest home style meal with few ingredients. The moist tenderness of the chicken is derived by steaming the chicken until just cooked and then chilling it immediately to halt the cooking process. The meat is usually served at room temperature. A rich, fragrant chicken rice is served with the chicken which is made by pre-frying the rice in chicken fat and then cooking it in a chicken broth.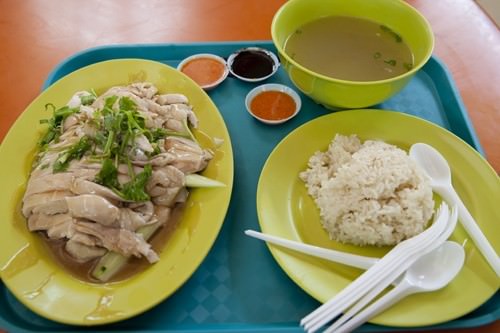 Two condiments are usually served with the Hainanese Chicken. The first is a ground sambal style chilli paste which lifts the flavours and adds a delicious smokey warmth. The second, a  sweet soy sauce and a bowl of the chicken broth.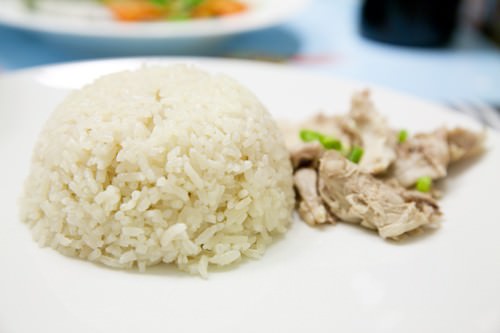 We tried two different versions of this dish while in Singapore.  The first was at Tian Tian in the Maxwell Rd Hawker Centre, and the second was prepared at the house of a friend in Singapore. Both  versions were delicious and I am happy to say that I now have this recipe to share with readers in an upcoming story.
Chili Crab
The Chilli Crab is probably the most famous Singapore food. It's the dish you will most commonly see advertised in dining magazines and on restaurant brochures. I have a confession, in my two trips to Singapore I have not yet had the opportunity to try Chili Crab! This will mean another trip as I feel incomplete even mentioning this foodie oversight. There are many seafood restaurants in Singapore serving this popular dish, but the favourites seem to be No Signboard at Geylang and Jumbo Seafood.
The appeal of this dish is its rich, sweet and savoury sauce, created with a base of chilli and tomato sauces which will are guaranteed to awaken the palate and satisfy your taste buds. This red-tangy sauce has he flavoured heightened  by garlic and vinegar.
I am told that the dish needs a serving of mantou buns to allow the scooping up of any remaining sauce.
Laksa
Laksa is a very popular dish in Singapore. There are so many variations to the recipes depending on where you have the dish.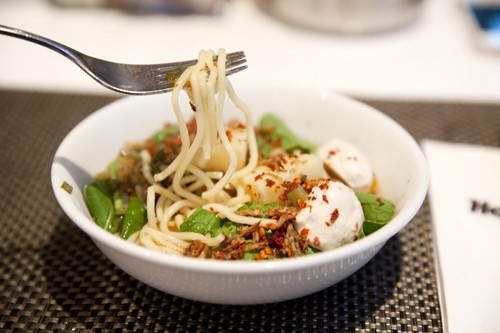 Laksa lemak, or nyonya laksa, is made with a rich and creamy coconut milk sauce and is more like the style of Laksa we have at home.  This is the style we were most often finding in the Singapore Hawker centres.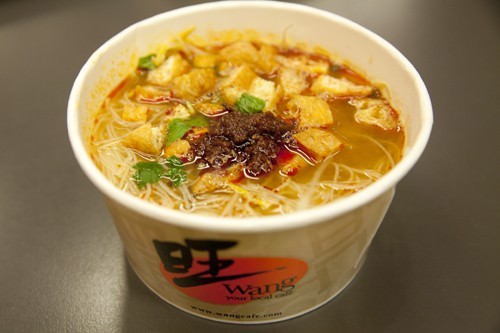 The Laksa there featured the rich coconut-based curry soup with rice noodles and was most commonly served with ingredients like prawns, tau pok and fish cake. Notice above the big dollop of chilli Mr GG ha added to his Laksa!
Dessert
Shaved Ice Kachang
The ice kachang a shave ice ball which is smothered in sweet, coloured syrups and condensed milk, it can include jelly, red bean paste or beans, sweet corn and palm seeds at its base, and topped off with a mound of shaved ice, brightly coloured syrups and condensed milk.  The dessert is served in either a bowl or a tall glass.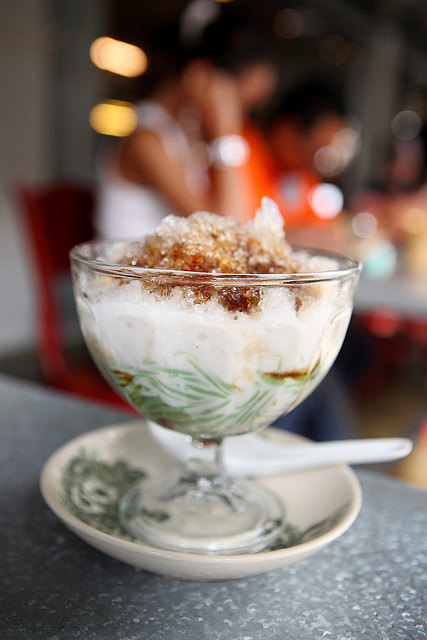 In the Hawker centres we noticed this dish being served with fruit salad, aloe vera jelly and toppings such as chocolate and durian.
Cendol
This is a traditional Asian dessert which is popular in Singapore. It is often served at Hawker Centres and is a lot like a milky bubble tea, but without the flavoured syrups.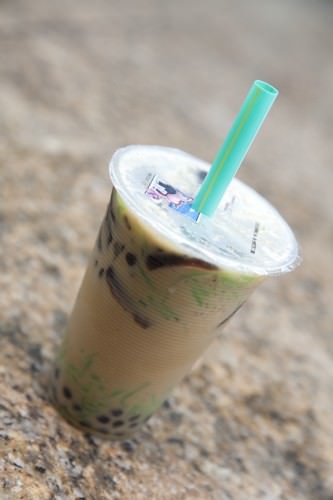 The one we tried had a sweet, milky, coconut, caramel flavour, with chewy tapioca pearls. The shaved ice makes the drink cool and refreshing, and in the bottom of the cup you can see a shredded grass jelly and jelly cubes which transform the drink to more of a dessert.
The kids absolutely adored this drink!
So much food… So little time
… and as Mr GG added "Such a little belly to fit it all in!"
So I hope you have enjoyed my Singapore Top Foods to sample.  Feel free to add any others I have missed.