Camping is something I love to do!
There's nothing better than packing up the car and hitting the road, in search of your own little piece of secluded paradise. I'm happiest when the tar road turns to dirt and we are looking for a nice camping spot by the edge of a creek or waterfall. While we love to camp, I don't see any reason why the experience needs to resemble something from an episode of "Man V's Wild" or "Survivor."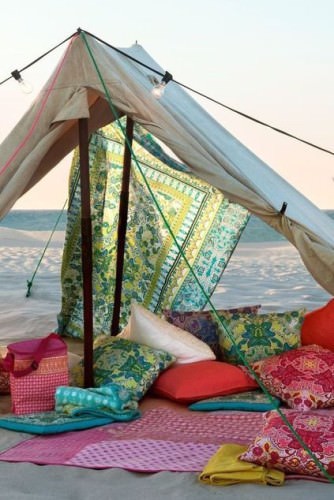 I'm sure most people all know what I mean by "glamping," but I thought I would explain the term and how it relates to my enjoyment of camping. We have been glamping for a little while now and I think the key difference between camping and glamping is the atmosphere. I like to create a glamorous, gourmet camping experience.
It takes just a little bit of planning to make the camping experience, a romantic glamping holiday. I guarantee once you have tried this style of gourmet getaway you will want to escape every weekend.
If you're someone who likes the idea of camping but is turned off by the idea of being away from your creature comforts, then read on for some information about how you can pump up the luxury factor and enjoy the outdoors even more!
Glamping Luxury Number One – Atmospheric Lighting For The Campsite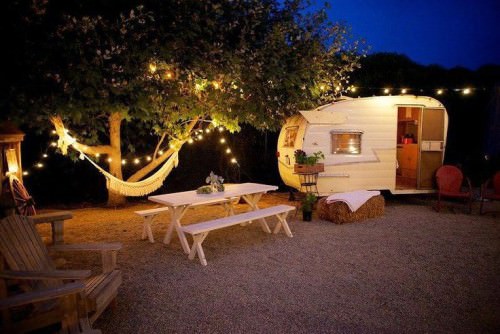 I like to pack some solar lights for our site. It's a bit of a luxury, but then – we are glamping. The addition of some cheap solar lights around the perimeter of your campsite will add a lovely ethereal glow to your space. The solar lights are also a great help when you duck off into the bushes for a quick wee! Or if you a campaign with anxious children.
For a little more romance and atmosphere I also like to pack some candles.  These are usually reserved for the camp table when we are able to have a campfire.  I love the smell of incense, and I think it helps to keep flies and mosquitos away.  I always remember to pack of my favourite incense. Don't forget to bring matches or a lighter.
Glamping Luxury Number Two – Music & Some Wireless Speakers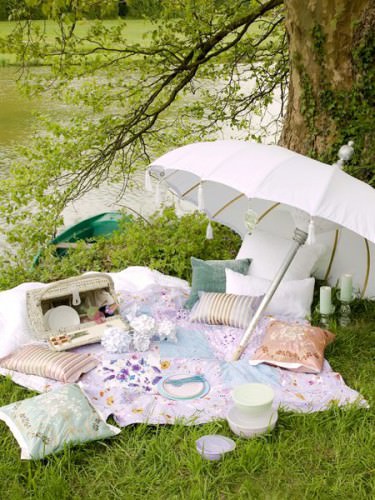 When you're camping, there's a lot to be said for the beauty of nature and about how lovely it is to enjoy the sound of birds twittering away in the trees, and the wind stirring through the trees overhead. There's also something really nice about relaxing to some of your favourite music.
Imagine pulling the mattress outside the tent. Grabbing your doona and snuggling under the stars to some relaxing music.  You have a glass of sparkling wine, the campfire is crackling and you are listening to some acoustics music from your favourite artist.  After an incident where we flattened our car battery we invested in some good quality, bluetooth speakers.  The speakers play the music directly from our phone keeping the phone charged and our car battery safe.  We chose a small set of wireless speakers but the sound quality is awesome.
Glamping Luxury Number Three – Gourmet Food & Wine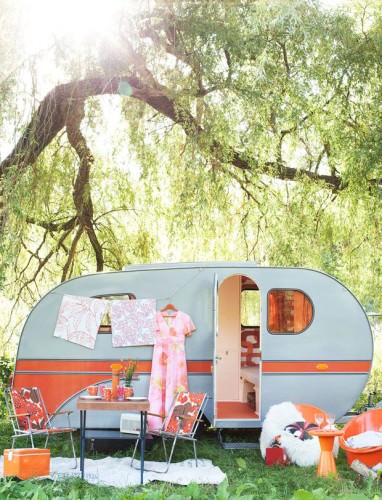 There is no excuse for eating bad food whilst camping. Mass produced sausages do not belong on a glamping holiday. We usually stop in at a deli and bakery and pick up the essentials.
You will need the following items for an overnight glamping holiday: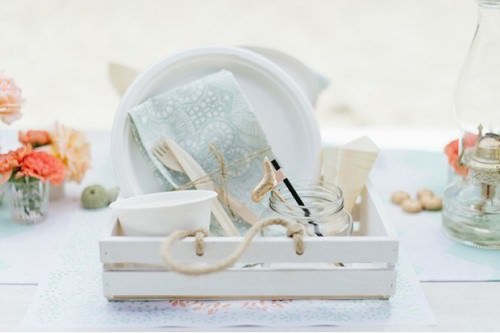 Day 1 – Lunch
Blue Cheese, Goats Cheese, Stuffed Peppers, Olives, Cold Meats, Baby Spinach Salad,
Baguette or Sourdough Loaf
Bottle of Sparkling Wine, Bottle of Sparkling Water
Day 1 – Evening Meal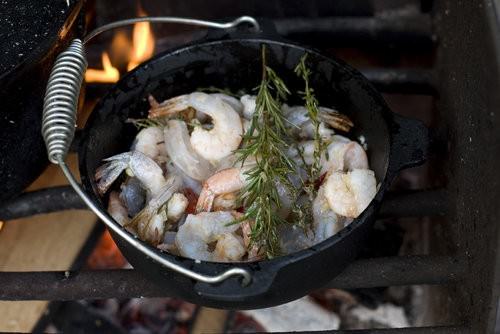 Fresh Garlic Campfire Prawns , Lemon, Aioli, Baby Spinach Salad, Sourdough
Fresh Fruit Platter, Chocolate Brownie
White Wine, Boutique Beer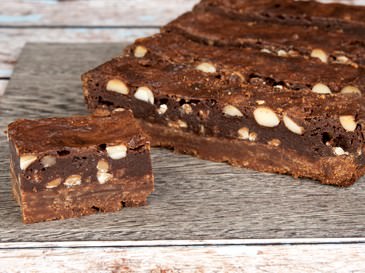 Day 2 – Breakfast
Croissants Toasted on the Campfire
Leftover cheeses and deli meats
Real Coffee – Plus Avanti Espresso Pot $13
The coffee is a deal breaker for me! Thankfully this style of pot can be put straight on the campfire and makes an amazing morning coffee.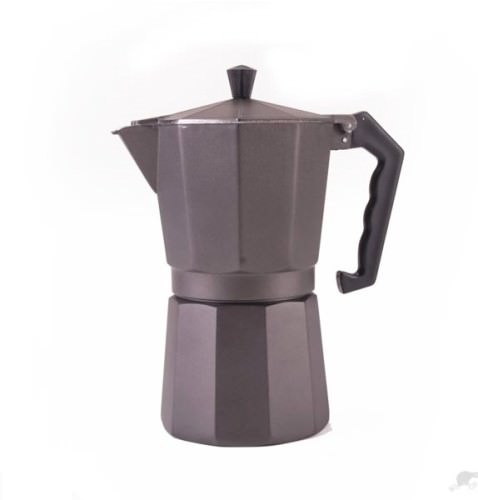 Day 2 – Lunch
Leftover Prawns, cold meats, cheese & salad
Sparkling wine, Sparkling water.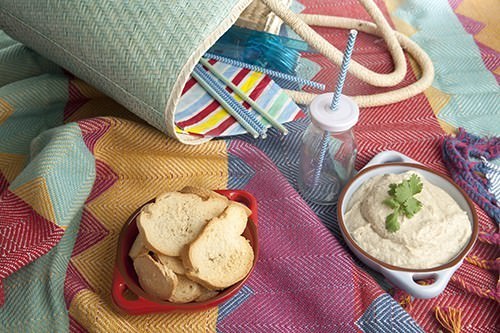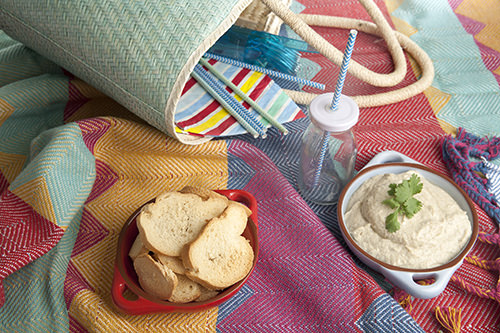 Glamping Luxury Number Four – Personal Care Items
When you're dirty you don't feel very sexy. Hmm, maybe I should rephrase that… if you haven't had a shower and your hot and sweaty you may not feel as attractive as usual. Wet wipes are a winner!! I remember the first time I packed a big tub of wipes! It was a game changer for me. I literally bathed with them and felt AMAZING afterwards. There's nothing better than the feeling of a cool, clean wet wipe to cleanse your skin when you're camping. No more dirty feet or greasy sunscreen arms.
I like to bring hair ties to I don't have to worry about doing my hair. I also pack a little bit of perfume and  a tinted moisturiser, after all this is glamping. Or as I like to think of it, relaxed, gourmet camping. I'm not planning to wrestle a crocodile, I will be reading a book, swimming and drinking wine so a bit of personal care doesn't go astray.
Glamping Luxury Number Five – Hammocks For Relaxing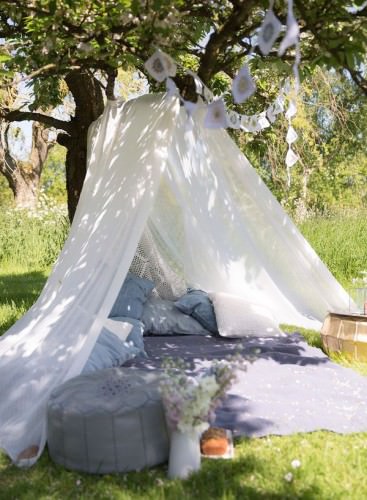 Nothing says kicked back and relaxed to me more than a hammock. Why not pack a couple in the back of your car just in case there's some suitable trees or posts where you're setting up camp? A hammock makes the perfect spot for a doze after lunch.
We also have some fold down seats that are super reclined and pack away to nothing. I like to have a few different options for being lazy.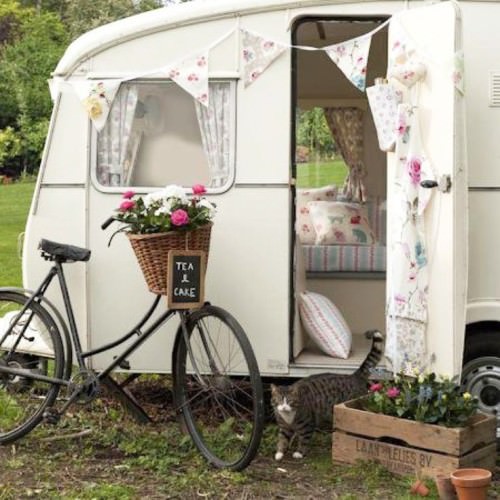 My favourite though is to pull the mattress out of the tent and lie down on that under a big tree with plenty of pillows and cushions. If you bring a mosquito net you can also sleep out under the stars if it's a nice night. Hubby and I once slept all night under the stars on some sand dunes.  We listened to the waves break on the beach before drifting off to sleep!
I hope these tips give you some ideas on how to produce your own glamping holiday experience.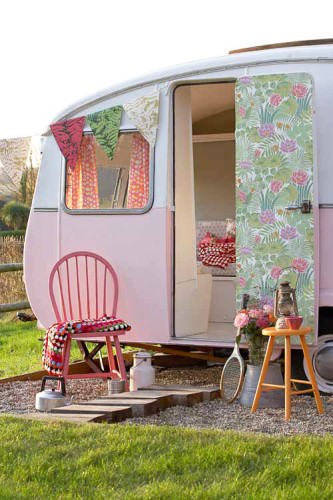 What do you like to bring with you on a romantic Glamping Holiday?