I would like to start this review by saying I don't usually write bad reviews. If I have an unsatisfactory meal I usually chalk it up to experience, delete the images and move on.
I had intended to do just that when we left Tigerbakers on Darlinghurst Rd. I had already reformatted my memory card and started thinking about my next meal. Then I took a look at Urbanspoon and read the comments. Although the restaurant somehow has a 73% "like" rating, the majority of comments were overwhelmingly negative.
I really wish I had of read the comments prior to taking a seat. After a little bit of pondering and checking my iPhone images I decided to write the story.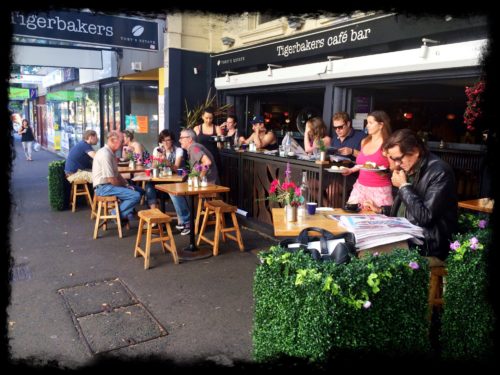 Anais and I were drawn into the café by the European atmosphere and pretty decor.   The tables on the street included a posy of flowers, there was a bar looking onto the street and plenty of "twenty somethings" enjoying their morning coffee.
We took a seat and I ordered my usual cappuccino in a mug on almond milk. I don't have milk intolerances but for the last six months I have enjoyed my morning coffee on almond milk.
Anais ordered an orange juice which was brought out quickly with my coffee.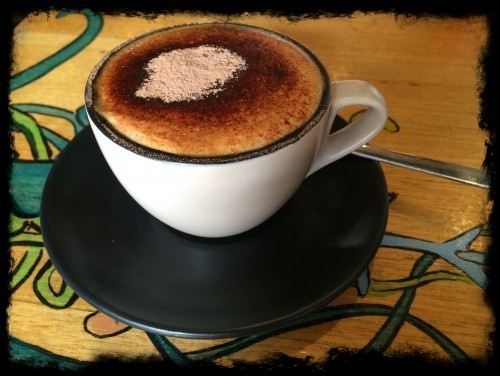 My habit is to spoon the chocolatey froth from my coffee before drinking. Upon doing this I noticed a strange taste. By moving the froth aside I found the "milk" below to be completely curdled and separated into water and curds.
I explained the problem to the waitress and she explained the almond milk had just been overheated. This didn't account for the unpalatable flavour so I requested a new coffee on skim milk.
My second coffee was lukewarm at best. I didn't want to complain again so I just made sure I finished it quickly before it was completely cold.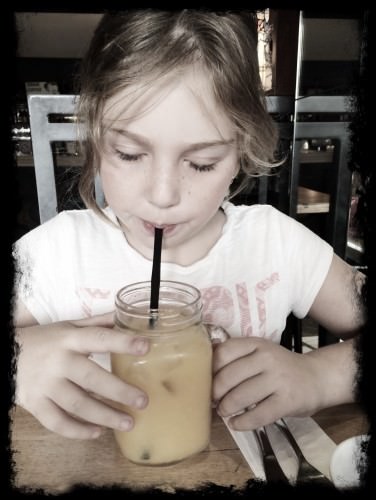 I prefer a lighter breakfast so I ordered the raw beetroot salad with poached eggs and smoked salmon. It sounded like a nice healthy start to the day.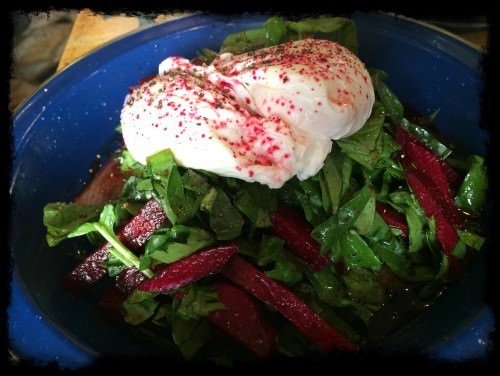 When my meal arrived it certainly looked like it would be the vitamin packed meal I was craving. I poked the knife into the poached egg to get an image of yolk spilling onto the salad.
What I found made my stomach turn. Only about two millimetres on the egg white was actually cooked. When I broke open the egg, egg white spilled onto the salad.
I moved the uncooked egg aside and checked the other egg. It was the same. You can still see some raw eggwhite in the water, but I managed to move most of it out of the salad. I decided to just eat the spinach and beetroot.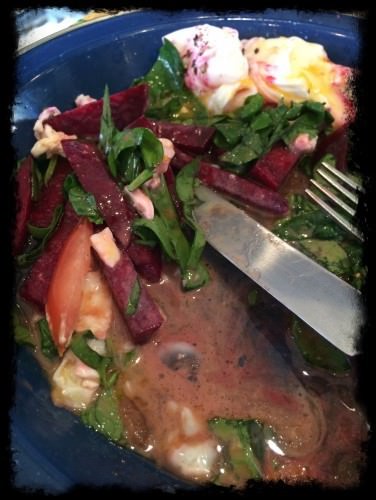 I took a mouthful of the spinach and beetroot salad. There was no flavour. The chopped spinach had obviously just been washed and was sitting in a significant amount of water, so the salad consisted of nothing more than raw beetroot, spinach and water. It was not in the least bit palatable. I decided to just eat the beetroot batons by themselves. They were fine, boring and without dressing or flavour but fine.
I then noticed the thinly sliced smoked salmon under the watery liquid in the bottom of the bowl. I mistakenly thought this might improve the flavour of the salad. It did not. It was waterlogged like eating a cold spinach and salmon soup.
I went back to eating the beetroot batons.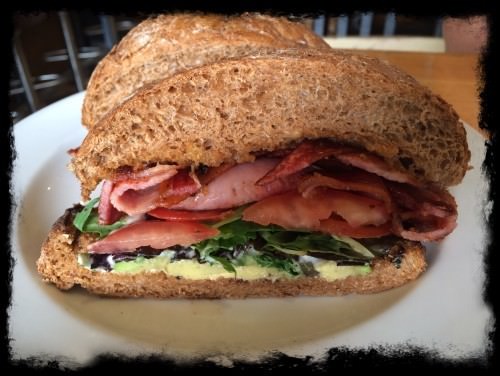 Anais fared much better than I did. She had ordered a simple BLAT. Her meal arrived on a massive bread roll with lovely layers of filling.
She ate happily for a while and I was relieved to know that I would an alternative to my salad, as there was no way she would finish the dish.
When I tried her meal I was surprised. Whilst there was nothing really wrong with it, there was nothing nice about it either. The Aioli was completely devoid of flavour and once again the lettuce had been washed to within an inch of it's life, and then not dried at all. The tomato was hard and unripe and the bread was disproportionate in size to the filling contents and flavour.
So I guess my warning is don't judge a book by its cover. Tigerbakers Bar and Café may look pretty but read the reviews on Urbanspoon.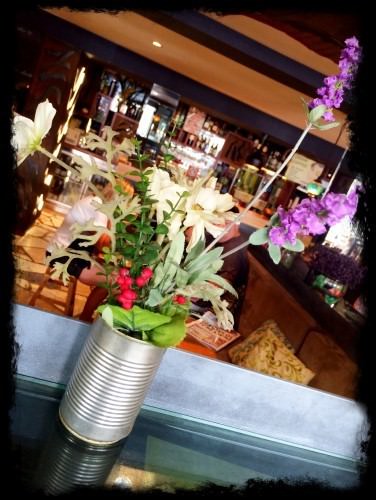 So why did I decide to write a negative review when my policy has always been to ignore the bad meals we experience.? I noticed Tigerbakeres had only been reviewed by 2 foodbloggers. This is a VERY low number for a Sydney venue! I realised why the anomaly had occurred after our disappointing meal. Other food bloggers, like me don't like to write negative reviews, so we tend to ignore the terrible cafes and restaurants in favour of praising the stars!
Consequently it is very easy for an unsuspecting customer to fall foul to substandard dining experiences. Beware the Tigerbakers.
Tigerbakers Cafe & Bar
294 Victoria St
Darlinghurst NSW 2010