Wow! Now if that title hasn't caught your attention then I don't know what will! Thugs Kitchen has just released a new cookbook "Thugs Kitchen 101 – Fast as Fuck". I think it's safe to say this is not your average cookbook.
This is the second book Thug Kitchen has released.  The first book was a bestseller and this one is sure to follow the same path.
The basis of these books is that it's time to give a f*ck about the food we put into our bodies.  I first came across Thugs Kitchen whilst enjoying a healthy, organic salad at a local cafe. The book was available for sale and the title just screamed out at me.
When I sat down with my salad I was surprised to see that this ballsy book was a vegan cookbook! I had been expecting some hardcore meat-eating! All the recipes are plant-based and they're served with a healthy dose of humour.
Fast forward just one month and I'm flicking through the pages of their latest release. This book promises to get meals on the table faster than calling for a takeaway! Hence the "Fast as F*ck tagline". A lack of time or energy is my usual reason for not cooking.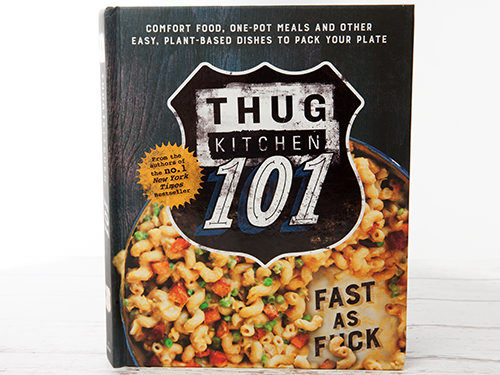 Looking through the table of contents meals included dishes such as;
Cinnamon Kettle Corn
Tex-Mex Queso Nachos
Taco Bowls
Sweet Potato Al Pastor
Chickpea Biryani
Avocado Southwestern Pasta Salad
Skillet Beer Chilli Mac
Jasmine Rice Pudding
Tahini Fudge
Oh, and they promise there is never any preachy bullsh*t. Just delicious, healthy, homemade food.
So who would this book suit? I would gift Thugs Kitchen to anyone that enjoys healthy food whether they were vegetarian vegan or carnivore. The recipes look so delicious I'm sure any meat eater would be happy for the variety.
I also think this is a great book for the hipster, metrosexual, blokes bloke, or any male that likes to eat!
So dear brother, in case you're wondering what you're getting for Christmas this year, I'm looking no further. I know you will love this book.
Get Thugs Kitchen 101 – Fast as Fuck! here on Amazon
Readers, do you have a special someone that will enjoy a cookbook with attitude?