We have just eaten our way through the Prahran Markets in Melbourne's South Yarra and now it's time to meet Winston from "The Hungry Excavator" and the beautiful Daisy from "Never Too Sweet" for another "bite to eat".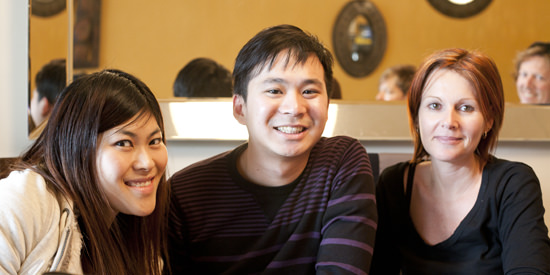 Just to recap, Mr GG and I have only 24 hours in Melbourne.  We are catching up with friends, (Rach & Scott) and trying to sample as much of the city as we can in this limited time.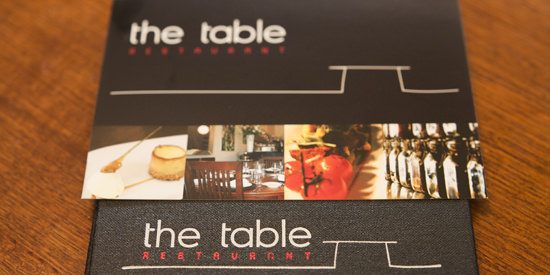 Before arriving I contacted local food bloggers Winston and Daisy for some "must do" suggestions.  With their help we constructed a loose itinerary and we are now catching up for lunch at The Table Restaurant in St Kilda.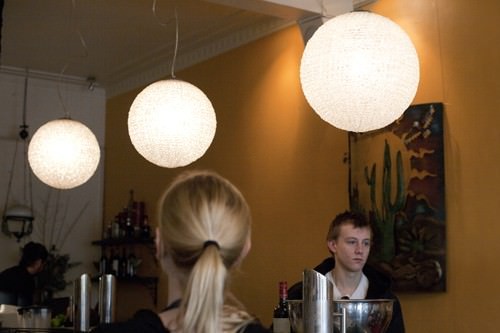 Our party is the first to arrive so we made ourselves comfortable at a large homely table which Winston had reserved for the group. The table itself looked like it would be at home in a rustic old Mexican farmhouse. The rustic decor was in contrast to the modern external appearance of the restaurant and signage but it was relaxed and comfortable.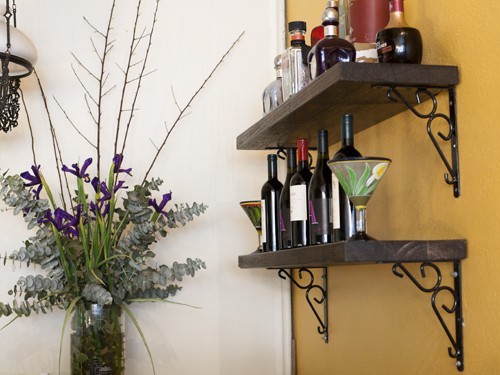 Once settled the girls ordered a bottle of 2010 Poggiotondo Rosso Toscana, a blend of Sangiovese and Merlot from the heart of Tuscany between Florence and Pisa. It was a fantastic choice full of wild cherry flavours and mellow supple finish.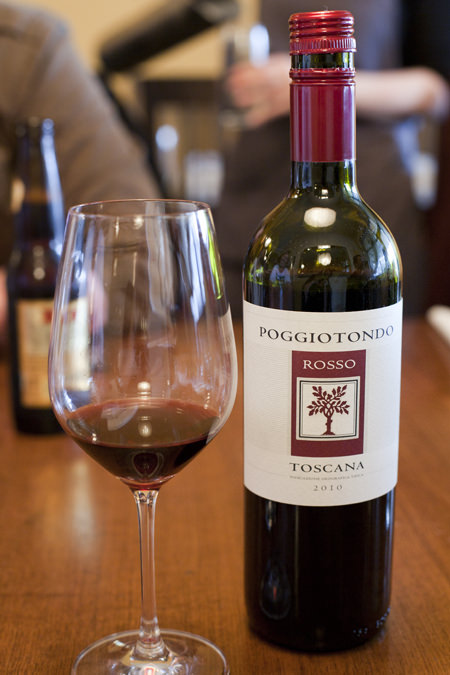 In keeping with the Mexicana flavour the boys decided to choose some "local Mexican" beer. Mr GG had the Cerveza Pacífico Clara, or Pacífico, as it is known.  It is a Mexican Pilsner style beer which was first brewed in 1900 when three Germans opened a brewery, in Mexico.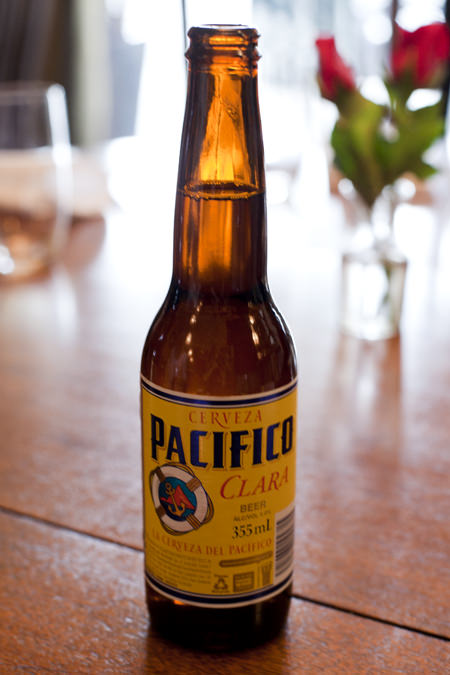 Scott ordered a Dos Equis Special Lager another refreshing beer from Mexico. Both beers were enjoyed immensely by the guys.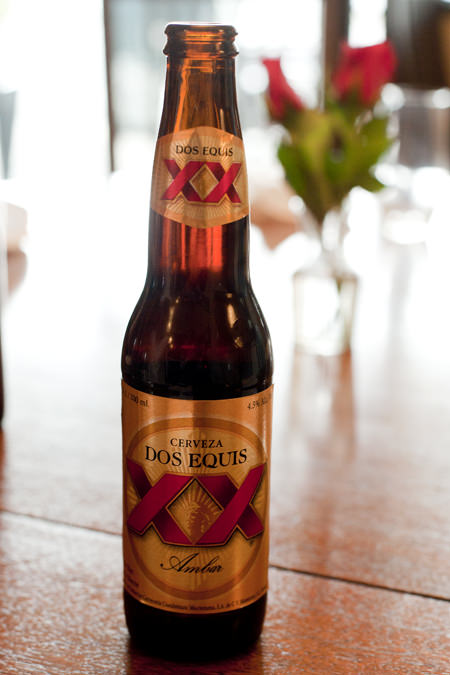 It took the group a little while to order as each menu item looked so delicious! Also I had not met Daisy and Winston prior to today so we were busy catching up and getting to know one another.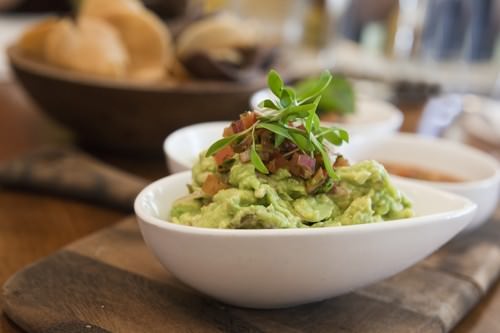 First dish to be decided on was the house made warm blue & white corn tortillas with three salsas & guacamole.   The corn chips were heaven sent. The dough was mixed and rolled in the tiny open kitchen, and then cooked as required and seasoned deliciously with just the right amount of salt. The tortillas were a far cry from the packaged variety.  These two toned beautys were the perfect thickness for submerging in the accompanying guacamole and dips and then crunching on loudly!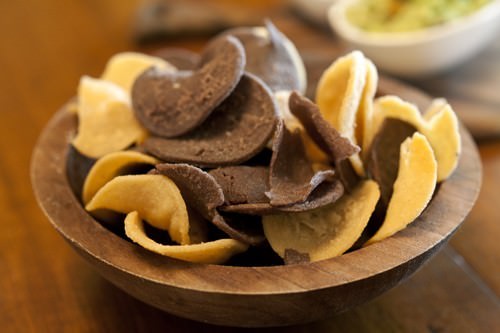 One of the great things about sharing a meal with fellow food lovers is that plates are passed around the table and everyone is sampling all the dishes.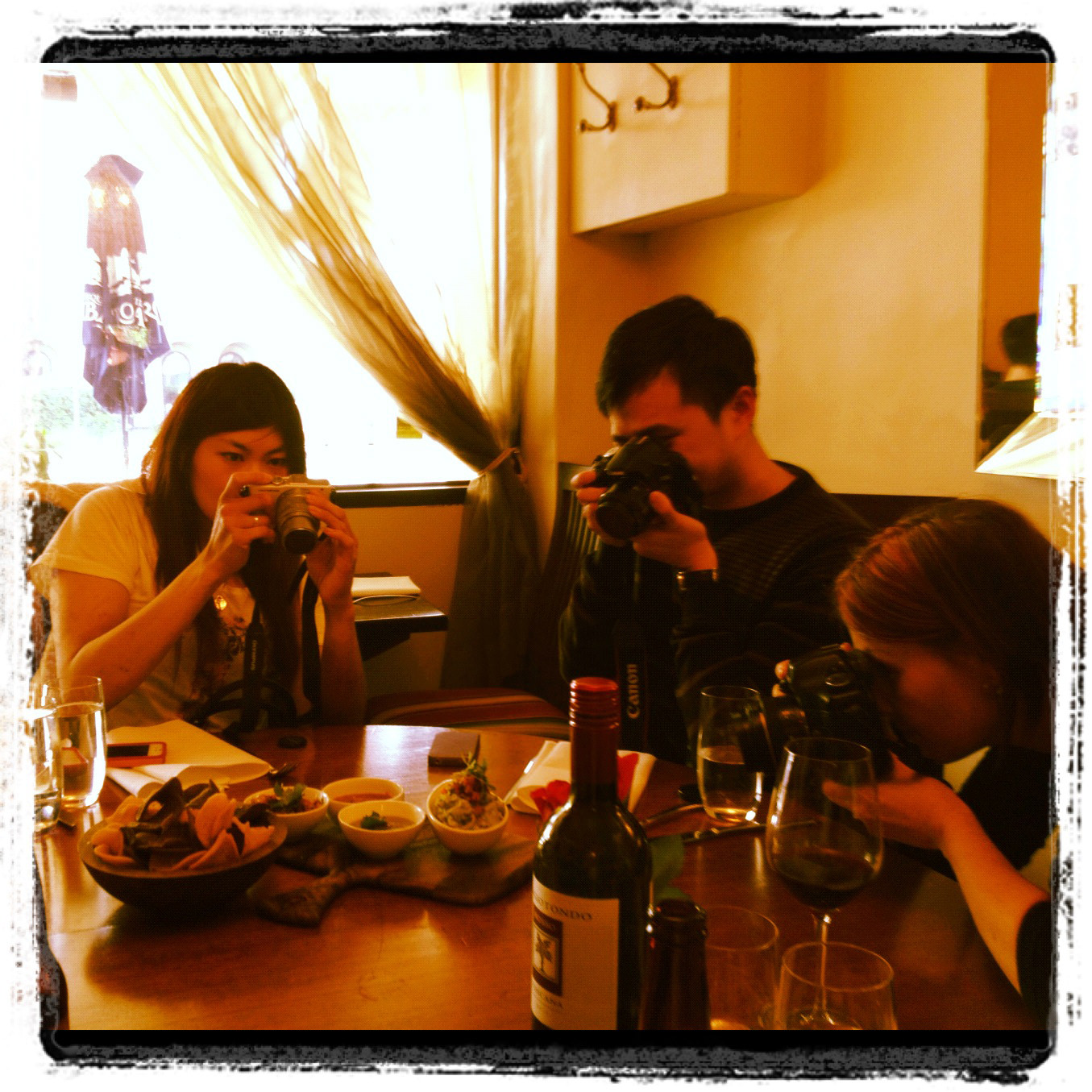 I had to laugh at this photo, taken by my friend Rachy, and non food blogger.  Here she documents the downside of dining with food bloggers. Not even a piece of corn on a plate is disturbed prior to the photography! I hope the non bloggers weren't starving at the other end of the table!
In the soft taco range we ordered the following dishes;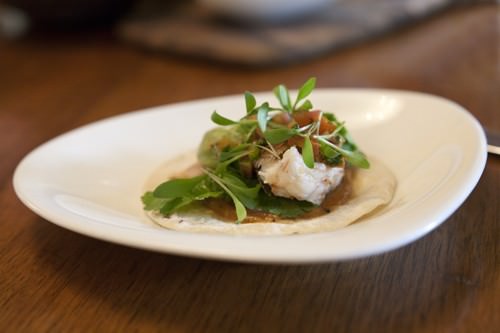 Poached Scampi, in Agave & Tequila with Avocado Panna Cotta & Radish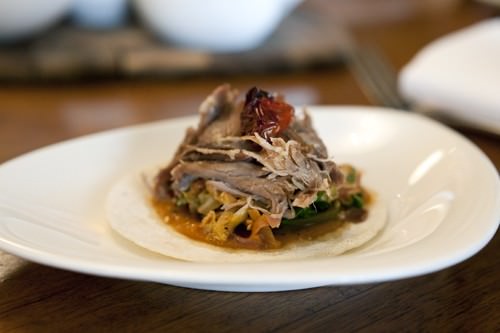 Confit Duck with Smoked Chipotle, Roasted Tomato & Savoy Cabbage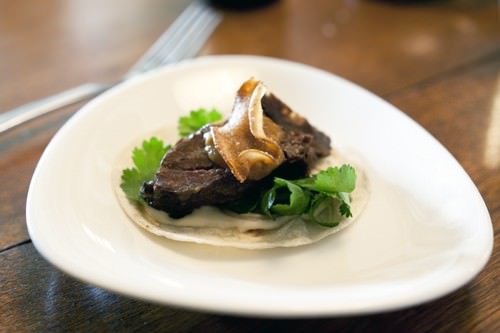 Roasted Pork Belly with Tequila Poached Quince & Candied Black Turtle Bean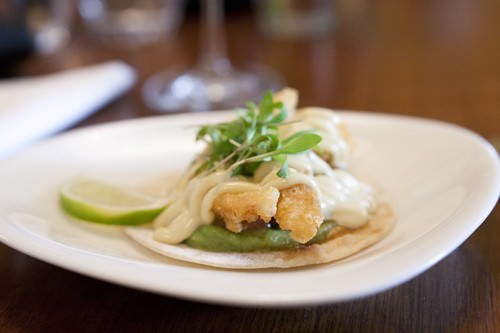 Masa Harina Battered Pinky Snapper, Avocado Puree & Pico de Gallo
By the time we moved on to the mains the restaurant was quite busy. We had a bit of time between courses to take some photos and compare food and travel stories.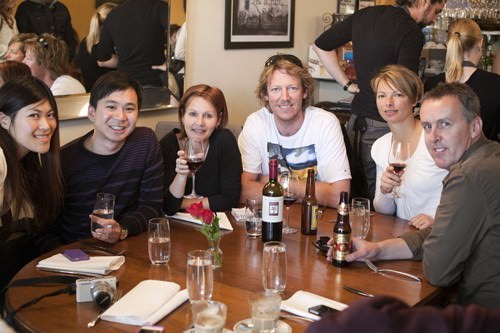 Onto mains and we have ordered the following dishes;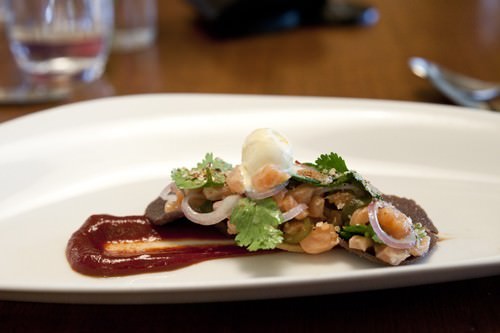 Salmon with Flaked Quinoa Crumble. Agave & Chipotle Glaze. Cream Fraiche Parfait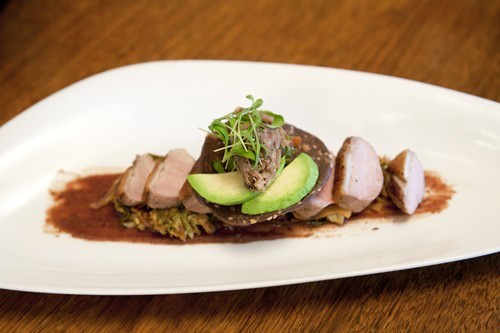 Roasted Duck Breast, Duck Rillettes Tostada, Agave Cabbage. Date & Tequila Puree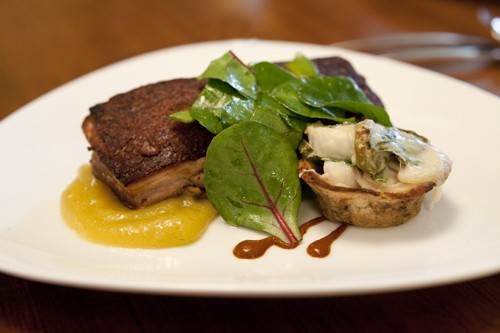 Crispy Pork Belly, Scallop, White Bean & Smoked Manchego Sopes, Mango
& Jalapeno Puree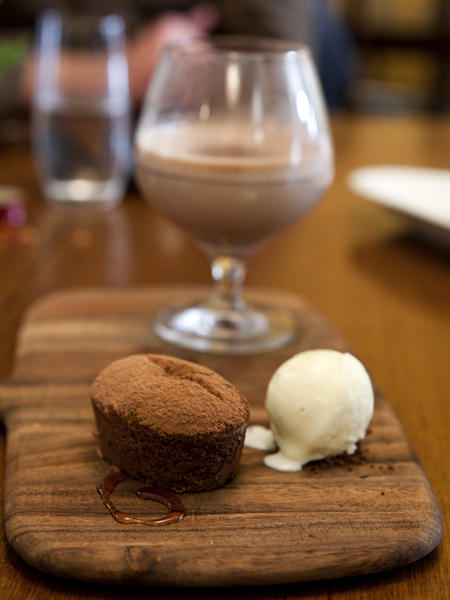 Patzcuaro Hot Chocolate with Milagro Anejo, Vahlrona Chocolate Fondant & Mexican
Vanilla Ice Cream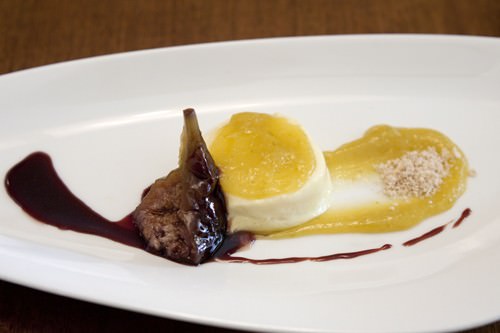 Cardamom Spiced Panna Cotta with Tequila & Agave Poached Quince, Hazelnut Tortilla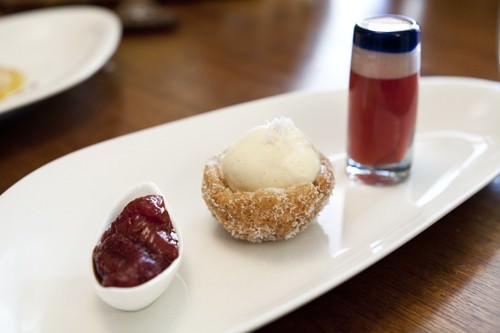 Fried Corn & Coconut Tamale with Coconut Ice Cream with Wild Berry Compote & Blood Orange Consomme
Each dish was just miles ahead of any Mexican food I have experienced before. It was all fresh, home cooked as ordered, and an amazing melding of traditional Mexican flavours with unique and inspired non traditional ingredients.
I don't usually like to dwell on the negative but in fairness I feel that I must point out to readers that the portion sizes are miniscule. As a point of reference I am a petite girl and I could have happily eaten 10 tacos at $6.90 each for my lunch.
The quality of the food is however second to none. The staff were welcoming and accommodating. We were the first table to arrive for lunch, and the last to leave, and at no point were we hurried along. I will leave you with one more image of the most divine dessert.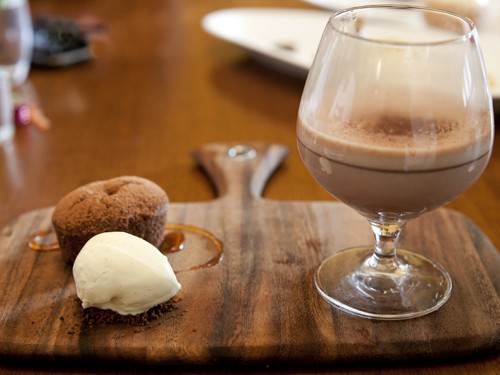 49 Fitzroy Street
St Kilda, Victoria 3182
Ph:03 9534 6803