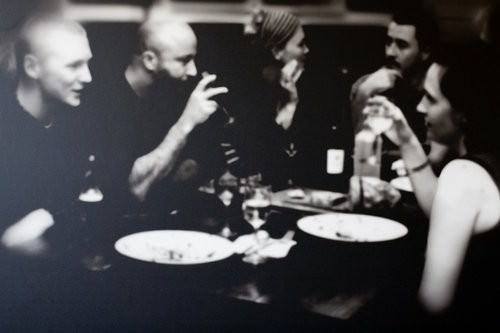 Beach Street
Woolgoolga
What to do on a miserable wet day, when the family have been housebound for over 24 hours? In these instances I usually suggest we all "go for a drive, and see where we end up." Little does Mr GG know, I am usually thinking about food and I usually have a pretty good idea where we will end up!
On this particular day I have "The Rustic Table" in my sights. The Rustic Table is a little cafe in the town of Woolgoolga 20 mins north of Coffs harbour.  For a small cafe/restaurant the chef, Joe Fallon, has been making rather a lot of noise in culinary circles. Joe was a finalist in the 2011 Signature Dish Awards with his "Pan roasted local goat rump with banana skordalia, fresh rocket and blueberry tzatziki.
Being a judge of the "Signature Dish" people's choice award I had the opportunity to sample all the dishes on the day, and this was one meal which really stood out.
So I thought it was only fair that I should show hubby what he had missed out on.
We were planning on having lunch but arrived late in the day.  I was worried the kitchen may have been closed as it was already after 2.00pm. I needn't have been concerned, the place was full. We were seated at the last available table by a very energetic, rather eccentric, but very friendly waiter.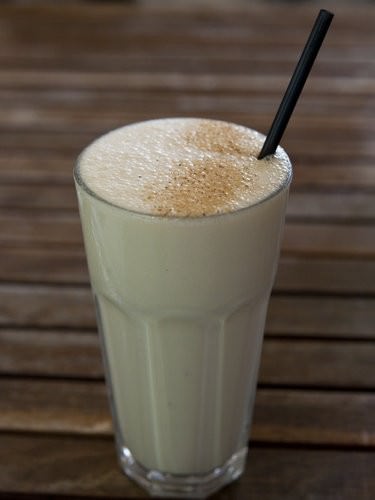 I think I have mentioned before that Mr GG always orders a banana smoothie for breakfast or lunch when we're out. So when I saw the Chai Banana Smoothie I knew it had his name all over it. When it arrived the spicy chai aroma was gorgeous! The smoothie itself was thick and creamy, full of ice-cream and sweet banana. I honestly believe it will be hard for hubby to go back to an ordinary smoothie after trying this one.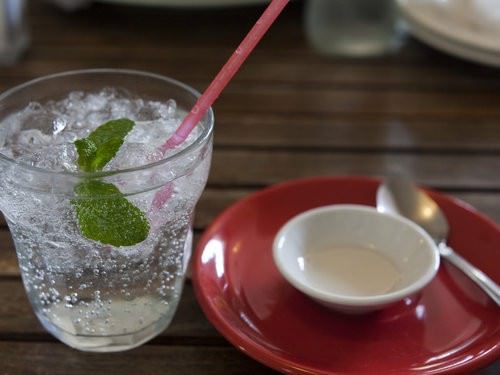 My drink of choice was to be a plain and simple sparkling mineral water only the waiter suggested I should try the chefs homemade lemon myrtle syrup. I love Lemon Myrtle and have the trees growing at home, so this was a nice surprise.  The syrup gave the mineral water a sweet subtle lemon flavour with a hint of what I can only call "the taste of Australia" that slight Eucalyptus taste which I adore in bush foods.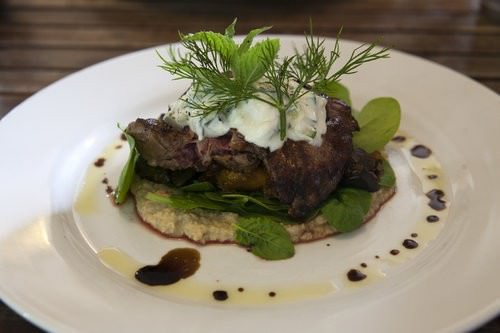 For my main I ordered the Greek Style Marinated lamb rump which was served with a hummus, roasted vegetables and fresh yoghurt. The waiter informs us that the chef cooks the lamb medium rare which I am very happy to hear. When the dish arrives it is deliciously moist and pink, just the way I like it. The roasted pumpkin is beautifully caramelised and the homemade hummus has just the right amount of garlic and lemon tang.
Mr GG chose the freshly caught Swordfish with smashed chats, baby spinach and lemon myrtle aioli.  The aioli was the creamiest I have tried and was delicious with the crunchy smashed chats. I am always wary of swordfish on menus, as it has a tendency to be dry if slightly overcooked.  I had nothing to worry about. This swordfish just melted in my mouth.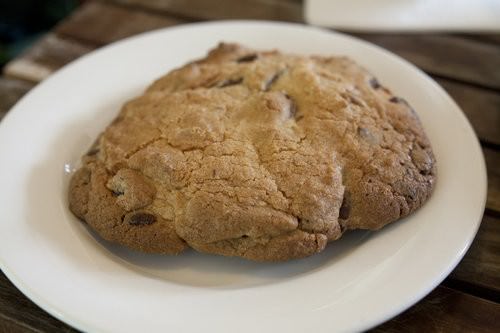 The children had already eaten lunch so they were treated to afternoon tea of a giant chocolate chip cookie and strawberry milkshake. They were very happy children indeed, the biscuit was almost as big as little miss A's head!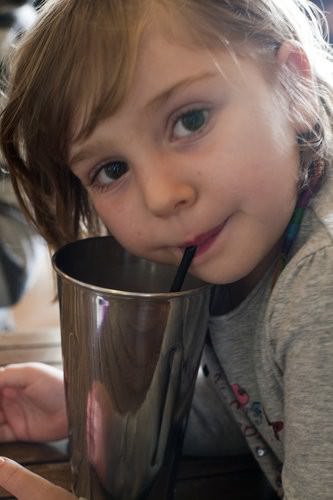 The restaurant is also open Thursday, Friday and Saturday evenings for A la Carte dining, on these nights you can try Joes Signature Dish.
For reservation Ph: 66541645