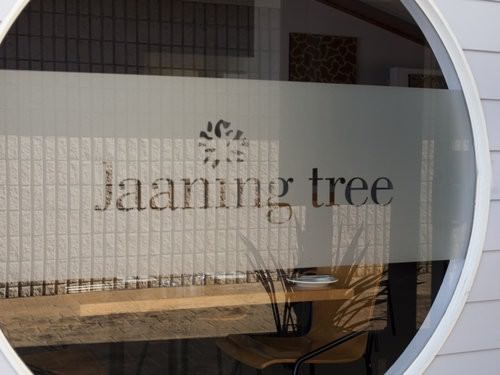 Take a relaxing deep breath, and settle in for the afternoon is my advice when visiting the "Jaaning Tree". That's what Lorraine from Not Quite Nigella and I did when which reached this picturesque restaurant. We were on our North Coast Food & Wine Tour and arrived at "The Jaaning Tree," we were instantly mesmerised by the lull of the water and the tranquil, serene environment of the Nambucca River.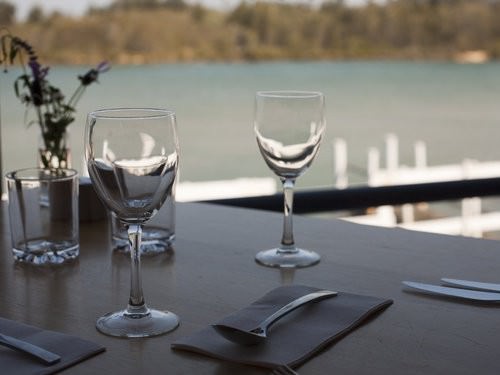 Chef and owner Clayton Donavan grew up in the Nambucca area, as a boy would go "foraging" for food in the rainforest and on the beach. He always wanted to be a chef and his passion for local and native food is evident in the menu and his enthusiasm to share "local knowledge".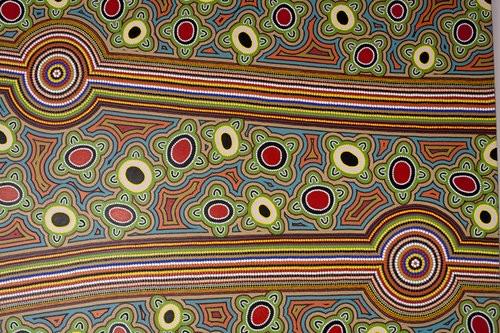 After a prestigious international career cheffing, Clayton has returned to this spot on the water, to raise a family with his beautiful bride and lovely English Rose, Jane. Jane commented that if the chef ever goes "missing" he is usually off picking edible flowers or native berries for the restaurant.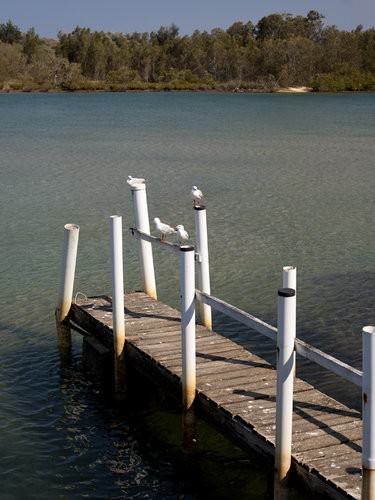 Lorraine and I perused the menu and are instantly drawn to the oyster entree. We are after all sitting more or less on the banks on the Nambucca River so it fits that we should enjoy some fresh Nambucca oyster. We choose a selection of Natural and Asian Style Oysters.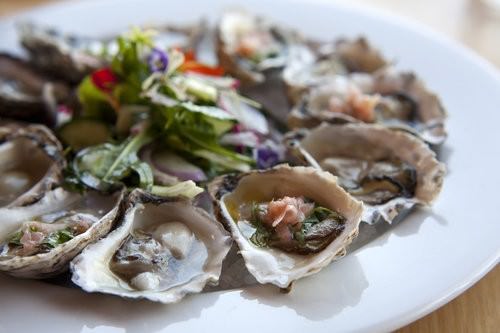 We are presented with the most beautiful display of modern fresh food. The oysters are served with a salad of fresh edible flowers including nasturtiums, apple berry flower, viola and home grown rocket with radish, red onion and cucumber.
The oysters are fat and delicious. The taste so fresh and remind me of the sea spray. The natural oysters are served on rock salt, with some lemon and fennel. The Asian styled oysters were my favourite, they were garnished with coriander, wasabi oil, mirin and pickled ginger.  The flavour was amazing! I instantly decided that I needed to try and reproduce this dish at home for Mr GG.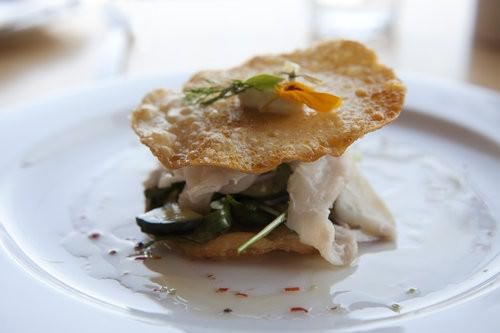 The menu at the Jaaning Tree is so inviting that Lorraine and I found it difficult to choose. For entrees we finally settled on two dishes, a Citrus Cured Crocodile Carpaccio and a Cheese & Macadamia Nut Beignets.
I adore raw food so I was sold on the crocodile Carpaccio as soon as it arrived. Wafer thin slices of succulent tender crocodile cured in juice and served with fresh salad leaves and pickled ginger, a wasabi crème fraiche and a chilli and coriander dressing. There was just so much flavour in the dish. It was nicely presented topped with a crispy wonton wrapper.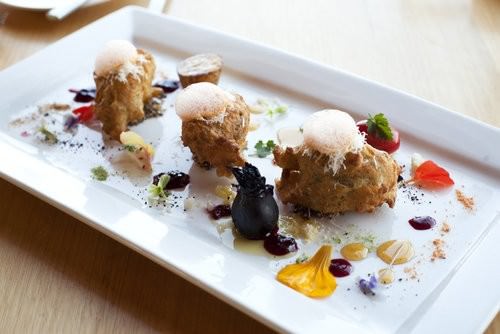 The Cheese and Macadamia Nut Beignets were the next dish I sampled. The choux pastry had been made with a puree of cheese and macadamia through the light crisp pastry.  This deliciously light pastry it was then deep fried. The little pastries were served with an array of reductions, flavour powders and foam. There was a balsamic and wattle seed reduction plus a Davidson plum reduction, a citrus foam and native flavours in the form of powders and ground spices. I thoroughly enjoyed the combination of native traditional food, French style cooking techniques and modern ingredients. The Jaaning tree has taken "Modern Australian Dining" to a whole new level.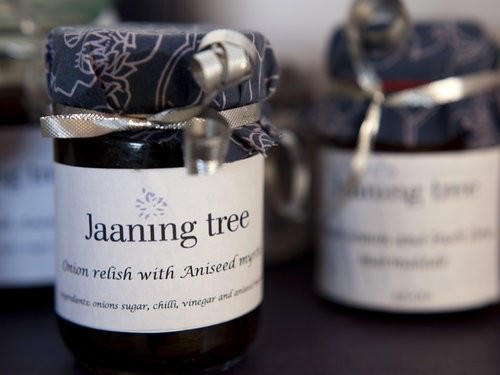 The Jaaning Tree also carries a range of quality preserves made from native ingredients. I was intrigued by the sound of these flavours and both Lorraine and I bought quite a few to sample at home.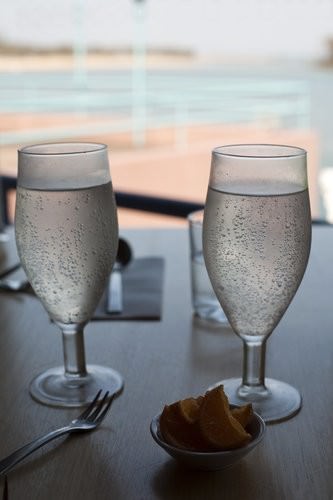 Lorraine and I had decided to share a main dish of Smoked Loin. When the dish arrived it was spectacular, gorgeously presented and very large! After all the food we had consumed on the trip I was grateful we had decided to share.
This is the dish the Jaaning Tree is famous for, the Kangaroo is hot smoked using the leaves of the highly aromatic scented lemon myrtle, and served with organic baby beetroot and carrots, caramalised pear, wilted spinach and a chocolate jus to finish.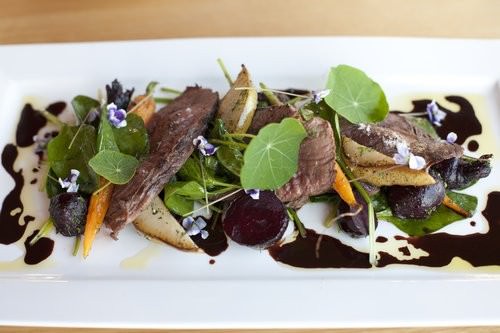 I felt so guilty eating this dish without my husband that I took a photo and sent it to him. I know he would have enjoyed the meal as much as I was. The kangaroo was so tender and flavoursome and the salad was the ultimate in fresh, healthy and tasty.
Something I have certainly learnt of the last few days is that a meal is not a meal without dessert, when you are dining with the Queen of Desserts Miss NQN!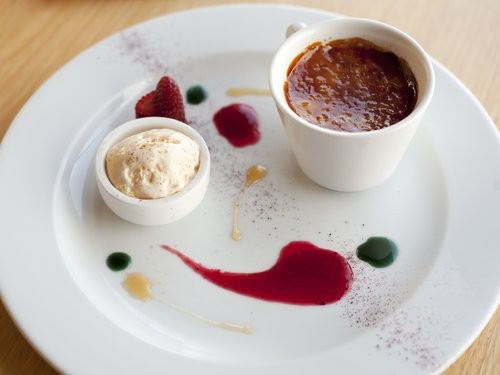 We chose a gorgeous Creme Brulee which was deliciously rich and creamy. It was served with a divine range of coulis and powders to enhance the flavour of the brulee and a homemade ice-cream. It was a beautifully sweet finish to an amazing meal in the most idyllic of locations.
Clayton shared so many interesting stories about growing up in the area throughout the meal. We asked how he named the restaurant and he told us that when he was a child, if he was naughty and was about to be chastised, he used to hide in the backyard behind the Jaaning Tree. The Jaaning tree had a sweet sap which was like lollies from the bush.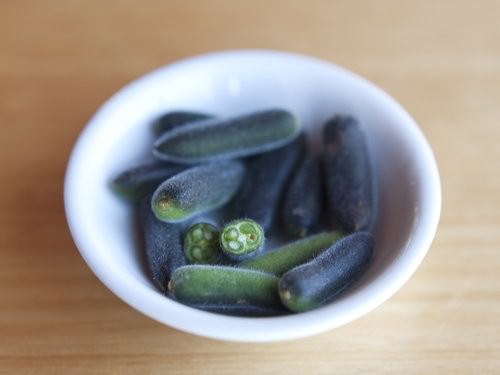 Dorrigo Pepperberry
The name is so apt for a restaurant which serves the most gorgeous native foods, I felt like a child discovering for myself new flavours, ingredients, textures and techniques. Clayton told us stories of his foraging adventures in the local area and all the unique foods which are available in the bush, beach, river and dunes. He was so knowledgeable and inspirationally that Lorraine and I quickly agreed to be a part of his next foraging trek.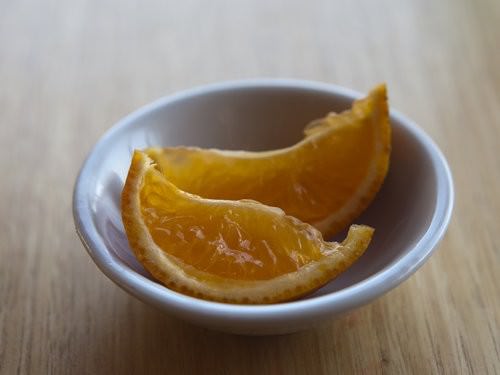 Native Citrus
Dining at the Jaaning tree was a total experience, Clayton is so charismatic and enthusiastic about the food that he is sharing in his restaurant that the meals speak volumes on native, sustainable, local, unique, healthy tasty food.
Gourmet Getaways was a guest of Destination NSW and Mid North Coast Tourism. Thank you kindly to both for hosting such an amazing experience.
For reservations contact details are;
Jaanning Tree
8/1 Wellington Drive, Nambucca Heads NSW
Ph: 02 6569 4444