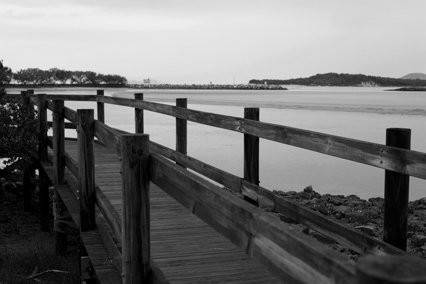 So what do you do on a miserable rainy Saturday? It isn't the first wet day we've had recently so we had all had enough of being trapped indoors.  Ordinarily I would have just gone into the kitchen and done some baking, but with the family restless we needed to get out of the house. Mr GG suggested we take a drive down the coast and see if we could find a photogenic area.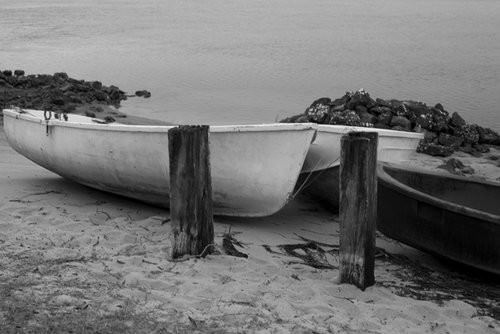 My mind went immediately to the Nambucca Heads area which is about 45km south of Coffs Harbour. It is a quiet little seaside town with nice beaches, river and mangroves so I hoped that in the gloomy weather I would still be able to get a few nice shots.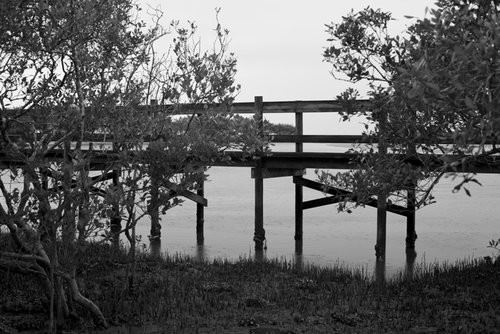 Also, I was getting a little hungry and I remember The Bluewater Brasserie by the beach serves some really good pub food.  It seemed like the perfect choice for such a dismal day. We have eaten there before but I have never written a review so now I was set with a purpose for the day.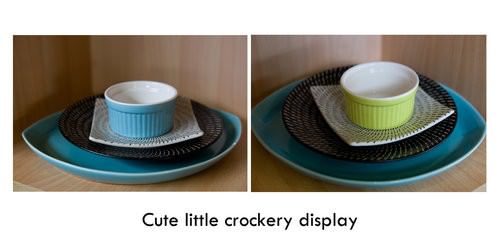 By the time we sat down at the table I was cold through to the bone.  I borrowed a second jumper off Mr GG and started looking at the menu for some warming comfort food. I noticed another patron had a shepherd pie and I knew instantly that would be the dish for me.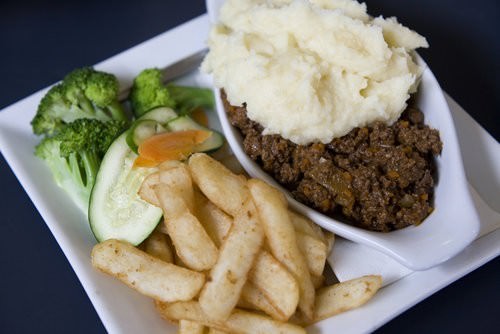 When the pie arrived it hit the spot. There were mountains of creamy mash potato topping a deliciously rich meaty pie. Oh, it was divine; it was just what I needed to chase away the chill.
Hubby ordered the Tasmania Salmon which was usually served with a salad; he elected to have his dish served with vegetables and mash.  We were obviously both in need of a winter warm up.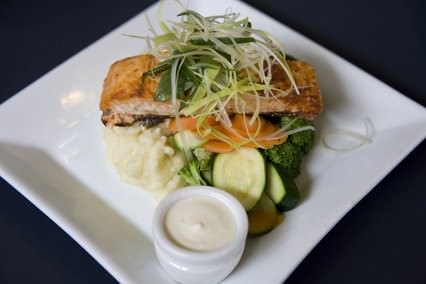 The skin of the salmon was delicious crisp and lush and the salmon beautifully moist, it was served with a garlic aioli which I know was good because Mr GG scraped up every last bit. The salmon wasn't exactly cooked medium rare as described but Mr GG had no complaints as he thoroughly enjoyed his dish.
The little ones had been promised chips.  Chips are a "sometimes food" in our house so this was a real treat and they were digging in as soon as the bowl hit the table.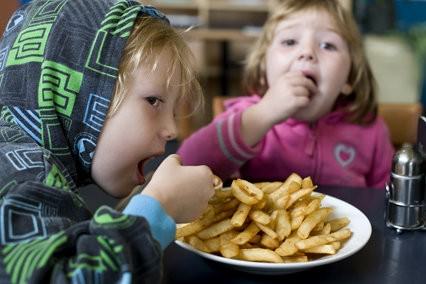 The chips were out of this world, they were a gorgeously crisp beer batter chip with the softest fluffy potato middle.  They were also seasoned but I couldn't pick the flavour. The kids demolished the chips and we were all feeling the warm glow of a stomach full of comfort food. It is good honest pub food, full of flavour and generous serving sizes.
Bluewater Brasserie is open for lunch from 12-2.30pm and dinner 6.00-8.30pm 7 days per week.
It is located on the Nambucca Heads Foreshore on Wellington Drive. Reservations are advisable as it is always quite busy Ph: (02) 6568 6394.
So readers, tell me what you like to do on a rainy day.  Maybe you can give me some ideas for next time.