October is a huge month for the Port Macquarie Area with a month long celebration of food and wine.  There are a series of events held on almost every day, which all come under the banner of the "Tastings of The Hastings."
The culmination of "Tastings of the Hastings" is the annual market day which is held at Port Macquarie Racecourse. Here producers, providores, restaurants and foodie take a day out to celebrate the great food of our region.
It is a wonderful family day with something for everyone.  The sun was shining and the racecourse was packed with people enjoying the atmosphere, food, wine and music.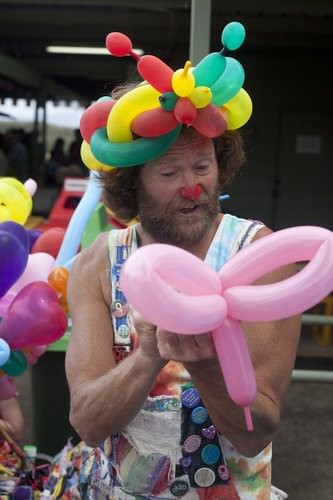 For the children there were three huge jumping castles, and no waiting or lining up.  Please take note Coffs Coast Tourism, our own Food & Wine Festival is coming up, and yes it is a competition! 🙂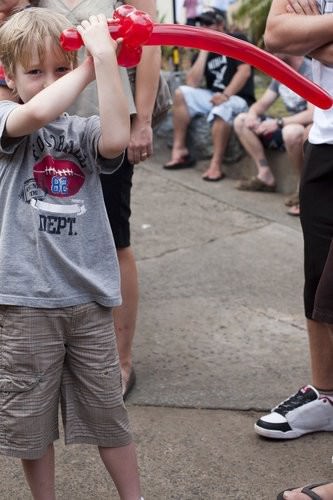 There was face painting, balloon animals, petting zoo and cupcake decorating, most of these activities were free or a nominal amount. Locky played happily with his "sword" all day.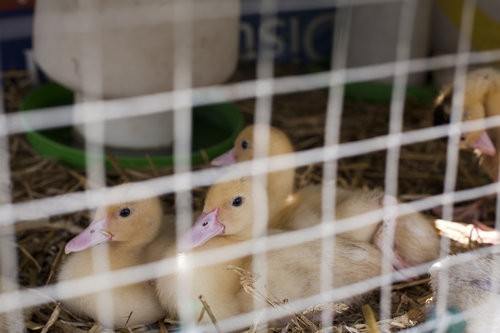 My kids had the best time! They were literally happy playing all day!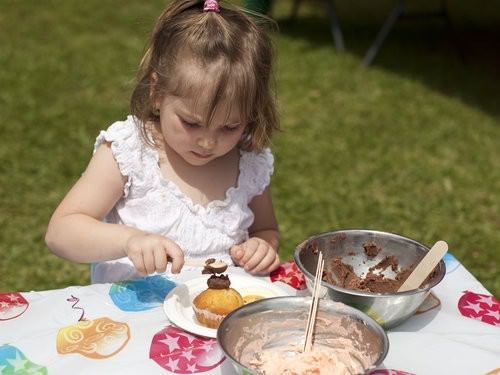 "Little Miss A" loved decorating a cupcake and the ladies on the stall were so helpful.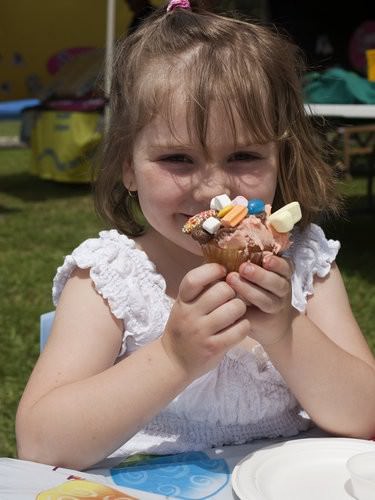 When the children are happy the parents can relax, and that is exactly what we did, we settled in for the day and enjoyed everything on offer.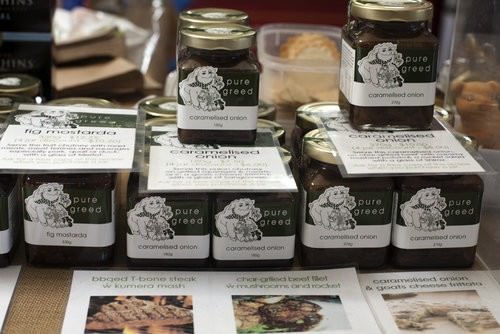 My initial focus was on trying dishes from some of the regions restaurants that I haven't quite made it to yet. However my first purchase of the day wasn't a meal but a condiment. I couldn't go past the garlicky pesto given to me to try by "Pure Greed." It was the most non commercial tasting pesto I have tried, full of lemon, garlic and flavour. I was advised that it would need to be refrigerated, another good sign, no artificial additives. I couldn't buy just one condiment so I also purchased a fig jam.  This was a syrupy soft set jam which would go amazingly on a cheese platter.
| | |
| --- | --- |
| | |
While we were perusing the food pavilions we decided to try an assortment of appertisers to get started.  The XS Food Tasting Plate was one of the most interesting platters.  It included Oysters in Sparkling White Wine Foam, a Ricardo Tomato Bruschetta with apple balsamic and pecorino. The Wilmaria Olive Macaron with tapenade was mouth-wateringly delicious.  Mr GG loved the salt & pepper cured Meltique beef skewer with Bago relish and we both enjoyed the labneh cheese with Wunda Crunch crust.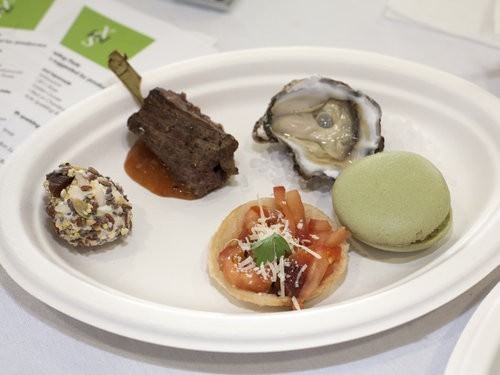 XS Food was conveniently located alongside of Long point Vineyard so naturally I tried a few of their wines while I was there.
The Long Point Vineyard Deckchair White 2010 was a lovely refreshing Chardonnay Verdelho blend. It is un-oaked, with a fruit aroma and crisp flavour. Next I tried the 2007 Duet which is a blend of Chambourcin and Cabernet Sauvignon, this was very much to my liking so I walked away with a few bottles for my collection.
Meanwhile hubby had been sampling and comparing the beers from the two brewing companies, the "Black Duck Brewery" & "The Little Brewing Company."
The Little Brewing Company produces three beers under the "Wicked Elf" label, a Pale Ale, Witbier and the Pilsner. Mr GG has tried this range before and loved them, but for the purpose of being thorough he thought he should sample them again.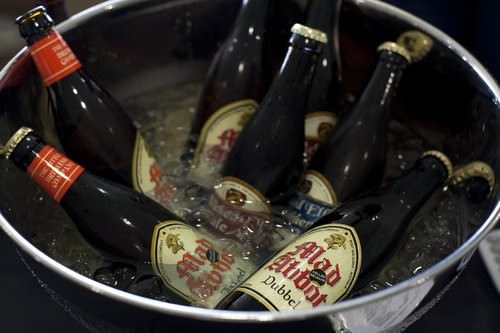 At the end of the tasting he declared his favourite to be the Witbier. The Witbier is a reproduction of the Belgian White Ale. Its made using a 50/50 ratio of wheat and barley malts and is 'bottle conditioned'.
From memory I think this was Mr GG favourite beer in the range last sampling… but nevermind, I had a very happy husband who is pleased he tagged along.
iWife (Miss Rach) and family had also joined us at the market day. Miss Rach decided that if hubby was sampling the Wicked Elf she would try some of the beers on offer from the "Black Duck Brewery."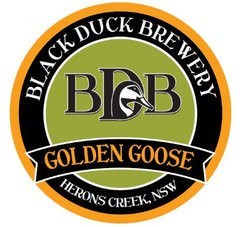 She selected the Golden Goose which is an American style Pale Ale. It is light in body and colour with a hoppy flavour.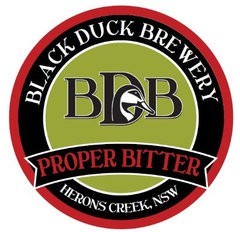 She also decided she should sample the Proper Bitter an English style Bitter with a hoppy aroma.  The bitterness is balanced with Australian malts which add a body and sweetness to the beer. I was pleased to note that Australian malts are used in the brewing to reduce the food miles.  Although it is necessary to use UK hops to get the true style of the beer.
The brewery uses harvested rainwater to ensure a fresh, tasty, pure Bitter is produced.
Black Duck Brewery also has a Dark Ale available which we didn't quite get to trying, perhaps next time.
Mr GG & iWife(Miss Rach) both preferred a different beer in the Black Duck Range so I guess it is safe to say both beers met with approval.
It was time for a little more food and we were definitely spoilt for choice.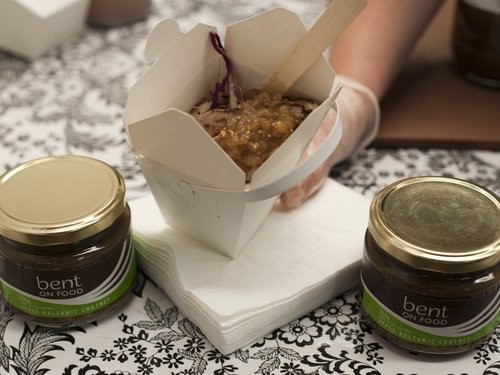 While Mr GG was purchasing some pasta dishes for the children I made a beeline for "Bent on Food." I had caught sight of the magic words "Pork Belly" and I was already salivating whilst it was being prepared. The dish was showcasing the Kindalee Valley farm pork belly. It was served with red cabbage and noodle salad and then dressed with Bent on Food apple balsamic chutney. It was a delicious sweet dish of pork sitting on a bed of crispy red cabbage salad, a perfect food match.
Donna offers regular cooking classes at Bent on Food in Wingham and she mentioned the home wares shop is looking particularly beautiful at the moment.  Just in time for Christmas shopping!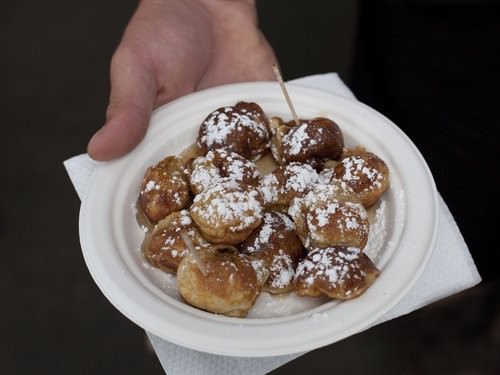 Sometimes my children remind me of a nest full of baby birds with their little mouths permanently open. Even after devouring the pasta dishes they were still hungry. I really couldn't blame them though as the beautiful food aroma's were everywhere. Once the children spotted the dutch pancakes there was no refusing them. They almost inhaled the plate full of donuts with sweet sticky maple syrup.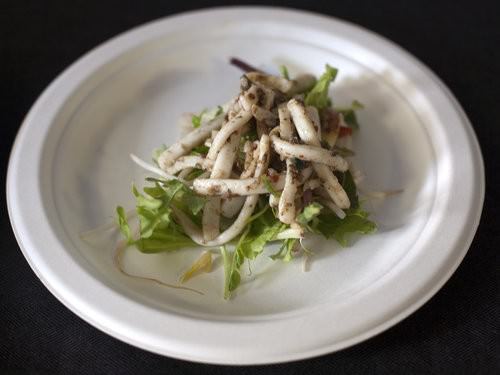 IWife was keen to try the two different tasting plates on offer from Cassegrain Wines. They had produced the Signature Dish, being a "Marinated Chilli Squid Salad" plus a "Tataki of Yellowfin Tuna". I was really proud of Rachy, it wasn't too long ago that I am not sure if she would have tried a sashimi style dish, but she thoroughly enjoyed both dishes and said she would have like more!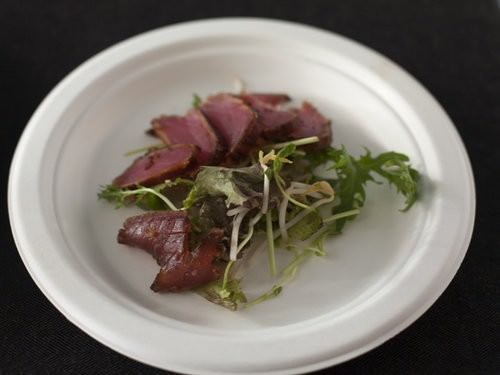 I tried the Marinated Chilli Squid at the Signature Dish Competition and again at the market day and I have to say it was even nicer at the market day!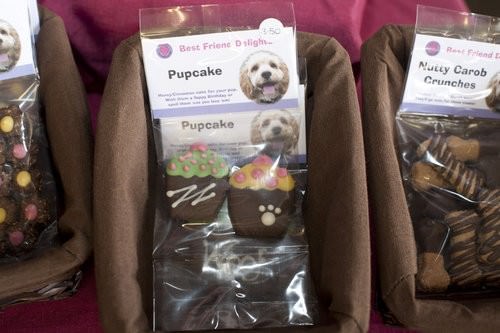 There were also so cute little "Gourmet" treats for puppies. The  "Best Friends Delights" stand was just so adorable little Miss A wanted to take one of everything home to her little Chihuahua Sofi.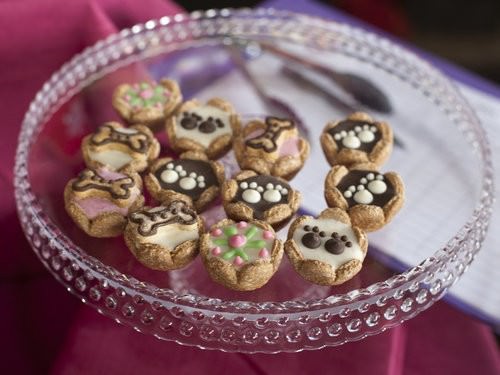 So much food and so little time! Hubby went in search of more food and found the marquise for Port Macquarie Panthers.  They were showcasing produce from Gaian Poultry & Game. Panthers had put together a plate of Smoked Pork with Onion Jam on a bed of Mizuna Salad Leaves and Hoi Sin Marinated Duck Breast with chestnut and shredded salad.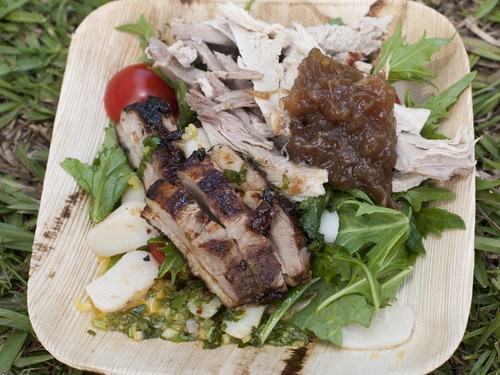 They were the most gorgeous flavours and probably one of my favourite meal of the day. The meats were succulent, sweet and tender and the sauces just mouth watering. It really is so hard to pick a favourite dish.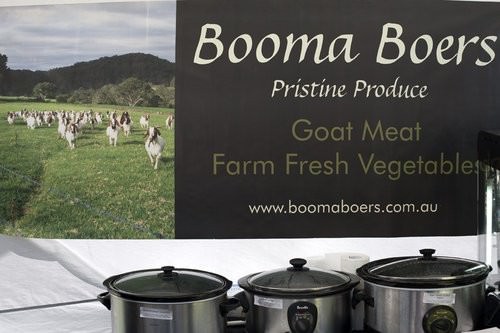 Mr GG spotted a sign for goats meat pies courtesy of Booma Boers. He had never had a goat's meat pie and decided that now would be as good a time as any to try one.  The pastry was deliciously crispy and the feeling meaty and silky. He did say that he really could tell it was goat's meat; it just tasted like a nice pie.
Next on the list was a round of snow cones for everyone! Lots of hideous flavours and colour, just what we needed prior to a two hour trip home. BUT, while the kids are happy the parents are happy!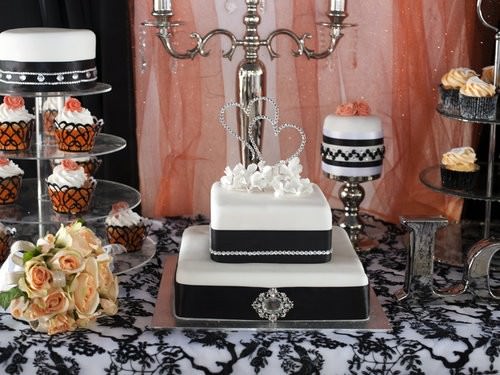 I had planned to sneak off and find the most decadent desserts I could get my hands on. I had already been on a reconnaissance mission and had determined my two favourite dessert stands.
The first was Cassidy's, an old fashion bakehouse which had the cutest cupcake stand. There were so many designs and colours and they were each so pretty to look at I had no idea which I would choose.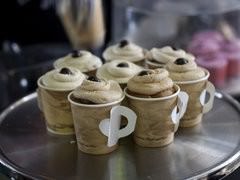 Cassidy's also specialise in special occasion cakes for weddings, engagement, and events but can be found producing massive numbers of these gorgeous cupcake creations for local markets. I don't think I have met a lovelier couple, and they had been up all night producing 1500 cupcakes for the Port Macquarie market day.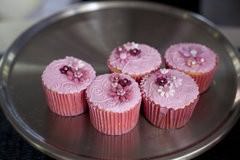 If you would like to speak to Cassidy's about their "Cupcakes by Design" here is the email address.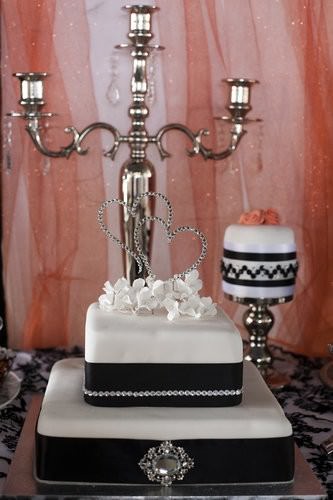 So with cupcakes in hand I went in search of tarts. Sweet delicious tarts! I had spied the most adorable little Lemon Meringue Pies and I had my heart set on the delicious tangy sweetness.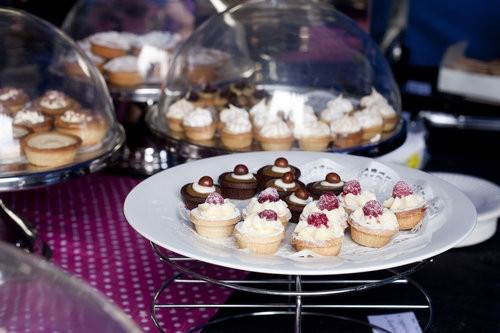 Unfortunately when I arrived at Kere's Kitchen I found that everyone else had also taken a liking to these tasty bites and there were none left.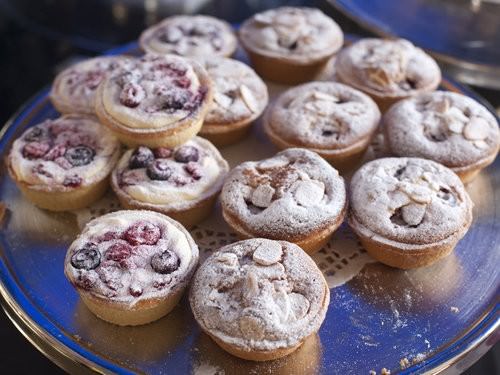 It is probably not a bad thing I missed out on the lemon Meringue pie because I still ended up with a selection of tarts and believe me I wasn't inclined to share. They were just so good!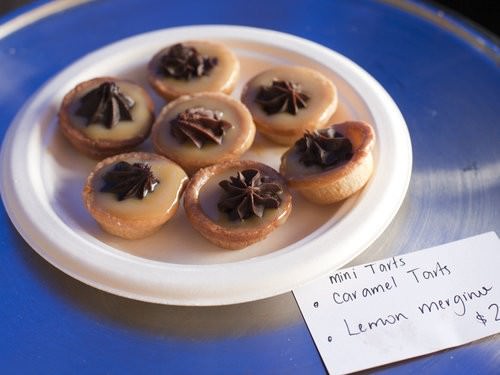 The kiddies got one more sugar hit in the form of a giant size lolly pop before we made our way to the car for the trip home.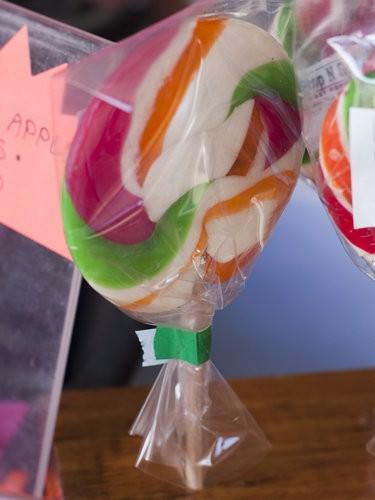 What gorgeous family day out. Kids were exhausted and slept all the way home with parts of the lolly pop stuck to their face. Happy kids, happy parents.