Retro, cute, quirky, delicious, these are all adjectives I could use to describe a gorgeous converted caravan named Myrtle.
Pink flamingos light the van after dark and the white picket fence is a quaint touch that completes this image of 1950's domestic bliss.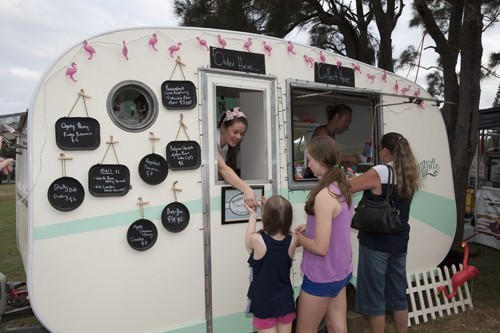 Inside Myrtle the girls are a picture of retro glamour, wearing lovely aprons, scarves and the perfect shade of red lipstick.
I am at the Twilight Markets in Coffs Harbour and I used the description "Delicious" when referring to the van because Myrtle is in fact a food van. Myrtle is home to a new local business called Sugar Plum Cakes & Desserts!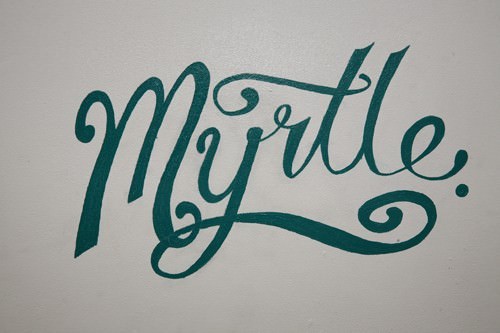 The Sugar Plum Cake & Desserts menu is cleverly written in chalk on various sized baking trays and attached to the van. It all makes for a very attractive and welcoming set up.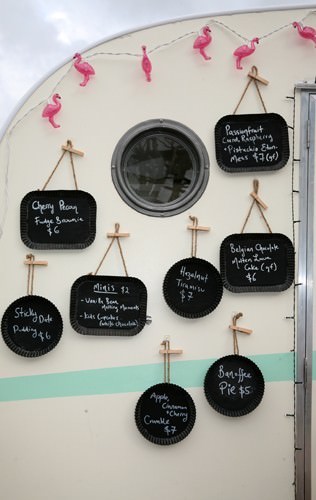 Sugar Plum Cakes & Desserts Menu
Cherry, Apple and Cinnamon Crumble Pie
Belgian Chocolate Molten Lava Cakes
Hazelnut Tiramisu
Passionfruit Curd, Raspberry and Pistachio Eton Mess
Gingerbread Sticky Date Puddings with Caramel Sauce
Vanilla Bean Melting Moments
Cherry Pecan Fudge Brownies
Banoffee Pies
Baby Cupcakes
Judging from the huge line up at the markets each week I am not the only one that has fallen in love with the van and the baked goods it provides! Each week the lines grow longer and the desserts sell out faster.  On this visit to the markets, I decided to eat dessert first!
Without further ado I shall take you through my selection.
Vanilla Bean Melting Moment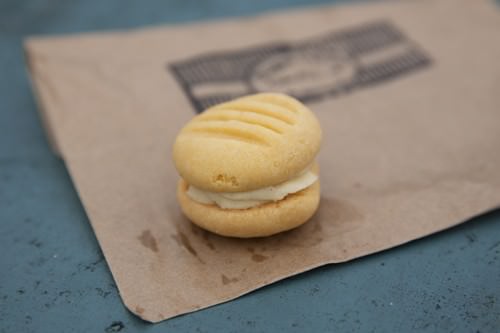 I could eat one after another of these buttery, crisp, frosting filled cookies.  The texture is soft and yet crisp with a very vanilla flavour… yum, I've had one every week of the markets so far!
Cherry Pecan Fudge Brownie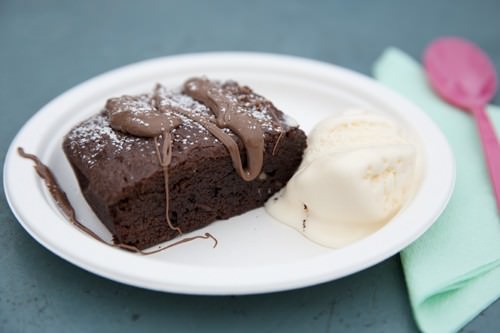 Hello multi layer chocolate heaven! The fudge brownie is a rich, dark chocolate cake which remains light even though it's moist, gooey and mouth-wateringly sweet.  It's served with a delicious swirl of melted milk chocolate and a scoop of vanilla ice-cream.
Belgian Chocolate Molten Lava Cakes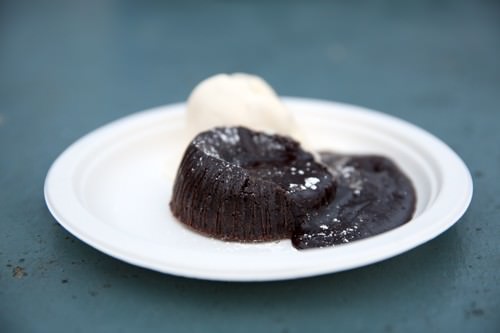 Oh YEAH!
Who else can make lava cakes in a van, and then serve them hot with the chocolate centre flooding the plate? It goes without saying this was a dessert winner for me! So lush and gluten free!
Banoffee Pies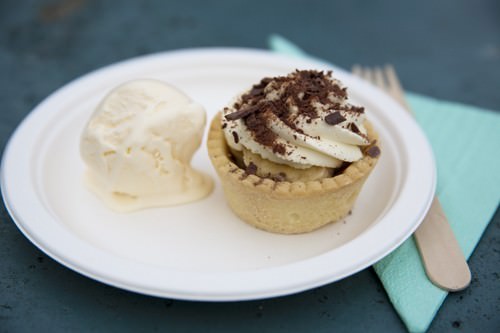 The crispest, butteriest, sweet shortcrust pastry is where this dessert begins. Next there is a delicious layer of Dulce de Leche followed by slices of sweet, ripe bananas and finished with a swirl of cream and a dusting of flaked chocolate! It took me three weeks to get my hands on one of these babies as they sell out fast!
Baby Cupcakes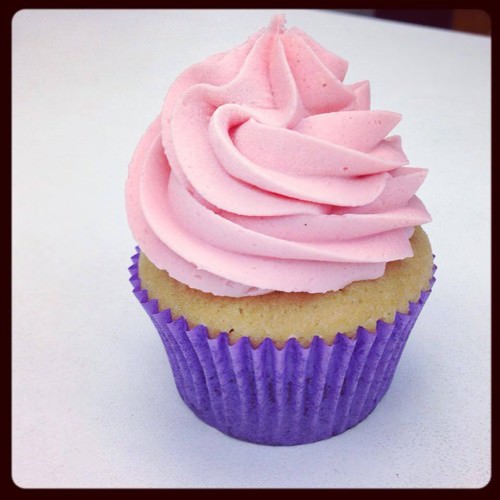 These are a deliciously moist cupcake with a rich buttercream frosting. I had to pry one out of my daughters hand just to be allowed a sample.  It was obviously a good choice.
Amanda Schenk is the cook behind the Sugar Plum Cakes & Desserts.  She makes and serves only homemade baked goods.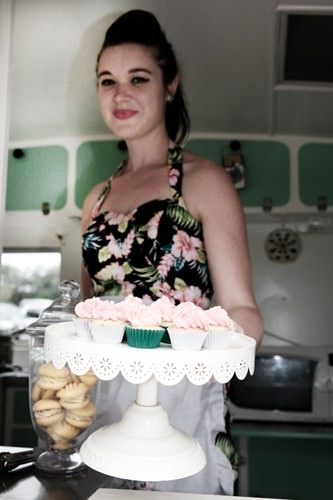 Although Myrtle the food van is relatively new to the area Amanda has been providing baked good for quite some time in Coffs Harbour whilst working at various cafes.  Ready for a change her husband and father-in-law set to work converting an old caravan into a travelling bakery… and the business was born.
Sugar Plum Cakes & Desserts now supplies wholesale cakes to cafes and can also provide a delicious range to customers for special occasions.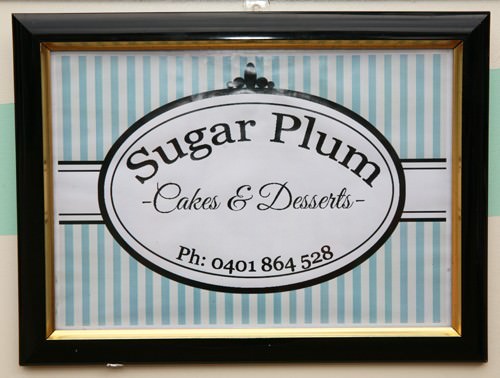 Myrtle and the girls can be booked to cater events such as High Teas, Hens Parties, Baby Showers and can even host Little Ladies Cooking Classes.
Each Friday night until March Sugar Plum Cakes & Desserts will be at the Twilight Markets at Park Beach Reserve near Coffs Creek in Coffs Harbour.
The Twilight Markets are very family friendly, and commence at approximately 5.00pm.  There is usually live music or entertainment, lots of interesting food stalls, face painting and air brush tattoos. Bring a picnic blanket or chairs and BYO beer or wine.
Sugar Plum Cakes & Desserts
Ph: 0401 864 528