Fresh is best, so we have decided to stop in at Ricardo's Tomatoes just outside of Port Macquarie to go strawberry picking. (hehe, yes you did read correctly)
Although by the name you would be forgiven for thinking Ricardos are only tomatoes specialist, they actually do a roaring trade in "pick your own strawberries" and local gourmet condiments and produce.
I have brought the "little ones" along for the experience.  They have picked strawberries from our garden, but ours tend to be a bit on the miniature side. At Ricardos the strawberries vines are grown in large hydroponics shelters on a trellis of piping so there is no bending over, and absolutely no dirt involved.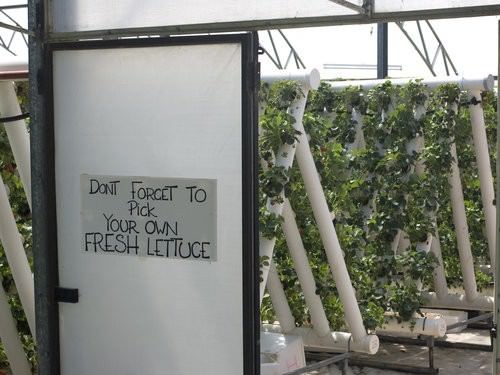 At Ricardoes you can choose to walk around and see how the strawberries and tomatoes are being grown, or you can arm yourself with a bucket and go shopping, straight from the vines.  We were equipped with a bucket and a pair of scissors each, and staff pointed us in the direction of a large shaded enclosure containing rows and rows of plump sweet strawberries.
The signs on the outside of the enclosure requests that people resist the temptation to eat as they pick, but it is so tempting, I was guilty of "trying" one first. After all, I had to be sure it was as delicious as it looked. They were huge strawberries, flavoursome and juicy, and every bit as good as they looked. There was an absolute abundance of ripe fruit and the kids had our bucket full in no time.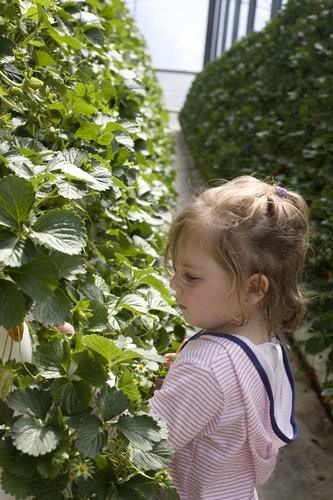 Once you have picked the strawberries they are weighed in the produce centre. This is a chance to browse additional fresh produce from the farm, or sample some of the condiments available on the tasting table.
I am always excited by interesting condiment ranges so the first jam I sampled was the Tomato and Passionfruit. It sounds like and unusual mix but that one went straight into my shopping basket, it was delicious, the passion fruit freshened up the tomato.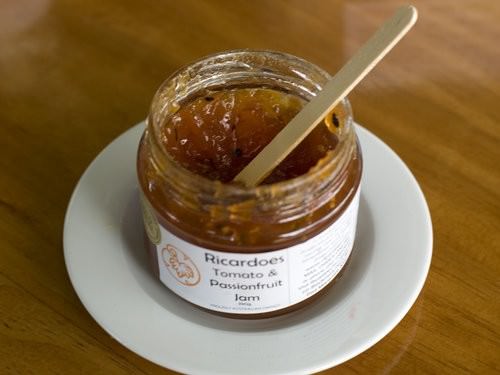 Ricardoes also has an award winning strawberry jam which I also tried, once again I understand why it has won the accolades, it wasn't as sweet as most strawberry jams so the flavour of the whole strawberries was so much more prevalent.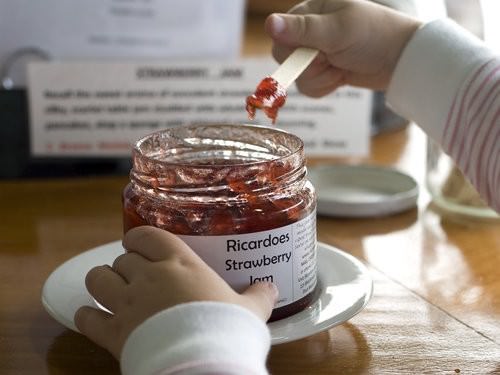 If you would like to sample the strawberry jam on scones Cafe Red is also located in the produce centre and offers a devonshire tea and various other dishes which showcase the lovely food from the farm.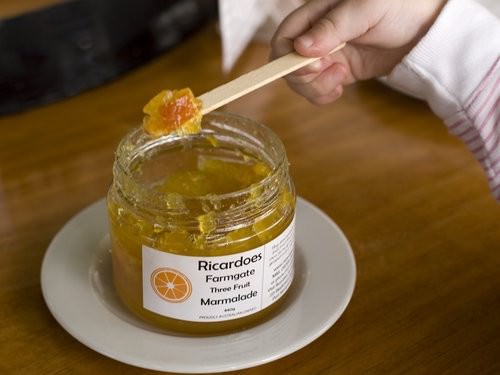 There is so much more to the Ricardoes Strawberry Picking experience than we expected.
As with so many of the Port Macquarie businesses, Ricardoes is doing a fantastic job of showcase the region as a gourmet food producer. The shelves are stocked with the best of local products from the surrounding Hastings Valley, and the business promotes the "Journey of Flavour"
What visitors will notice first is an abundance of beautiful products including preserved olives and olive oils, jams, conserves, and locally grown macadamia nuts, honey, and eggs.
The café is open 7 days per week from 9.00am – 3.00pm
Would you like to also pick your own blueberries for just $10 per kilo? Take a look at this story too.
Ricardoes Tomatoes and  Strawberry Picking Farm
221 Blackmans Point Road
Port Macquarie, NSW
Phone: 02 6585 0663