Today I have just a quick little story for my lovely readers. In the Coffs Harbour area we have quite a few great cafes. Sometimes I get a little bit complacent and take them for granted. Split Cafe in Sawtell falls into this category. You know the type of cafe, it's reliable, you always suggest it as a meeting spot because you know the food is good and they have enough tables to squeeze in one or two more… even when it doesn't look physically possible. Best of all, the coffee is fabulous! Anything less than fabulous and you would not see my butt on a seat. So why haven't I ever written about Split Cafe?
I have to admit, I have just taken it for granted. Split has been a standard fixture on the Sawtell cafe & restaurant strip for as long as I can remember. There's been no reason to write about it because, of course, everyone knows how fabulous it is.  Ah umm, I mean, all the Coffs locals know about this fabulous cafe.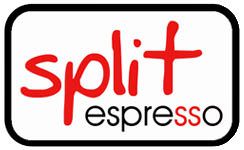 So it occurred to me that I really needed to add a review to Gourmet Getaways and Zomato for anyone that is new to town and is wondering where to eat in Sawtell. Split Cafe would be my pick of cafes on First Ave. Yep, I'm finally playing favourites. Split has the best coffee and I love their menu. It's a no brainer.
So anyway, like I said I just wanted to share a quick story. I always get a coffee but on the day I took my camera I was way over my allowable caffeine intake level. I decided to order a pot of Earl Grey tea. I loved the cute heavy black tea pot that arrived at the table. Is it just me or is white crockery at cafes getting BEYOND BORING!
We found a comfy lounge which looked out over the Sawtell villagescape. First Ave Sawtell is a really picturesque street with funky little boutiques and an old school charm.
Hubby loves a smoothie.  He almost always orders a mango or banana smoothie, but today there were some options that made him think again. We saw some always purple concoctions doing the rounds but he chose the Tropical Summer Smoothie.
When it arrived the smoothie was thick, creamy and sweet.  It absolutely tasted of tropical summer fruits.  The dominate flavour however was the sweet, tart passionfruit pulp that brought the drink to life.It was a tropical explosion.
Deciding on our lunch dishes was much harder. I wanted something delicious and there were so many options that were pulling at my tastebuds.
Finally I settled on the basil, feta and zucchini fritters served with avocado, asparagus and a poached egg.  I love zucchini fritters, but I did check that they're not deep fried. I like a healthier fritters.  Happily these babies were grilled on the hotplate, exactly the way I would make them at home! The feta and basil gave the fritter a really clean, fresh flavour. I had ordered well.
Mr GG ordered the Grilled Prawn and Prosciutto sandwich on Sourdough.  We are spoiled with fresh seafood on the Coffs Coast so this option was one that I too had been contemplating.
When the dishes arrived at the table there was very little talking. We shared a mouthful of each others dish and both ooed and ahhed at the each others meal.
Brett's prawns were cooked perfectly and so delicious. They were served with an incredible sticky, jammy chilli sauce that I would love to have "on tap" at home.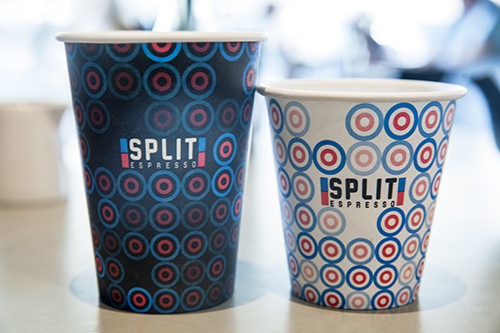 Such a great upbeat cafe! Make sure, if you visit the area you take a walk down First Ave Sawtell, and of course stop in at Split Cafe for a bite to eat.
Split Cafe Sawtell
3/4 First Ave
Sawtell NSW 2452
Ph: (02) 6658 3026