The Spirit of Tasmania – "Sea the Difference"
From the moment you drive onto Spirit of Tasmania, you know your Tassie holiday has truly begun.  There are no taxi's to the airport, parking issues or queuing for check in to deal with, simply drive aboard, collect your overnight bag from your car, and settle back to enjoy the cruise.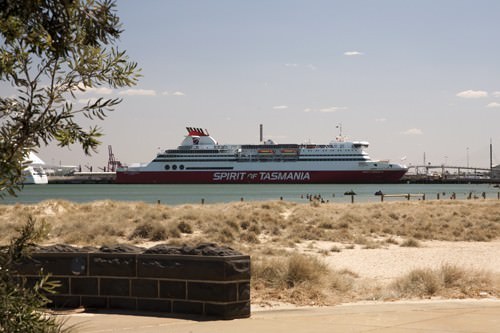 We had chosen to drive to Melbourne to meet Spirit of Tasmania so we could have our own vehicle whilst touring the Apple Isle.  Brett and I were ready to enjoy a romantic four days away without children, and weather permitting we would be going topless!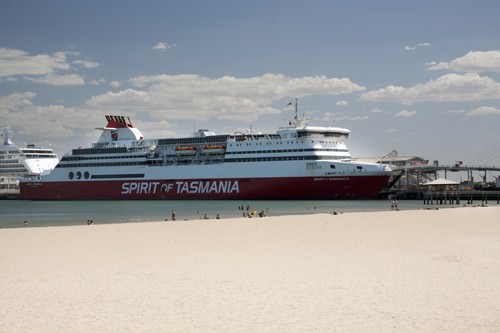 …not me, the car that is! We were driving our convertible.  I had even put the picnic rug in the car boot, ready for any impromptu cheese and wine picnics.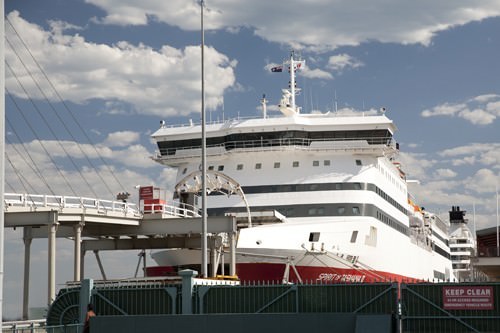 Having our own vehicle meant we could pack everything we might possibly need for the holiday.  We didn't have to concern ourselves with the thought of carting luggage on and off planes or checking in baggage.
Also with two tripods, two camera bags, a big heavy jacket each, computers and electronic devices I think most airlines would have asked us to repack or pay an overweight charge.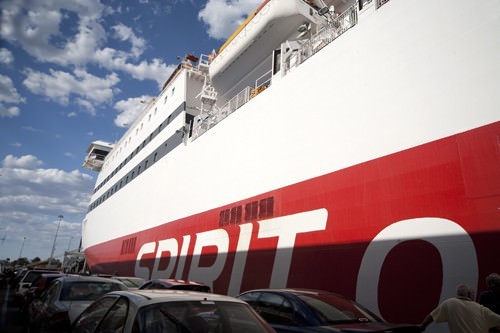 Once onboard, hubby and I made our way to our home for the evening. We were directed to our cabin by a friendly member of staff and when the door was opened we found we would be sailing in style.
We were allocated one of the gorgeous Deluxe Cabins. The room was so spacious and featured a queen-size bed and double porthole windows, with a table and two comfy tub chairs.  I could imagine myself just sitting and staring out the window at the ocean.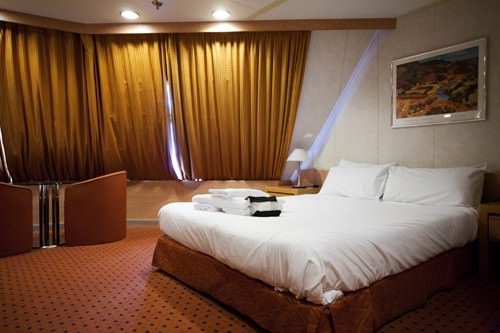 Naturally, each cabin featured a private bathroom with all the usual facilities. There was a TV with Foxtel, bedside tables with reading lamps and basically everything you could want from any hotel. I even noticed a bar fridge which was chilled, ready for a nice bottle of wine.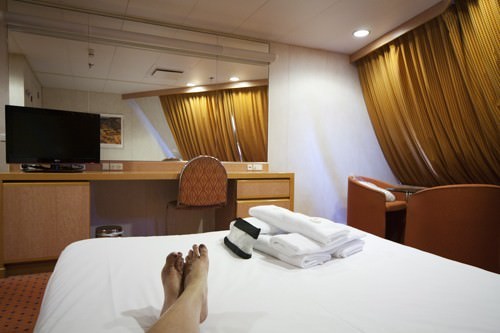 All I wanted to do was relax on the queen-size bed but hubby had other ideas. He wanted to explore the ship, so off we went.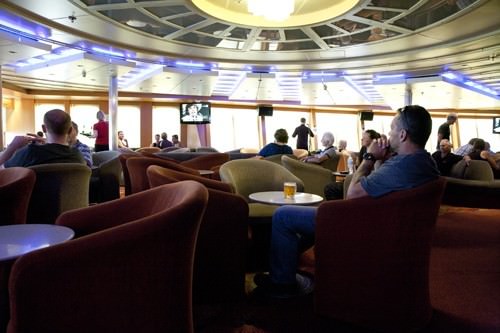 I managed to convince him that our first stop should be at "The Spirit Bar."  It had been a very hot day in Melbourne and I was parched!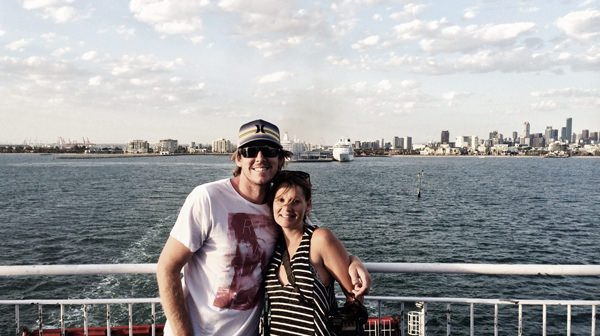 With a wine in hand, we went for a stroll on the deck and took our first breath of clean sea air. Hubby and I toasted the start of our relaxing child free holiday as the Spirit of Tasmania pulled away from its Port Melbourne moorings.
Sea travel is so relaxing; we stayed on the deck for such a long time just admiring the beautiful ocean views and chatting.  It's such a tranquil way to start a holiday.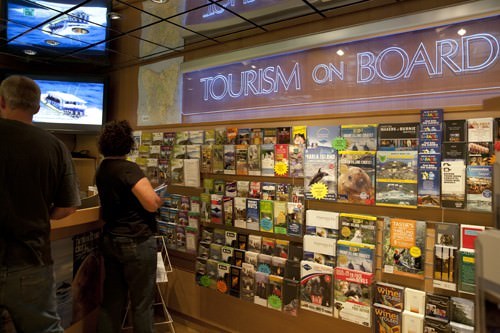 Back inside Spirit of Tasmania, there was so much more to explore. Brett likes to be organised so we made a stop at the tourist information centre to collect some driving maps and a brochure on the Tamar Valley wine region.
He asked me if I thought we needed a fishing license, as these were available at the tourist desk. I assured him we did not! The only fish I wanted to see would be served to me by a waiter!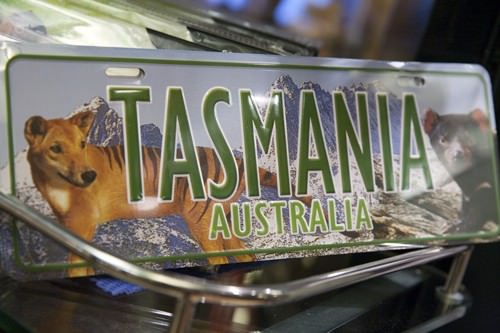 We wandered around the gift shop but decided we would buy presents on our return trip.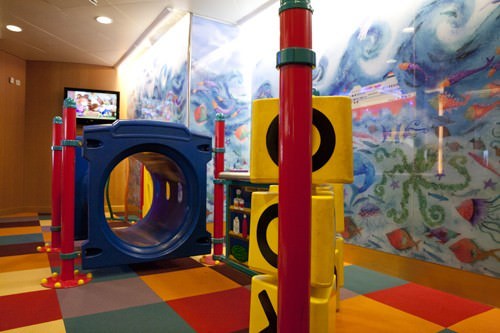 I think hubby may have felt a twinge of guilt when he saw the children's play facilities. The Children's playroom was conveniently located next to Lavender Cafe and Captains Table buffet too! If the children were with us we could have let them run amuck on the play equipment while we sat on the cafe lounges and looked out the porthole.
Both hubby and I commented on how much better the Spirit of Tasmania is as a travel option for families. Flying with children is not fun for anyone but on "the Spirit" children aren't confined to a seat. They can play, walk around and when they are tired they can stretch out in a comfy bed and go to sleep.
Spirit of Tasmania Dining
There is something about the sea air which makes me hungry.  Mr GG and I had established there were four dining choices aboard the Spirit of Tasmania.
Lavender Cafe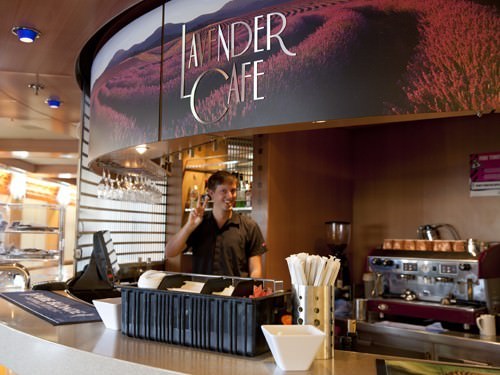 Light meals and snacks such as Ashgrove cheese platters and sandwiches were sold at the Lavender Cafe .
Spirit Bar
These same snacks were also available at The Spirit Bar, but in addition, hot pies & sausage rolls could be purchased too.
The Captains Table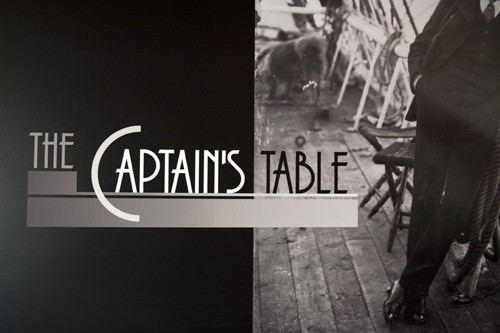 The Captains Table buffet seemed to be a popular choice with families.  The range of food here was varied; it included favourite children's options such as pasta, and dishes to suit vegetarian & gluten free diets.
The buffet was self-service and included a make your own salad bar, roast of the day, a generous selection of roasted vegetables and plenty of dessert options. A great bonus for families is children under five eat free!
The Leatherwood Restaurant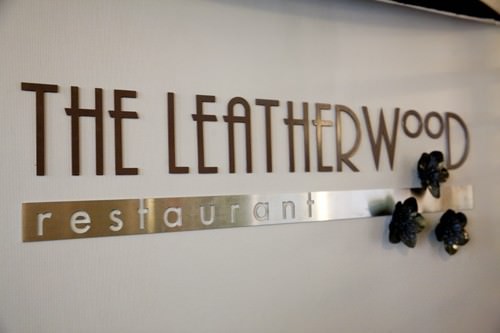 Hubby and I were making the most of our holiday and decided to try the fine dining option available at Leatherwood Restaurant.  We were shown to our table by a very welcoming maitre d' and introduced to our waiters for the evening.
The Leatherwood restaurant menu showcases the quality Tasmania food and wine we will be sampling on our holiday. Both Brett and I were pleased that our Tasmanian experience had started as soon as we boarded.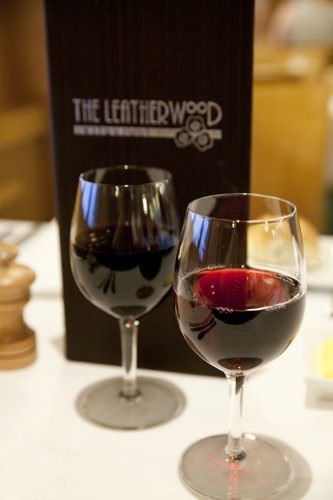 I selected the Goaty Hill Pinot Noir from the Tamar Valley and hubby chose the aged Stoney Vineyard Cabernet Sauvignon from Coal River Valley.
It was to be a lovely evening but I will share more about our meal in the restaurant review.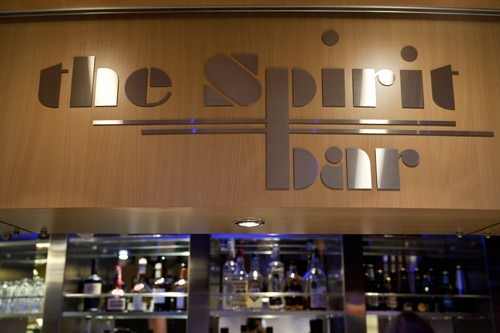 There are so many evening activities available on board Spirit of Tasmania. Each evening two complimentary movies are shown in the cinema.
The first commences at 8.00pm and is suitable for families; the second has a 10.00pm start and is aimed at an older audience.  Mr GG and I were planning to make the 10.00pm session but we had lingered over dinner enjoying each other's company and the pampering of the waiters.
We noted there was an onboard casino, but this is not really our style, and I wouldn't have had a clue what to do with the machines! Hubby and I decided to walk around to the Spirit Bar.
It was nice and cosy and I cuddled up as we lounged and listened to the live entertainment. Brett spotted the televisions which were showing the cricket, we were able to enjoy the music and he could keep track of the cricket score. It was a win for us both.
Eventually, the call of my comfy bed, in my Deluxe cabin was too much.  Our evening had drawn to an end.  I was ready to be lulled off to sleep by the gentle movement of the ship, as we sailed along in the night to our destination.
There is something totally beguiling about night sailing, it so relaxing and romantic and yet so practical. The night sailing option on board Spirit of Tasmania departs Melbourne at 7.30pm so there is enough time to enjoy a glass of wine and a meal in the restaurant.
Then choose where you'll be entertained, in the cinema, the bar, cafe, or the casino.  Finally, it's time to retire to your cabin where I guarantee you will experience the soundest night's sleep of your life.
In the morning I woke up completely refreshed. Mr GG had already gone for a stroll on the deck so he could capture some images of the sunrise over the ocean.
I took the opportunity to enjoy a hot shower and then applied some makeup.  I had just finished getting ready when there was the announcement; we had arrived at our destination.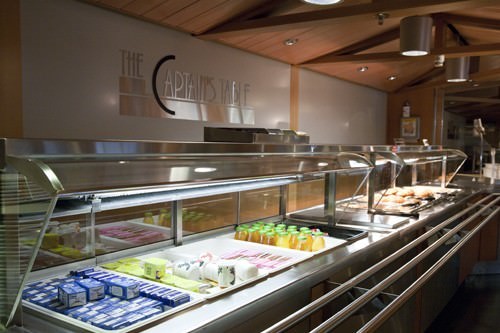 I had time to get a quick cappuccino from the Lavender Cafe and then it was off to our own vehicle for a full day sightseeing in Tasmania.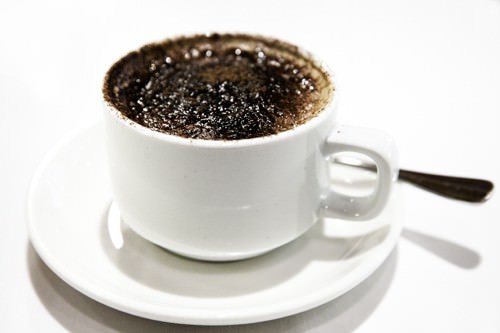 There is also the option to take a day cruise. I imagine this would provide a lovely opportunity to enjoy the beautiful sea views. I find it mesmerising just watching the sea with the wind in my hair.
Day sailing is available in peak season and the ship departs Melbourne at 9.00am and arrives in Tasmania at 6.00pm.
Passengers have the full day to experience all the ships facilities and extra activities are in place to entertain the children.
This is Brett and my second trip to Tasmania.  Our first Tassie getaway was eight years ago with the three kids in tow.  On that occasion, we also chose to take Spirit of Tasmania. I truly believe this is the only affordable way for families to see our great island state.
Eight years ago we packed up everything… including the kitchen sink!  We hooked the caravan up to our 4WD and set off to Tassie via Spirit of Tasmania. We enjoyed four weeks of 4WDing, exploring and camping in areas we wouldn't have seen if we hadn't had access to our 4WD and caravan.
Brett and I thoroughly enjoyed our romantic prelude to Tassie on board Spirit of Tasmania.  It was so lovely to enjoy the quiet, the restaurant and the spacious cabin.  Eight years ago we also enjoyed the family sailing experience.
There is something to suit all styles of travel on board. Spirit of Tasmania is able to accommodate everyone and all the necessary equipment that goes along with each individual Tassie experience.So tell
So tell me, readers, what item do you wish you could take on holidays but find it to be too much of a nuisance???  For Mr GG it's his surfboard, most holidays the surfboard and wetsuit stays at home. While we were on Bruny Island hubby was kicking himself for not bringing it on this trip. The waves were perfect!
I usually leave my big Manfrotto tripod at home because it is heavy and cumbersome… then I spend the rest of the holiday cursing that I can't get the picture I want. This time I bought two tripods away with me!!
Gourmet Getaways travelled courtesy of Spirit of Tasmania.  
Check Booking.com for the best deals on accommodation in Tasmania