Singapore for Families
Our Singapore holiday starts with a two night stay at Sentosa Island.  Sentosa is an integrated resort island which is home to a multitude of fun parks, beaches, restaurants, shops and a casino.  There is literally entertainment for all ages and accommodation choices for every budget. The island is attached to Singapore city via a bridge, so getting to the island is no more difficult than a taxi ride.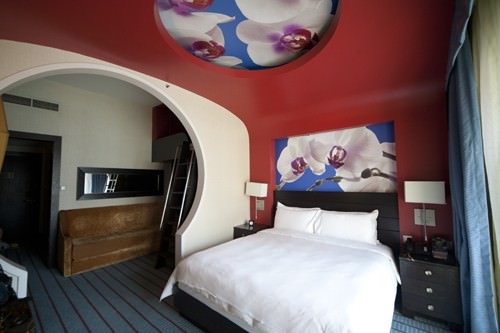 To accommodate the family we needed to book two rooms at the Festive Hotel. A family of two adults and two small children would have easily fit in the family room, but we also had a teenager to accommodate.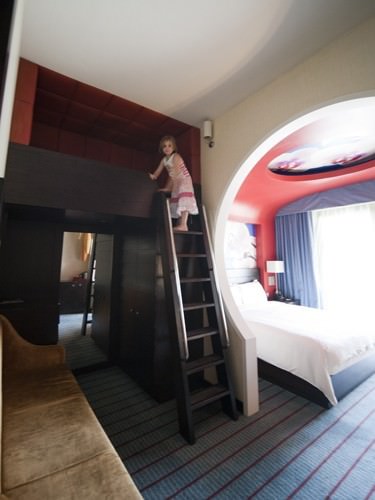 Our best choice was to book an additional double room next door for the older and younger son, whilst hubby I stretched out in the family room.  The family room consisted of a very comfy queen bed and a double size upper bunk bed tucked away in an alcove for Anais.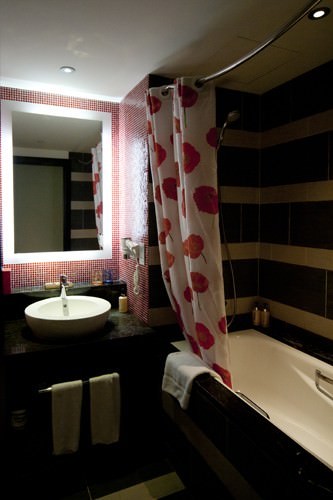 Included in our tariff was entrance to Universal studios, Adventure Cove Water Park and Underwater World Aquarium. We also received tickets for the buffet breakfast each day for the family. Once on the island the monorail system and shuttles buses are free, so we were able to jump on and off transport easily while exploring.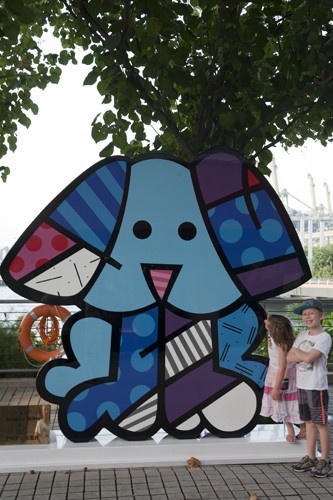 For our first night on the island we decided we would have a walk around with a vague aim to end up at Vivo, the huge shopping mall at the edge of the island.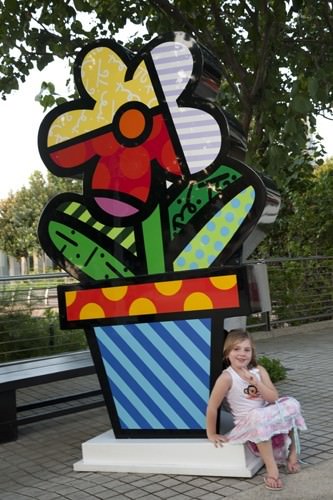 Even in the heat, it was an easy walk, as there were plenty of things to look at along the way, and most of the boardwalk was a moving footpath.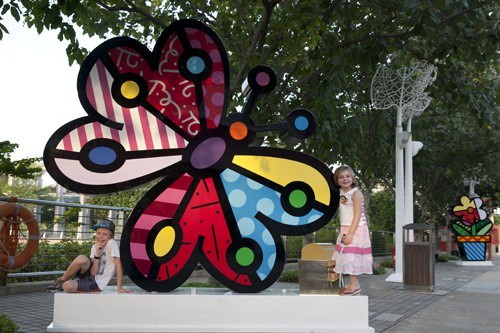 Each time we came up to another of these designs the kids would  pose for a photo… sometimes I think I may take a few too many photos of them… they have all the poses.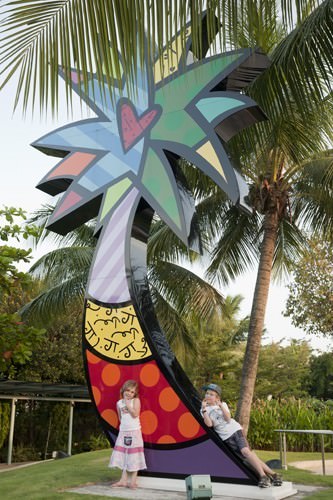 We wandered a little longer and found the "Malaysian Eat Street." This is actually an indoor food court which is set out like a miniature city.  Each miniature building houses a food vendor.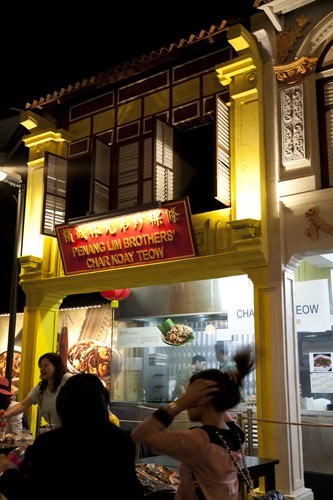 It seemed like an easy dinner option, and by this time we were happy to once again be in the air conditioning.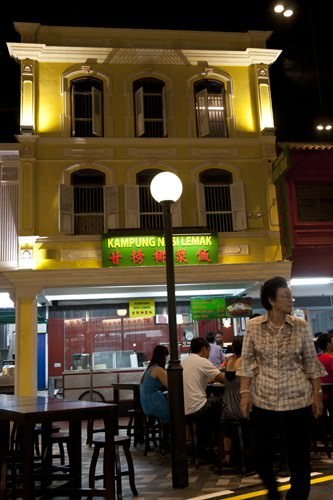 After a lap around the food stalls we decided to select a few share dishes. I chose a set plate which include a beef curry with saffron rice, pappadam and a vegetable side dish.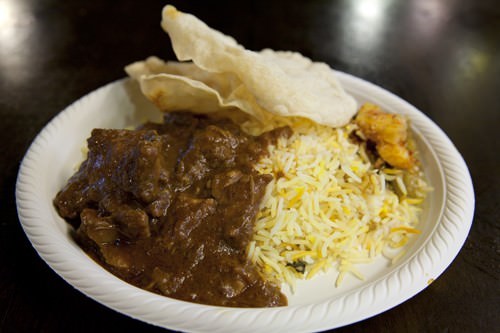 The curry was deliciously rich and spicy, it had so much heat!  I love hot curries and it was a pleasant change to have it made perfectly.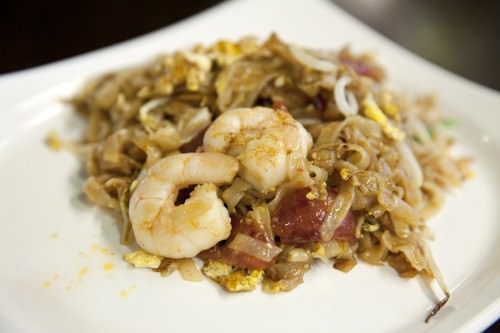 The noodles were chosen for the children, I was surprised to find this was another VERY spicy dish.  Anais was red faced but she continued to eat the noodles.  I don't know if she particularly liked the flavour of the noodes or whether she was starving but either way she decimated the dish.  I had to prise it away for even a mouthful.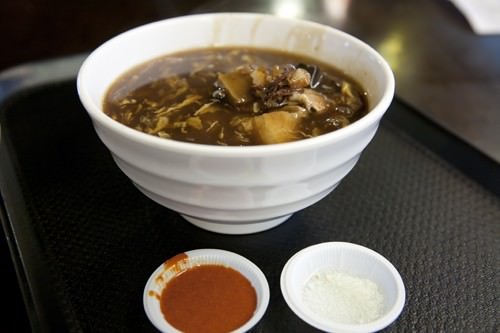 Tylor chose his own dish.  A noodle soup which was gelatinous and rich.  I had a taste but the texture really didn't do it for me.  He and Mr GG enjoyed it though.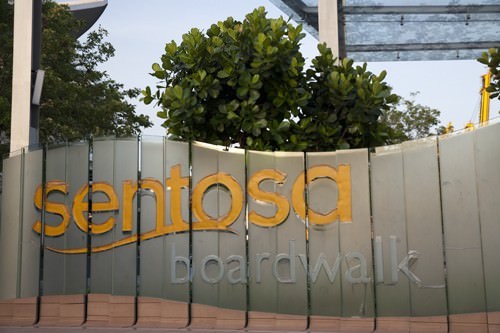 With satisfied bellies we continued our walk to Vivo shopping mall.  We still needed to buy sunscreen, and I always like looking at the different types of snack foods in foreign supermarkets.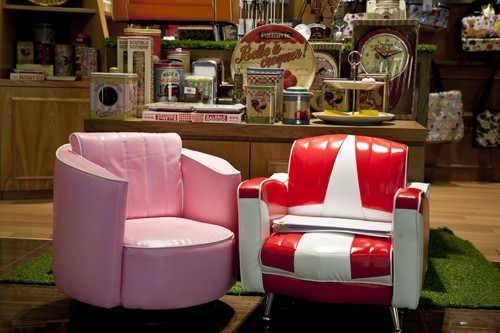 I was also interested in doing a little window shopping. I love finding cute things that you don't see at home. The chairs in this retro styled store caught my attention, it would be great to take one home but I don't think it would fit in my carry on! The store also had a set of electronic kitchen scales, with a kitsch retro picture under the glass weighing plate, I would have loved these too.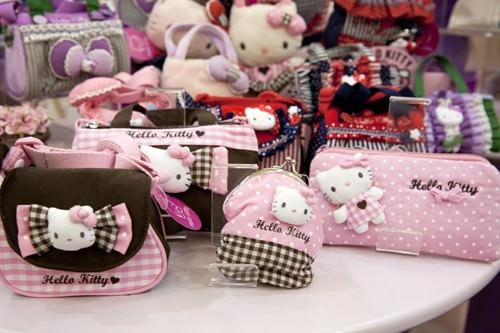 Anais spotted a very "pink" store and made a beeline to the "Hello Kitty"" merchandise. Again everything was so cute. It took a lot of bribing to get her out without a huge pink pillow!
Further inside the mall there was a mix of  expensive restaurants and cheap fast food options, there was also another "Eat Street" style of establishment called Food Republic which looked interesting. As we walked past one of the restaurants I became mesmerized by the hand pulling of noodles.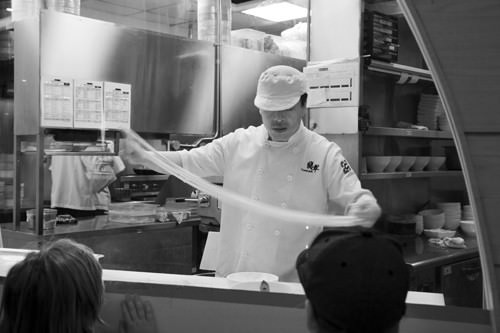 I found that hand pulled noodles were introduced to China over 400 years ago during the Ming Dynasty.  Chefs stretch and pull the noodles repeatedly until they achieve perfectly formed, springy noodles. It is a amazing to watch!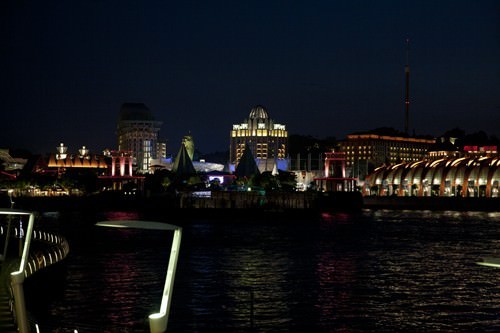 I could have happily stayed lost for days in Vivo but the children were getting tired. It had been a long day given we started the day at the Gold Coast.  We made our way to the exit and found that it was already dark!  The restaurants we had looked at earlier had the most amazing view of all the lights.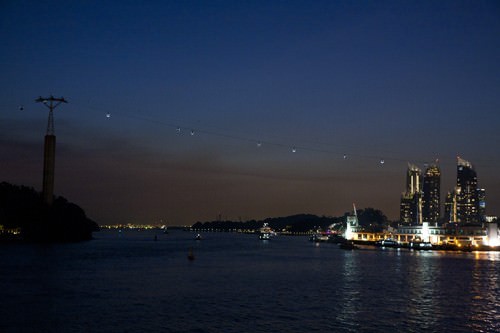 The cable cars above the island continued to run and were lit beautifully. The warmth of the night and the gorgeous light gave the island a magical feel.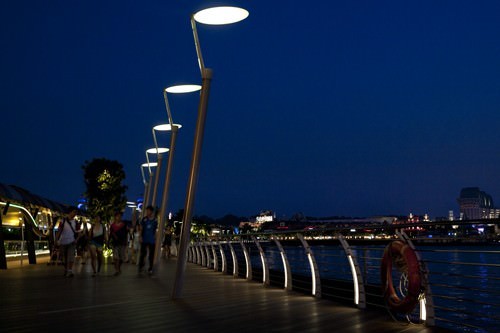 Nearing the end of the boardwalk were these brightly coloured lighting columns.  he attention to detail and beauty here is amazing.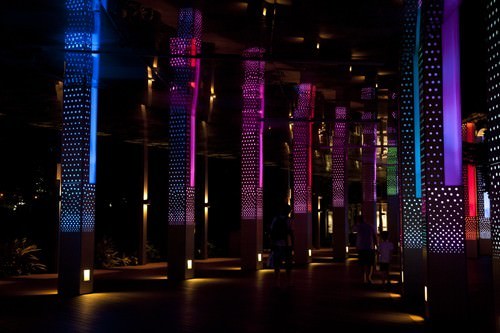 Tomorrow is a day at Universal Studios for the kids… and big kids 😉
Resort World
Sentosa Island Resort
Singapore