Hawker centres in Singapore are a way of life and represent the multicultural nature of this city state. I have already taken readers on a visit to the Chinatown Hawker center on Maxwell Street, but when we visit Singapore we are equally keen to sample the aromatic food from the "Little India Hawker Centre".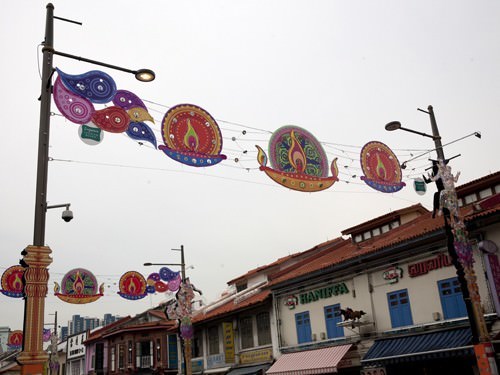 The hawker centre is located conveniently near the "Little India" MRT station, and on the corner of Buffalo Rd and Serangoon Rd. Indian cuisine is a favourite of the whole family and the children were quick to put in for an order of Butter Chicken.  As with all Hawker Centres, this is a casual and confined affair. We immediately sat the children down at the last available table and Mr GG took a drink order from the kids.
For today's excursion we had borrowed a fellow Aussie child who is currently living in Singapore. Oliver is Locky's age, and the son of a family friend.  The friends are one year into a two (plus) year stint as expats in Singapore and the boys hit it off immediately.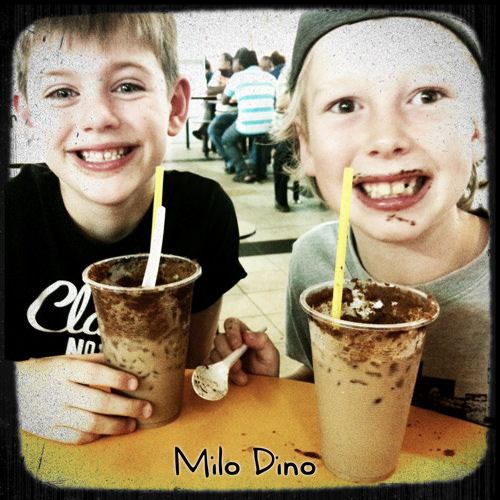 The two rascals above decided on a drink called the Milo Dino which immediately put not only a smile on their face, but also copious amounts of chocolate.
Little Anais spotted a can of drink she enjoyed on a previous trip to Singapore.  She described it as the drink with "gummy bears" inside. The can contains pulp that she thinks is lollies?? I am not sure what it really is, but obviously the drink contains enough sugar to keep her a very happy girl.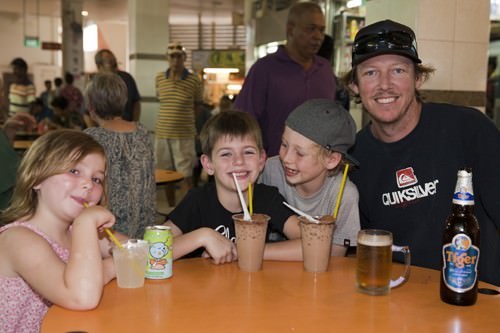 With the children content drinking their drinks, Mr GG hooked up with a Tiger beer long neck and child minding duties I decided to do the rounds and chose some dishes.
We had already eaten breakfast and a "snack" of steamed dumplings but I was determined to squeeze in a some Indian food.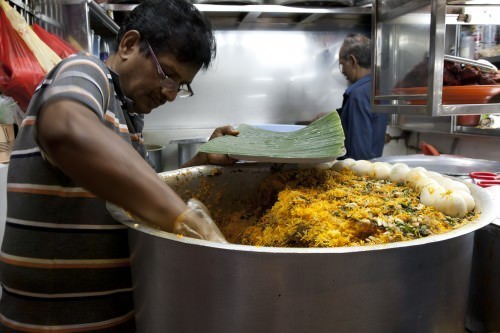 My first stop was a fragrant Biryani stand with a long line of people queuing for the rice. The huge pot was  flavoured with delicious spices and topped with boiled eggs. Each person was being served the rice dish on a section of banana leaf. This was the first dish on my list.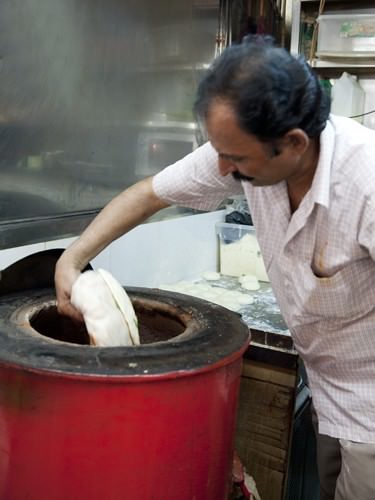 Next up I returned to one of the food stands I had noticed earlier.  The owner was making naan bread to order, in a tandoori oven in full view of customers. I knew I wanted to try the bread and garlic naans are a favourite of Mr GG's. I ordered two naans, and watched the process from slicing off the dough, working it into a flat oval and sticking it to the inside of the tandoori oven.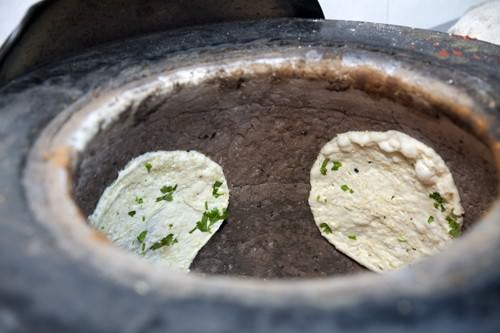 To accompany the gorgeously smokey bread, I ordered the chicken tikka and a butter chicken for the children. It may seem an over reaction but I would come back to Singapore for this dish alone. So creamy and rich!
I wasn't even hungry but I ate until my belly hurt.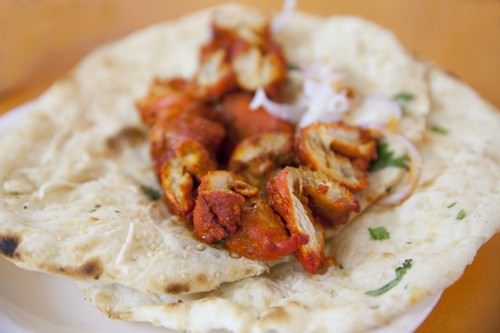 …and my mouth still lusts after this meal.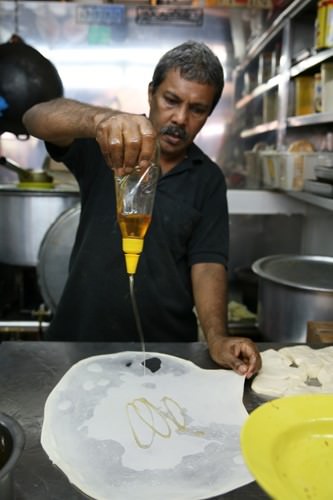 With full bellies it may have been wise to leave the hawker centre, not our fearless children. There is always a dessert space in a child's tummy.   The kids had spotted one of their favourite treats, the flavoured roti canai.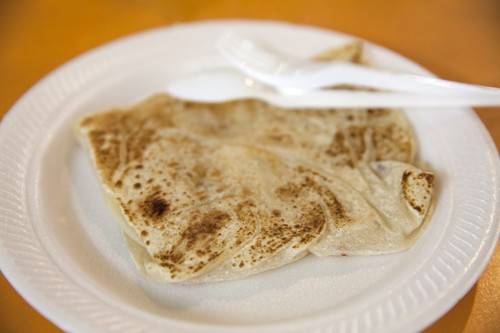 This bread is made tissue paper thin and placed on a hot oiled grill. I ordered a honey flavouring bread so the honey is added during the cooking process and the crisp bread is then folded as it cooks. A winner with the kids every time.
We waddled onto the street to admire the shops, and caught a cab to the hotel. We were in need of a nap, all "Little India" participants were in danger of entering a food coma.