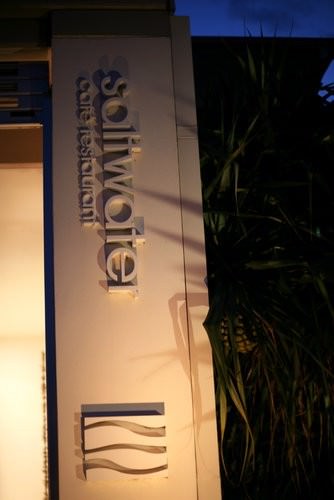 Have you ever noticed that when you're showing a guest around your local area you see things with fresh eyes? I have really noticed this whilst traveling around with Lorraine from Not Quite Nigella. We have stayed in gorgeous accommodation and eaten in restaurants which are showcasing the best the region has to offer, fresh from the local grass roots producers.
Tonight's dinner is the culmination of all that we have experienced on this road trip.  We have met the local producers on the land, watched the up and coming star chefs of our region, fight it out in the this year's Signature Dish awards. This evening we will be meeting the lovely people from the tourism departments who have been the wheels behind this event and many more like it.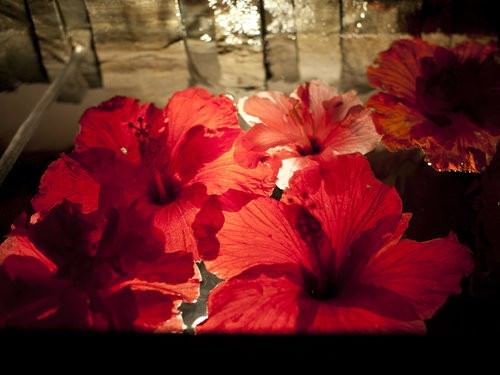 We settle in to our beachfront accommodation at Saltwater, right across the road from the local surf spot of Emerald Beach.  Lorraine and I spent a little long enjoying the Jaaning Restaurant and we need to hurriedly prepare for this evenings event. The evening is being hosted by the previous year's Signature Dish winner, Chef Dustin Bowie Ford of Saltwater Restaurant.
Dustin won the title last year with his Confit Duck & Pork Belly signature dish. Tonight this dish will feature as part of the menu .  After all the amazing food we have been treated of late I have high expectations for tonight's meal and I am expecting something quite exquisite.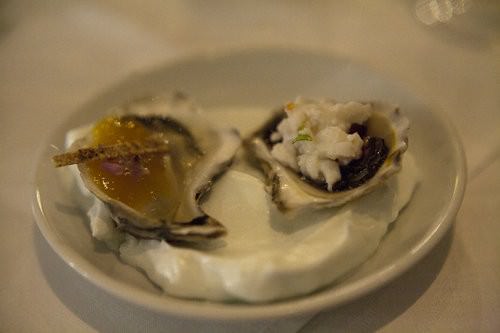 Oysters and passionfruit served with Cassegrain Edition Noir N.V. Pinot Chardonnay
We make our way downstairs and after just a few quick hellos we are seated and looking at the delicious sounding, if not very brief, dish titles for this evenings menu.  It is explained to us that Dustin has been deliberately cryptic as on the menu as he wanted his dishes to have the element of surprise. Tonight was his night to have a little fun, and take the opportunity to express himself in the food he presents.
The first of the four courses arrives, two fat oysters sitting on a decorative bed of meringue. On the menu it states Oyster & Passionfruit but the dish is so much more. The deliciously fresh oysters are served with two different toppings, the first with a passionfruit gel and the second with crab meat and tamarillo. I love a light start to a meal, so this entree suited me perfectly. It was paired with one of my favourite sparkling Chardonnays, the NV Pinot Chardonnay from Cassegrain so I quickly settled in and become very comfortable.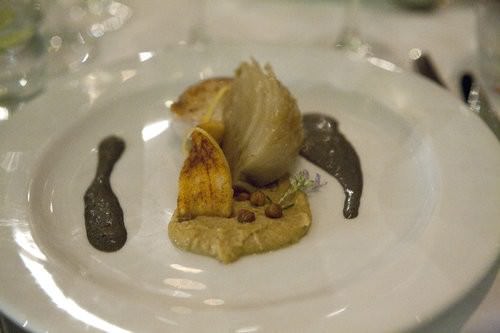 Swordfish and chickpea served with Cassegrain Reserve 2009 Fromenteau Chardonnay
I adore chick pea's, and I love Swordfish when it is just barely cooked, and still moist. I don't know that I ever would have thought to combine the two in a dish but the dish really worked well. The chick pea was served as a smoky puree and benefited from the addition of a few crunchy deep fried chick peas. Caramelised braised fennel added another texture and flavour to the cuttlefish and the dish was finished perfectly with squid ink foam on the side, it was really quite a special dish.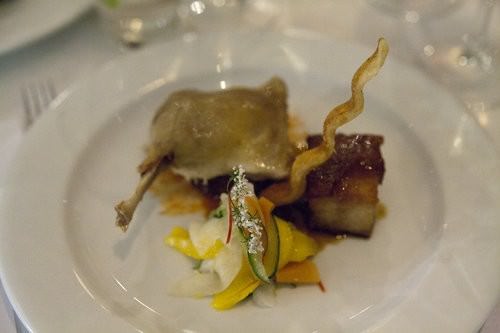 Confit Duck and Pork Belly served wtih Cassegrain 2010 Pinot Noir
The moment I have been anticipating arrives, and the 2010 Dustin Bowie Ford, winning Signature Dish is put down before me. The dish won this prestigious title as the judges felt it was a dish that best describes "the taste" of the Mid North Coast.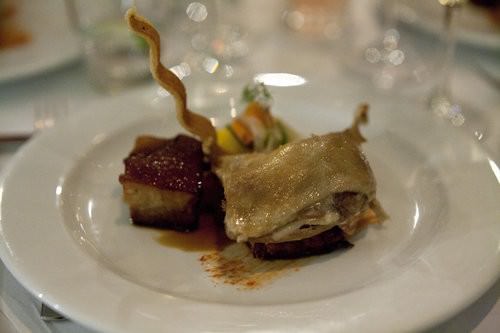 …another angle 😉
So what is the gorgeous meal before me? Confit organic duck leg from Gaian Poultry, a master stock pork belly rectangle which is mouth-wateringly soft, salty and delicious. This moist and crispy skinned duck was resting on a diakon rosti and garnished with a crisp Chinese salad of pickled carrot, cucumber, mango, diakon and ginger. There was just so much to love on this plate. We were even given our own wavy stick of crackling to save arguments on the table.
Next the menu announces a "palate cleanser," no further description is given, but when we question the waiter we are told that we would be served a square of Beetroot Jelly and one of Blood Orange.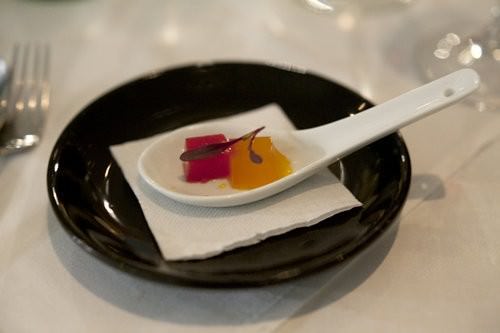 Dustin was playing games and the room erupted in to confused chattering as guest began to realise that the flavours and colours were actually the reserve of the logical. The mind is an amazing thing, and it is quite strange to look at a red jelly expecting it to taste of beetroot, only to find a delicious citrus explosion.
Once the excitement in the room died down we began to wonder what would be in store for dessert. The menu said merely "Lemon Meringue Pie". I don't think anyone expected to see a version of nana's lemon meringue bought out but we didn't quite know what Dustin would be up to with this one…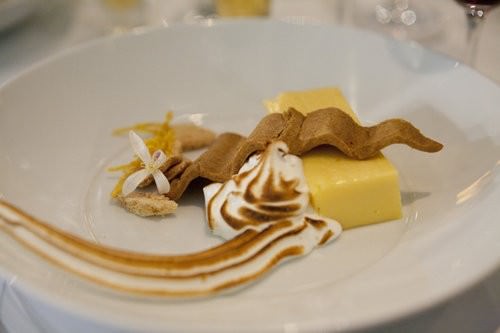 Lemon Meringue Pie served with Casay
What we had set before us was a deconstructed lemon meringue pie which had also undergone a bit of pimping on the flavour stakes. The lemon was a tangy set lemon curd slice which was sitting beside the most crunch piped meringue and served with the addition of an arty wave of ginger snap flavour biscuit base and some shards of pavlova for a little more crunch.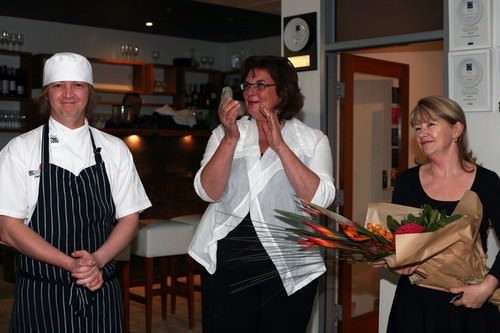 On this sweet final note the staff came out from the kitchen to take a bow and say a few words.  Sonia Fingleton of Mid North Coast Tourism spoke of the ripple effect that this event is having throughout our region as it highlights our area as a producer and supplier of fine foods. She spoke of the importance that the heightened sense of awareness events such as the Signature Dish, Tastings of the Hastings, and the Crave 100 Mile Challenge have on the area. This awareness is what is putting our local area firmly on the foodies road map.
So it is no longer a secret, the North Coast of NSW is a Gourmet Getaways paradise.
Gourmet Getaways was a guest of Lorraine from Not Quite Nigella, Destination NSW and Mid North Coast Tourism.
Saltwater Cafe, Restaurant and Accommodation
104 Fiddaman Road
Emerald Beach NSW 2456
PH: (02) 6656 1888
Breakfast Wed – Fri 9:00 am, Sat – Sun 8:00 am
Lunch: Wed – Sun 12:00 pm
Dinner: Wed – Sat 6:00 pm