I have the feeling I am on top of the world as I take in the gorgeous views over Sydney.
Do you know where I am Sydney-siders??  I will give you a clue.
I'm at the Shangri-la Hotel Sydney taking in the view over the harbour.
I am at Altitude Restaurant on the 36th level of the Shangri-La Hotel.
The views are breathtaking.
Altitude Restaurant is only open for dinner reservations so today we have a booking downstairs.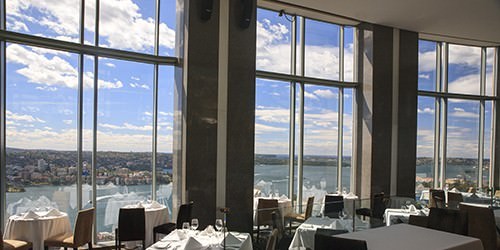 Our lunch reservation is at Shayan Quarter which is on the first level in Cafe Mix, but before we sat down to dine, I couldn't resist taking an elevator up to the top floor for a peek at the view.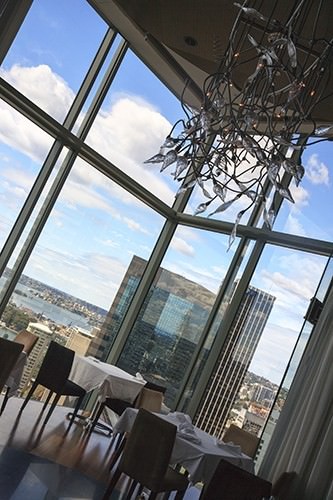 It is something special! Mr GG and I will be back for a romantic meal in the future.
Right now though, we're at the Shangri-La to take a look at an amazing, innovative new menu at Cafe Mix.
The Cafe has been relaunched as the Shayan Quarter and has an Asian "street food" menu.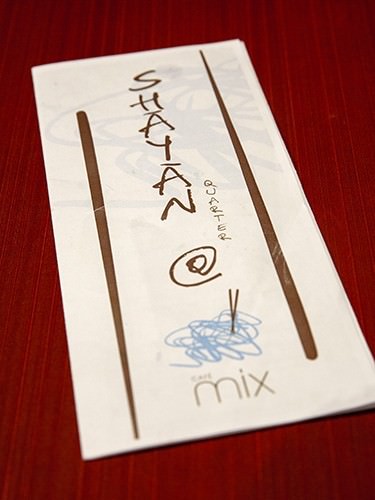 As I ran my eyes over the selection, I realised Executive Chef Steve Krasicki and Bo Sorensen had created an inspiring menu.
That famous Star Trek line went through my head. "It's life Jim, but not as we know it."
Except I was thinking, "It's Asian Jim, but not as we know it!"
Yes, I'm a dag but I was excited!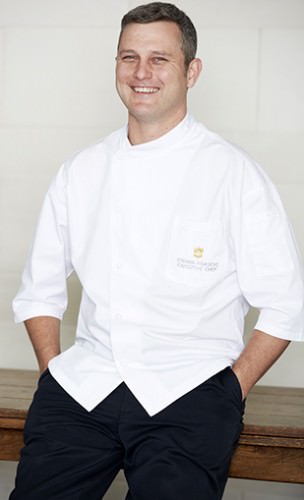 All my favourite Asian dishes are on the menu, but they were all a little skewed, and there were quite a few "curiosities," that I didn't quite know what to make of? One such dish was the "baoger".
Umm baoger…?? I don't remember ever seeing something by this name in my travels?? Obviously, I would have to order that dish.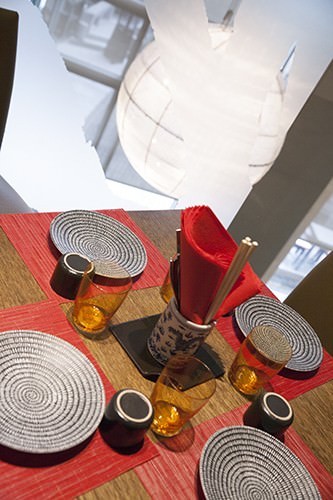 The menu had is broken into "Small Plates and Snacks", "Shared Plates", "Whole Animal Roasts" …YUM, the strangely titled "Stick it Robata 'n' Charcoal Barbeque" and a few other equally fascinating or delicious sounding titles.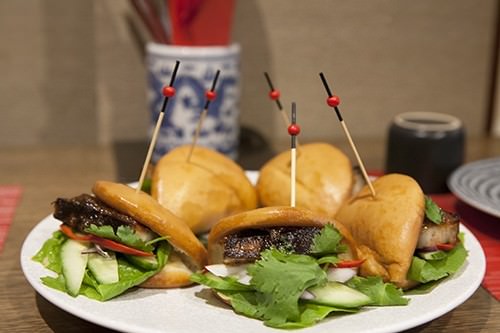 So back to the Baogers! One day a delicious Asian Pork Bao and a lovely Aussie Burger met.
They loved each other very much, and the "baoger" was born. Okay, so that isn't exactly a true story, but you never know.
The burger bun is a soft, slightly sweet boa bread which has is baked not steamed.
In the centre is a scrumptious chunk of sticky, caramelised, chilli pork belly in all of its salty, sweet goodness.
The burger features a creamy Sriracha mayonnaise and a sprinkling of Asian greens.
I would go back again and again for a plate of these, but next time I would dine ALONE!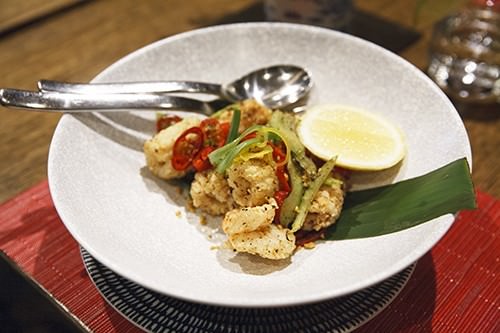 Is there anyone alive that can go past Szechuan Prawn or Squid? No? I didn't think so!
When the dish includes both prawns and squid crispy fried with the Szechuan spice you know, it's going to be a crowd pleaser.
Tender squid lightly coated in the delicious blend of spices and then deep fried to golden perfection.
I don't know whether the squid or the prawn was my favourite.
The sweet flesh of the "just cooked" prawn was perfect with just a squeeze of fresh lemon.
This dish held another delightful foodgasm for me.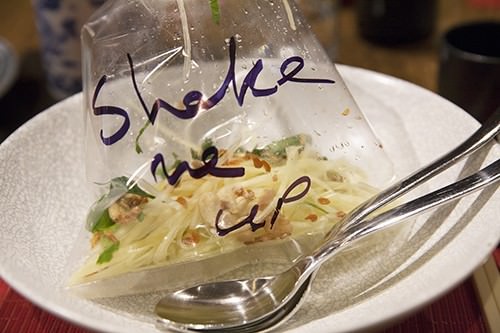 The next dish which had me scratching my head and asking for clarification was the "Shake 'n' Plate".
It was explained that the Green Papaya Salad would be served in a bag ready to be shaken and served. What a playful way to serve a salad!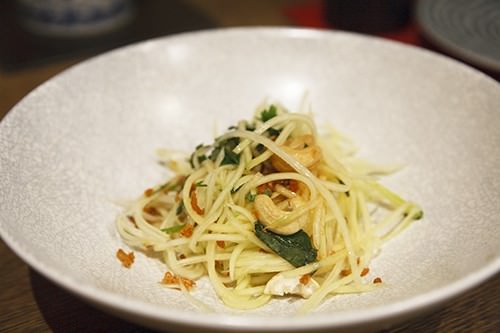 We ordered this dish and found that it was not only fun but SO TASTY!
The balance of Asian flavours were all contained in the bag, sweet, hot, salty and sour.
The greens were lovely and crunchy, and the chillies and cashew made the perfect finishing touch.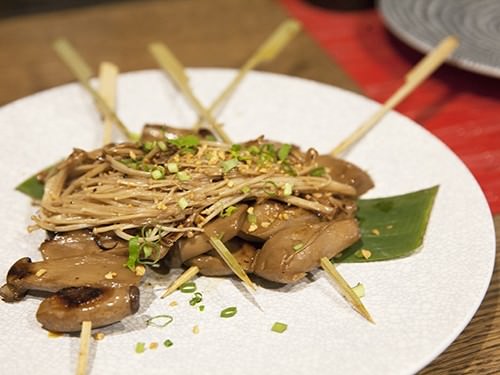 Next, it was time to discover what was meant on the menu by "Stick it Robata 'n' Charcoal Barbecue."
We ordered the King Oyster & Enoki Mushroom skewers off this section of the menu.
They were served with "Lucky Sauce" and Chilli Salt. I thought the "lucky" might have referred to the chef chances of skewering enoki mushroom?
When the dish arrived, it was the plump king oyster mushrooms that were skewered.
The Enoki provided a delicious earthy, delicate topping to the skewers. The sticks were then garnished with shallot, nuts and the warming chilli salt.
It was a beautiful dish which had an overall smokey flavour from the charcoal grill.
One dish at a time we were exploring and devouring this interesting menu.
Shayan Quarter was conceptualised to be laidback, casual and a fun dining experience.
The chefs were obviously playing around with a fusion of Asian styles and ingredients, and serving them in a more interesting manner.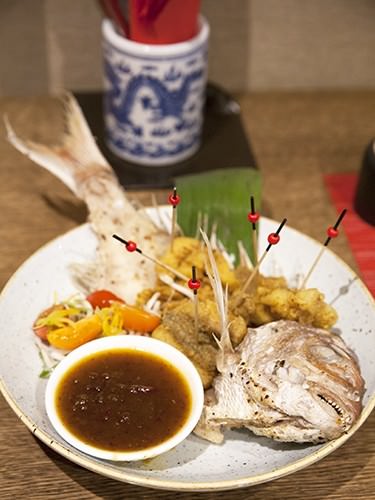 Included on the "Share Plate" menu was a crispy whole market fish.
I was a little at a loss as for how this could gracefully be served as a share plate until it arrived.
I tend to avoid whole fish on a menu because it can be an indelicate meal to eat.
This dish, however, was such a refined way to serve whole fish.
I loved the theatrics of serving the turmeric spiced, battered fish pieces in the frame of the fish.
The fish was fried to a crispy deliciousness and inside was the most delicate moist flesh.
Served with a sticky sweet, sour tamarind sauce and a fresh bean shoot salad.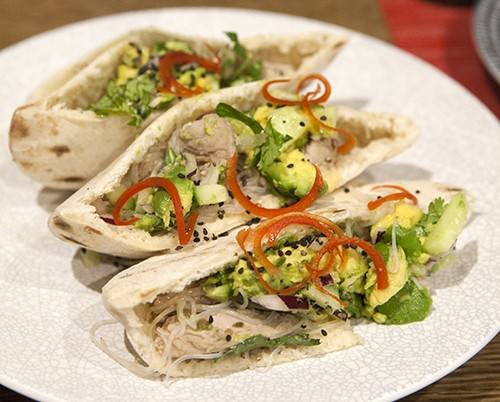 After the delicious Baoger, I needed just a little more pork. I wanted to try the  "Whole Animal Roast."
We selected the slow roasted Macleay Valley milk-fed piglet to be served on a soft shell taco.
The dish was described as slow roasted pork, chopped and served in a soft shell taco with pickled chilli and crisp lettuce.
It sounded like the perfect dish for some more "melt in the mouth," porky pig. This dish, however, didn't quite hit the mark for me.
Perhaps the kitchen had run short of tacos, but the dry pita bread was a disappointing substitute, and the pork needed a lot longer slow cooking as it seemed to have just been quickly pan-fried.
I am unsure if this is the way the dish is usually served, so I will be back to try the dish again.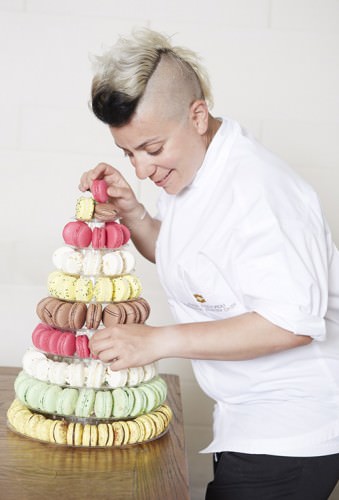 You know you're in for a treat when your pastry chef is Anna Polyviou.
Have we all seen her on Masterchef with her famous "carrot cake" creation?
I wouldn't mind being eliminated on a dish like that as long as I could eat it all!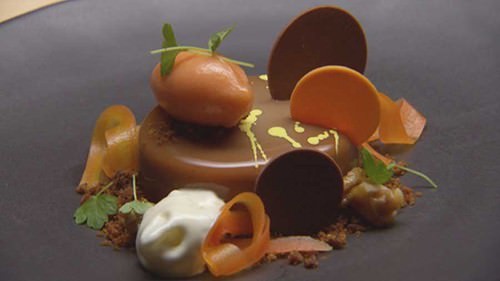 So today's dessert is exceptional! I have saved a dessert space for some of Anna's delicious creations.
Alesha and I were very excited to hear that Anna had designed a re-invention of the famous Filipino dessert Halo Halo.
Usually, this dessert can be found in tall glasses or cones and is filled with a myriad of flavours including shaved ice and fruit.
Anna had produced an elegant and modern Halo-Halo dessert.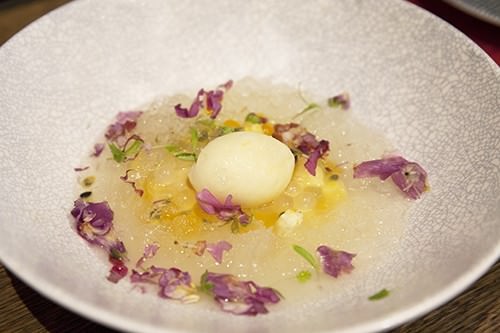 The pretty dish was served to us was unlike any Halo-Halo we had previously tried.
We couldn't help but admire the aggressive chefs take on the traditional presentation.
Served in a wide shallow bowl were a pineapple ice, fresh, flavoursome ginger sorbet, tropical fruits and gorgeous, lychee pearl beads that popped deliciously in our mouth.
The overall aroma and flavour were a lovely, fruity and flowery profile.
Alesha who loves halo-halo in the Philippines said that she loves the original halo-halo, but also found this dessert good in taste and excellent in creativity.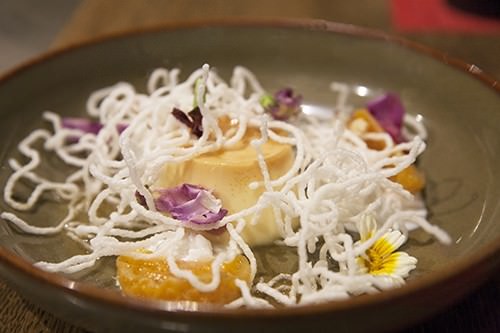 Another visually pretty dessert was the Creme Caramel served with Poached Spiced Mandarin and Crispy Rice Noodles.
Although the dessert looked delicate, the flavour was on another level entirely. I took the first mouthful of creamy, silky creme caramel and my eyes popped.
The Creme Caramel served with the Mandarin. The spiced poaching syrup replaced the usual caramel syrup.
After making loving noises and slurping syrup, I asked the staff what spices were in the poaching liquid.
I was told the Mandarin was poached in a combination of clove, vanilla bean, star anise, nutmeg and more.
The flavour was sublime; I knew I would not be able to live without this taste in my life so I asked if the restaurant would be kind enough to share the recipe.
The generous Shayan Quarter chefs have shared their recipe.
I will be featuring the spiced mandarin in an upcoming dessert especially for my lovely readers.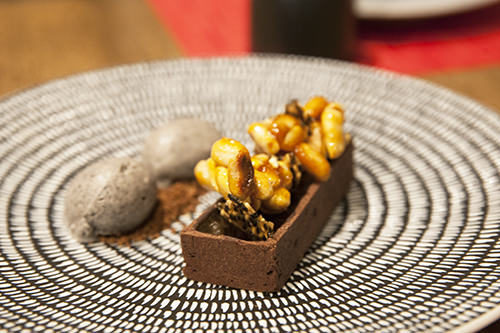 Is it just me or do you feel that you haven't truly had dessert until you've consumed a decadent chocolate creation?
Even though I LOVED the other desserts, I think the consensus at the table was this was THE BEST DESSERT!
Such a clever and stylish looking treat too.
The perfect rectangular chocolate pastry box was filled with a light, silky bittersweet chocolate ganache.
Incorporated into the chocolate was a banana puree which lightened the chocolate filling further and left the hint of a banana flavour.
The tart was garnished with toasted black and white sesame toffee shards and caramelised peanuts.
These bought a crunchy sweet element and worked beautifully with the creamy black sesame ice-cream which was resting on a chocolate crumb.
Once again I lamented at having to share MY dessert with Alesha & Mr GG.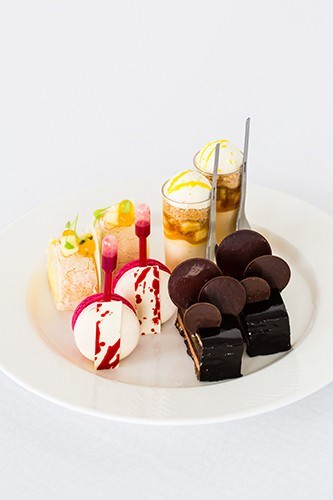 It was a delicious meal, and I know we will be back to sample more of the menu, and some of my favourites from today.
I am also looking forward to making a reservation for High Tea.
High Tea is served in the Shangri-La lobby lounge from 1.00-5.00pm each day.
Afternoon tea consists of three tiers of chocolate cakes, macaroons, bavarois and brownies and can be served with a flute of champagne for an even more decadent touch.
Shayan Quarter @ Mix Cafe
Level 1, 176 Cumberland Street, The Rocks
Sydney, NSW 2000, Australia
Ph: (61 2) 9250 6000